They say to never trust a skinny chef, but Phillip Rodriguez, the executive chef at Graft Madison, is an exception to the conventional wisdom.
Not only does this wisp of a chef put out an exceptional meal, he and the rest of the staff at Graft will leave you with a memorable evening.
Everything about Graft is impressive, from the food, which is interesting without being fussy; the atmosphere, which is gorgeous; and the service, which is attentive and knowledgeable.
Just when it seemed the Capitol area was at its saturation point for restaurants, along comes a new one so good it makes you fear for others in the area.
Graft, a small plates restaurant with a heavy wine focus, opened July 21. Its owners worked with Rodriguez in Chicago at celebrity chef Marcus Samuelsson's now closed C-House restaurant.
The blue tile work behind the hostess station when you walk in is dramatic, as are the half-moon booths separated by gathered curtains — and just wait until you see the restroom area and the glassed-in wine room. The owners also have an eye for art.
It's extraordinary to think the space was a former antique shop and a men's clothing store not too long ago.
Lucas Henning owns Graft Madison with his wife, Erin Bemis, who oversees the dessert menu, and a partner, Sam McDaniel. Henning moves around the restaurant chatting up guests, as does Rodriguez when service dies down.
The menu is concise with three large plates: a New York strip, pheasant and a half chicken. The rest is small plates divided into "veg & grains," "fish & shellfish" and "meat."
All but one of the small plates I've tried have been excellent, particularly the brussels sprouts ($9), lightly roasted then sautéed and mixed with pepitas or pumpkin seeds and coriander blossoms. Balsamic vinegar gave it a pleasant sweetness. A second "veg" dish, broccolini ($7) with hazelnuts, raisins and raclette fondue, a bit of melted cheese in one area of the plate, was less appealing.
Don't be embarrassed to order the mac & cheese ($7); it's a great take on a childhood dish. Spaetzle noodles gave it an enjoyable texture, as did large breadcrumbs on top. Buttermilk and Gouda lent a nice, mild flavor.
On a second visit, I ordered it for my 10-year-old thinking she'd love it, but she favored the elegant — and much more expensive — ravioli ($12). And I agreed, they were pretty hard to beat: circular, soft and distinctive, stuffed with mascarpone cheese and topped with shiitake and oyster mushrooms. A sauce made with heavy cream and roasted and raw garlic put it over the top.
Another highlight was the red snapper ($12), also a small plate. It was crispy, but moist inside, and flavored with guajillo chiles and a good sprinkle of salt. Chopped carrots and leeks underneath were treated with a touch of honey. They were not only delicious, but made for an attractive and well-rounded plate.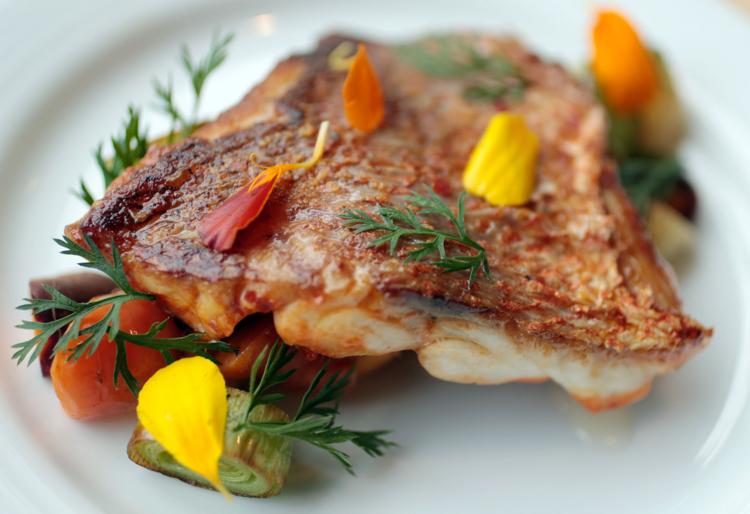 The large plate we ordered, the New York strip ($28), didn't disappoint. The meat was flavorful, mostly tender, and served whole, but cut in strips.
We ordered the steak medium and it came with a perfect pink center. "This is unbelievable," said my companion, a big steak lover.
It came topped and surrounded by "Midwestern succotash," which looked beautiful, but wasn't what I was expecting. Mostly peas, onions and zucchini, it changes regularly with what's available at the market, and was more eye-catching than anything.
I would be remiss to not mention Graft's bread service, definitely worth the extra $3, with tender rolls made in-house and crusty slices of a Madison Sourdough baguette, along with honey butter.
Desserts, which will change seasonally, aren't listed on the menu. McDaniel said not printing them allows for more interaction between servers and customers.
The two we tried were competent, but not splashy. The blueberry market bar ($8) was a thick square made with granola and farmers' market blueberries and a streusel top. It was served with vanilla ice cream.
The s'mores ($8) were three little flourless chocolate cakes with little cones of torch-fired meringue on top and homemade graham crackers on the side. It was a creative take on a campfire classic.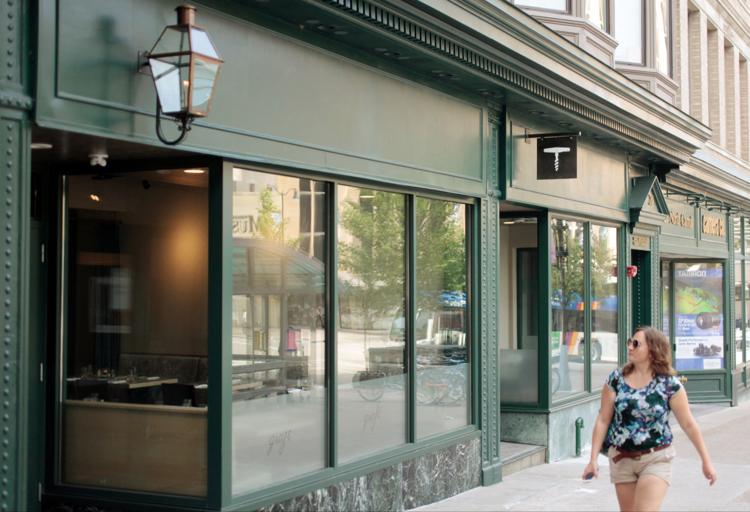 Not only is the wine list something to behold — both Henning and McDaniel are certified sommeliers — Graft offers wines by the glass at many price levels, some as low as $7. I had a superb 2013 Aviary Cabernet Sauvignon for $10.
Cocktails are a pricier $11, and while the one I tried, the Water Lily, with gin, Lillet Rouge, watermelon and lime, was refreshing and summery, I think I'd go with something else next time. There are many intriguing choices.
The bar, which co-owner McDaniel calls "saloon meets salon," should become one of the top upscale bars in town. Graft uses a turntable instead of Pandora or a music service with customers invited to choose albums from Graft's vinyl collection.
Guests are made to feel welcome at Graft. Just when you thought Madison couldn't support yet another restaurant on the Square, Graft and its svelte chef make a very good case for themselves.