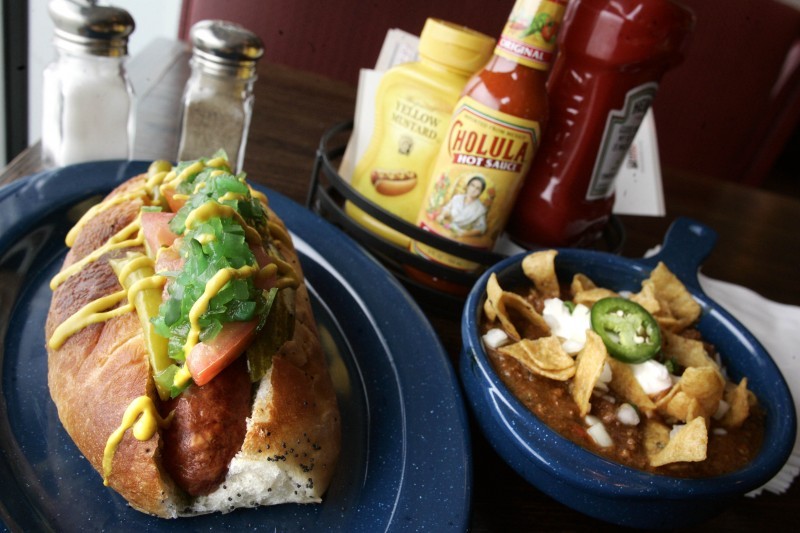 Bison Jacks, which opened in October 2011 at Greenway Station in Middleton, was selling its bison dogs for $20 last week. Specialty bison hot dogs normally sell for $5.95 to $7.95.
"All combos and menu items are $20 during regular business hours. All coupons will be honored," read a sign on the front door and posted at the counter.
An employee said he wasn't sure why the prices were hiked. "It's just a home office decision," he said.
Asked why a hot dog would cost $20, he said, "Yep, they're expensive."
Asked why they are so expensive, he replied, "They're bison."
Asked if customers were buying them for $20, he said, "Yeah, here and there."
Bison Jacks was started in Middleton by billionaire businessman Joe Ricketts, who founded TD Ameritrade and whose family trust owns the Chicago Cubs. In 2003, Ricketts founded Golden Bison Company, which raises grass-fed American bison.
The ambitious 2,500-square-foot restaurant cost $500,000 to open. Initial plans called for a second restaurant in Downtown Madison and possibly others in Fitchburg and Verona.
Company executives wanted to open two or three restaurants before determining if it should move forward with plans for about 50 more around the country over the next five years.
A manager at the store would not say whether Bison Jacks was closing or not, instead referring calls to Steve Christensen at Golden Bison in Denver, who didn't return calls.
"It's a long drawn out story," the manager said, adding that all information would need to come through Christensen.
"I've been in the business 29 to 30 years and this has never happened to me," he said.
The manager said he didn't want his name used, adding, "I have to look for a new job."
None of the usual fixings were out behind the counter as they once were, but the manager said all the supplies were in back if anyone ordered a bison dog.
Asked whether the $20 menu items were a strange publicity stunt, he said, "I have no idea what is going on at all."
Lynda Murray, of DeForest who works nearby, said she ate at Bison Jacks once, and while she said the food was good, she thought it was overpriced then.
"Oh, yeah, I'm going to go there and pay more money," she said sarcastically. "They are going out of business. I think it's pretty obvious."
---
Roman Candle goes to the White House
As a supporter of President Barack Obama, Roman Candle owner Brewer Stouffer was invited to the White House Dec. 7 for a three-hour debriefing and reception in the East Wing, where guests could move through seven or eight different rooms, he said.
During the campaign, Stouffer was part of a group called Small Business Owners for Obama, which, he said, tried to get the word out about how Obama was helping small businesses.
"He lowered taxes 17 times for small businesses and has done more for small businesses than pretty much any other president," Stouffer said.
Because of that support, Stouffer got to rub shoulders with former Sen. Russ Feingold, and drink eggnog with Congressman-elect Mark Pocan in the White House,
Jon Carson, director of the White House Office of Public Engagement, held a closed-door, no-press meeting with about 100 community leaders from around the nation, where he discussed the administration's past and future policy initiatives. Obama senior adviser Valerie Jarrett and First Lady Michelle Obama addressed the group.
Stouffer said he tried to communicate his interest in universal health care, noting that he has offered health insurance to his full-time employees for the last six years.
Workers' compensation can be a significant portion of a business' overhead, Stouffer said, and there's an opportunity to lower workers comp insurance as more people have health insurance. Clinics are an efficient alternative to emergency rooms, he said.
"Take for example, a cook who cuts his finger, right now it's $1,500 just for stitches in the emergency room," Stouffer said. "If that person had insurance they could much more efficiently be dealt with."
To get into the White House, Stouffer said he and his wife, Jackie, had to go through four checkpoints starting about a block away.
"It was a huge honor," he said about the experience. "It was wonderful to be there."
---
Mad Dogs, the tiny Chicago hot dog spot at 309 N. Henry St., has closed.
Steve Nelson took over the business in 2009 from owner Paul Frautschi, who opened it a year and a half earlier. Frautschi would later open a Sonic restaurant on University Avenue.