Pickling, the magical process that takes vinegar, sugar and spices and transforms everything from cucumbers to herring, is usually the province of winter cooking, a way to take broccoli and green beans from summer and keep them well into February.
But more and more, quick, freshly made pickles have been moving from beside a burger to a place of honor all their own. One can order a jar or plate of pickles — just pickles — as a bar snack or appetizer at Graze, Heritage Tavern, Umami Ramen & Dumpling Bar and Next Door Brewing Company, among others. 
And it might be blasphemy to say so, but fried pickles are becoming the new cheese curds. Doubt it, but try them at DLUX, Tip Top Tavern, AJ Bombers (where they're called "frickles") or a dozen other places.
"Everyone pickles," said Dan Bonnano, the chef at A Pig in a Fur Coat on Williamson Street. He pickles carrots, ramps, onions and cherries, the latter with extra sugar to go with pork rillettes. He also likes pickled kohlrabi.
"I have a love-hate (relationship) right now with pickling," Bonanno said. In warmer months, "everything should be fresh." 
At Next Door Brewing Company, executive chef Kevin Rikli offers craft beer drinkers a jar of pickled green beans, carrots, celery, shallots, brussels sprouts, cucumber, beets and mustard seed.
What makes a vegetable a good pickle candidate, Rikli said, is "good cellular structure" that will hold up to the pickling process.
"All those things are nice and crunchy going in," Rikli said. "That's something I look for in a pickle."
The mustard seed, which gets boiled and simmered for a half hour to 45 minutes before going into the brine, ends up "kind of like a caviar," he added.
"They've got that slick texture and a little bit of bite, almost filled with liquid so it's an explosion of that pickle flavor," Rikli said. Mustard seeds are "one of my favorite condiments to use on sandwiches."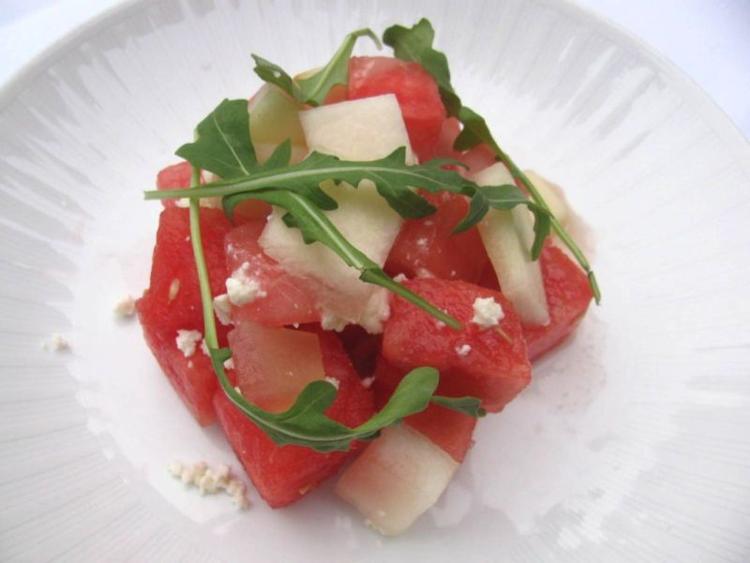 During summer Restaurant Week, Harvest chef Amado Casanova wanted to use all parts of a watermelon in one of his starters. So he added watermelon rind pickled with rice vinegar, sugar, cardamom, white wine and star anise to a salad of fresh watermelon, feta cheese, fresh arugula and lime vinaigrette.
"For the spring gala dinner, I braised and pickled pork belly," Casanova said. "It was really nice because it was apple cider vinegar — apple lends itself to pork."
He also pickles mustard seed, purging it in elderflower liqueur at the end, and pickles currants to have year-round."
Harvest has put pickled green strawberries on sorbet, while Graze is currently featuring them with white balsamic vinegar and honey on its pickle board, an appetizer tray that currently features pickled beets with citrus, kimchi, pickled daikon, escabeche, and bread and butter pickles.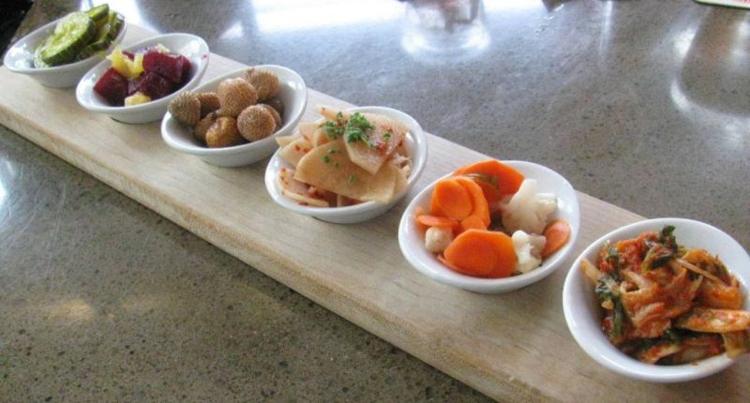 "We've had pickled veggies a lot on our market menu," said manager Janelle Engel, who will soon head up the new Sujeo restaurant in The Constellation building on East Washington Avenue.
"The tempura tofu dish has pickled rhubarb on the plate, along with bok choy, coconut rice and lemongrass coconut foam. That's a beautiful dish.
"Those pickled veggies just add a lot of color to any of our dishes."
On the east side, Underground Butcher is "a pickle paradise," according to Underground Food Collective's Mel Trudeau, where the second wave of summer pickles are hitting shelves now.
Meanwhile, at Forequarter, the rabbit galantine (similar to pate) comes with almond butter, nasturtium flowers and pickled blueberries. Pickled rhubarb appears in desserts and on the cocktail menu; salty and sour cucumbers complement sablefish and pickles always come with the charcuterie plate.
While a pickle plate can be a nice gluten-free or vegetarian alternative to salad or soup, the growing passion for pickles among chefs may be connected to the mania for house-cured meats, according to Restaurant Muramoto executive chef Brett Olstadt.
"It goes along with a lot of people being more into charcuterie, like myself, and having some sort of pickled thing on meat and cheese plates," Olstadt said.
Diners and chefs alike go out and think, "Those pickles were really good on that plate. I can make pickles; that's easy," he said.
Recently, the pickles ($3) on Restaurant Muramoto's izakaya menu were hon-shimeji mushrooms, which grow in small clusters. But that can change daily, even during service. Olstadt also pickles radishes, and garlic scapes, as well as the more standard daikon and beets.
Olstadt calls what most chefs do during the summer "quickles," made using heat to speed up pickling and meant to be eaten within a few days.
"I love pickles," he said. "Most anything pickled I'll be a freak for. I like things that naturally already have a bite to (them), like turnips."
For a bar snack and a bread-and-butter accompaniment at Heritage Tavern, chef Dan Fox pickles carrots, asparagus, cucumbers and bread and butter pickles. What's in the jar can rotate; Heritage has also pickled zucchini and plums, peppercorn-pickled apricot, cauliflower, beets and even smoked scallion.
"A lot of people will order a burger and a side of pickled vegetables with it," said server Jasmine Mitchell. "Ours aren't so salty; they have that vinegar-sweet taste. It's not that super forward pickle people are used to."
Ultimately, the tangy/briny flavor of a pickle can elevate a dish beyond the ordinary. Olstadt sill remembers when, a few years ago, Restaurant Muramoto served tuna and foie gras with pickled blueberry.
"It sounds weird, but it all worked out," Olstadt said. "The sky is the limit with whatever you want to pickle."