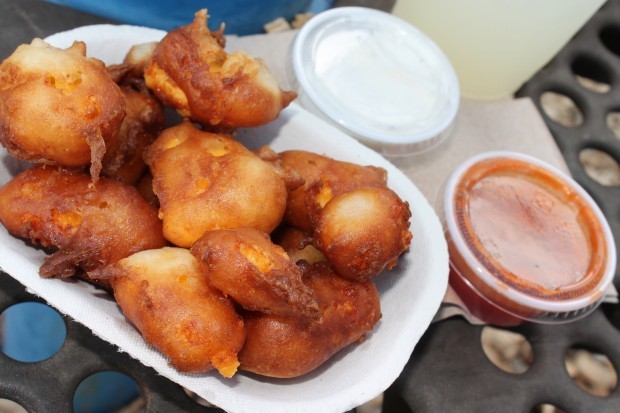 Alice in Dairyland, watch your back — you've got some serious competition. Madison now has its own cheese ambassadress who does more than just wear a sash and tiara.
Jessica Wartenweiler, a.k.a. Curd Girl, is out in the trenches, up to her elbows in beer batter and hot oil with her eponymous food cart to bring her particular blend of fried cheese and Midwestern friendliness to diners all over Madison. Born and raised in Monroe and a graduate of UW-Madison, Wartenweiler describes herself as "obsessed with cheese," but unlike the garden-variety Wisconsin fromage freak, she has turned her obsession into a cart that looks sweet but produces savory fare.
Wartenweiler and her friend, former college roommate and fellow Monroe native Kayla Zeal started Curd Girl just this summer. Zeal, who is a teacher and now lives in California, used her summer vacation to help Wartenweiler get the business going and plans to return next year. Although the cart has generated tons of buzz, there are no plans to expand the menu. Curd Girl does curds, fried and served with a rotating variety of dipping sauces. It's a food cart premised on the singleminded perfection of one dish.
That dish — fried cheese curds — is one that evokes passions and often strong opinions from its fanatics. A cursory mention of the cart to my co-workers uncovered what can only be described as roiling passions. The predictable heavenward eye-rolls at the mere mention of fried cheese, naturally. One normally even-keeled librarian all but spit on the ground with disdain as she trash-talked restaurants that serve frozen prepackaged curds.
Curd Girl is not that kind of operation. At many food carts, you order at a small window and, after a stretch of obscure behind-the-scenes rummaging, out comes your meal. Wartenweiler's cart, which she had custom-built in Rio, was intentionally designed with lots of windows so that the entire curd-frying process is visible. It's an adorable cart, equal parts Pottery Barn and actual barn; the siding is made of weathered, recycled barn boards.
The curds themselves come from Maple Leaf Cheese in Monroe (natch) and are hand-battered using the Curd Girl's secret recipe. The batter contains beer but more than that its creator would not disclose. She even remained closed-mouthed when I asked whether the beer in question was or was not a Wisconsin brew.
Those curds are $6 a serving, which is enough to share or make a possibly-regrettable meal out of, with $1 for an extra sauce flavor. There are about ten house-made sauces in the current rotation, which is slated to change seasonally. I got the classic ranch and the irresistible-sounding honey sriracha, and it was well worth the extra sawbuck. The ranch was thick and herby, not mayonnaise-y, and its cool creaminess offset the sweet heat of the sriracha. I dipped back and forth in a sort of condiment sauna, unable to decide which sauce was better, with the occasional naked curd for comparison.
Curd Girl's curds have the lack of uniformity that is the hallmark of handmade products, which means that some curds are two-biters and others are bite-sized, so there's a variety of surface area to melted cheese ratios represented. Unlike prefab curds, delicious little comet-tails of crispy batter sometimes develop in their production. These are stellar curds, and worth seeking out.
Right now, Curd Girl is parking late Friday and Saturday nights on Broom Street and hitting the Let's Eat Out Madison events that take place Monday through Wednesday. Wartenweiler plans to vie for a permanent spot on the Library Mall later this month. The cart will go on hiatus for the winter some time in October, so now's the time to seek out the cart and see if Curd Girl's fried cheese reigns supreme.