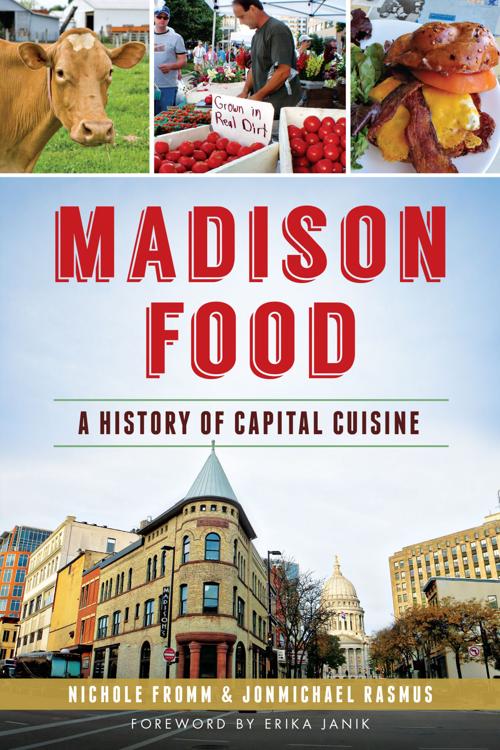 when Nichole Fromm and JonMichael Rasmus' new book about Madison restaurants was officially published, two local establishments announced they were closing.
First, Sunprint Café declared it would shutter its Capitol Square location to focus on catering. Then Tony Frank's Tavern, a spot known for its burgers, closed after 86 years.
"Part of what we did was choose topics that were a little more timeless," Rasmus said.
"We want something that will last longer than a dining guide," Fromm said. "More like a survey of what was important, what may or may not still exist ... it's so ephemeral."
The essays are linked by theme. One charts the rise and subsequent influence of Ovens of Brittany, founded by "Madison's Culinary Godmother" Jo Anna Guthrie. Odessa Piper, founder of L'Etoile, was one prominent Ovens alum.
In "Soul Proprietors," the book examines the influence of African-American restaurateurs. There are sections on the historic architecture at Quivey's Grove, a union started in 1971 by dishwashers and the Women's Building on 240 W. Gilman St., now home to Samba Brazilian Grill.
Rasmus, who has an affinity for data collection and analysis, created four meaty appendices, three of which synthesize the results of more than three decades of Isthmus and Madison Magazine "best of" restaurant polls, with categories like "fish fry," "deli," "lake view" and "take out/ delivery."
The fourth is an "entirely subjective" list of the 100 Most Influential Restaurants in Madison History. It includes The Fess Hotel, Kennedy Manor, Badger Candy Kitchen and Monty's Blue Plate Diner. The oldest still-operating restaurants on the list are The Plaza, Bunky's, Mickies Dairy Bar and Crandall's.
Future books focusing on Madison food could have different arcs, Fromm said, with a sharper spotlight on a single cuisine or area, like fish fry or local brewing.
"I think there's potential for books about Madison in niches that we haven't explored," Fromm said. "There's a brewing book easily in this city."