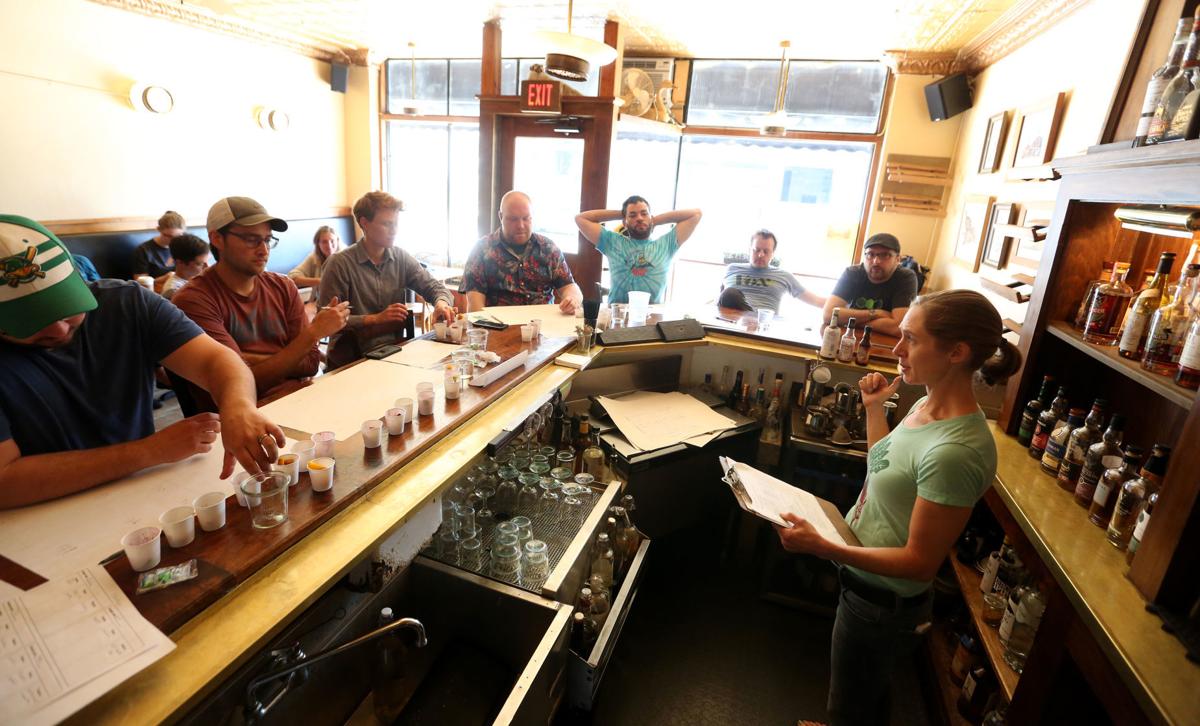 Solveig Hanson wants to make a flavor wheel for beets.
As she described it on Wednesday morning to a group of 10 local chefs, the wheel would resemble a flavor wheel for wine, with axes for earthiness and sweetness branching out into more detailed descriptors.
Hanson, a plant breeder and researcher at the University of Wisconsin-Madison, wants to answer an important question for famers who grow the beets and the chefs who buy them: What makes a Badger Flame different from a Chioggia or a Touchstone Gold, other than color? And if chefs could choose qualities in a beet, what would they pick?
"I'm excited to see what people come up with," Hanson said quietly as chefs set to work, blind tasting eight kinds of beets at the Forequarter bar.
Hanson's tasting was organized by the Seed to Kitchen Collaborative, a five-year-old project born out of the UW-Madison Department of Horticulture. Founder Julie Dawson introduced the project to Cap Times readers about a year and a half ago, when she offered one of CT's Bright Ideas for 2017.
"Over the past 50 years ... flavor and quality haven't been priorities because the seed market hasn't prioritized them," Dawson said at the time. "Breeders are still interested in it, but varieties sell based on volume. So people are going back to heirlooms and older varieties that have that flavor, but they're not necessarily the easiest varieties for farmers to grow."
Seed to Kitchen schedules tastings every month throughout the growing season at local restaurants, like Dan Bonanno's Pig in a Fur Coat and The Edgewater, where Joe Heppe led the kitchen before moving to I.d. in Delafield.
The goal is to build connections between plant breeders like Hanson, farmers who can bring those vegetables to market and the chefs who buy the veggies, cook with them and spread the good word.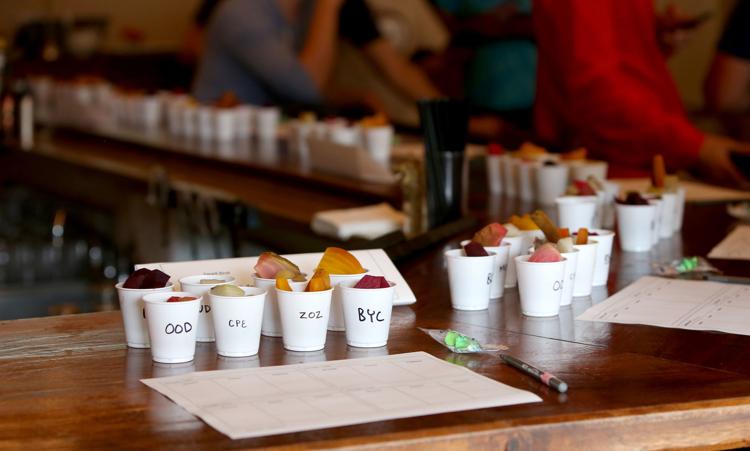 "If we're all able to get together and say, 'That's an awesome vegetable,' and we're all buying it at the market, then yeah, it's going to show up," said Sean Fogarty, executive chef at Steenbock's on Orchard. "But they might not grow it the next year if I'm the only one buying it. It's got to go through the market before it becomes readily available.
"Like 10 years ago you couldn't find shishito peppers at the market, but today's everybody's growing them."
Over the past few years, chefs in the Seed to Kitchen Collaborative have done blind tastings of kale and potatoes, winter squash, sweet corn and tomatoes. This week at Forequarter, the focus was Hanson's beets, ranging in hue from deep, blood red (a variety called Bull's Blood) to several varieties of white beets.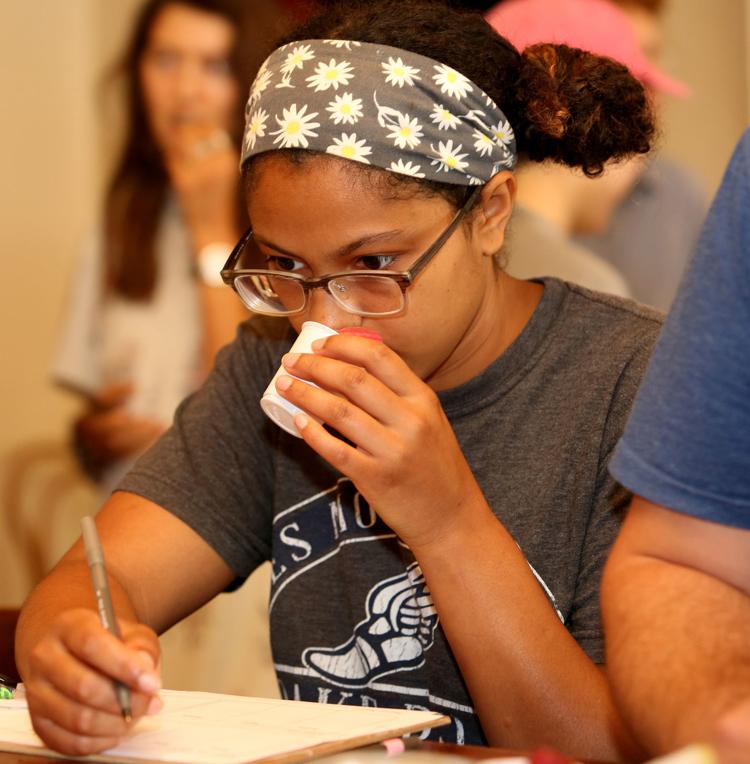 "Cooking can narrow the difference between beet cultivars," Hanson said. "We also know that color influences flavor expectations ... (with darker colors) you expect more intense flavor. Lighter colors, people expect milder flavors."
Chefs also tasted six varieties of cucumber brought by Dr. Yiqun Weng from his cucumber genetics lab. Fogarty's favorite was an heirloom varietal from Japan called Yamato Sanjaku, a long, thin cucumber with small seeds.
Yusuf Bin-Rella, a chef at UW-Madison's Dejope Residence Hall, liked the Yildo, a miniature hybrid with a funny name. ("All the farmers want to grow it because of the name," Dawson said.)
Chef Jon Churan of Working Draft Brewing Company thought the heirloom cucumbers were "incredible," though Underground pastry chef Lauralyn Rosenberger thought one of them was "too dry."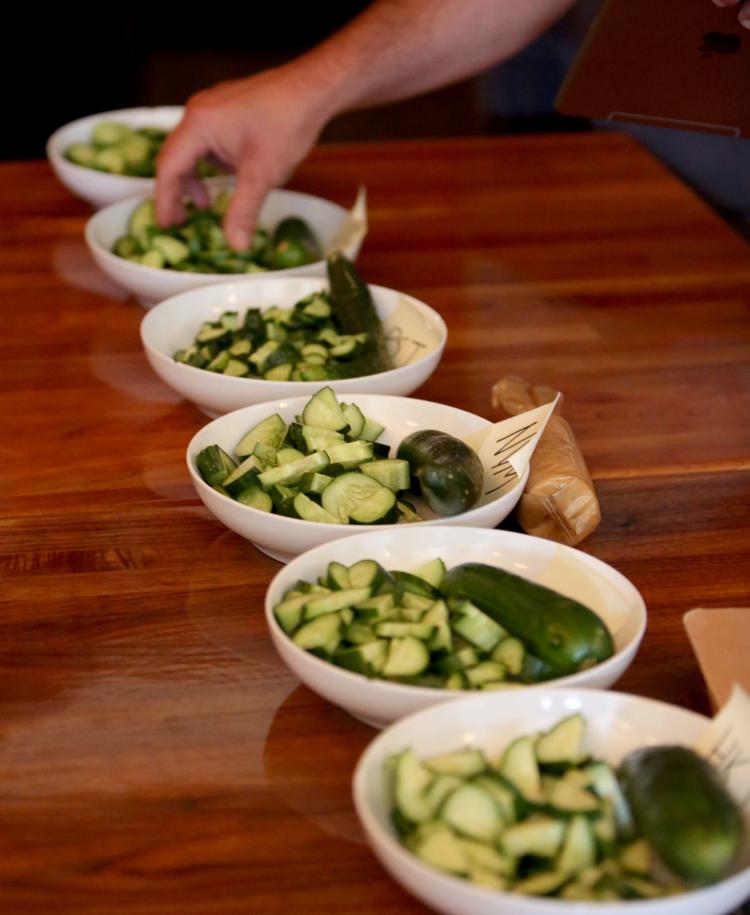 "It felt more like a zucchini, both in appearance and in texture," said Wally Graeber, a student and cook at Taliesin this summer who is working with Odessa Piper. "It didn't have the water content that I want in a cucumber, which made me not like it because I'm not looking for that in a cucumber."
The Japanese heirloom cucumbers "are not widely known," Dawson told the chefs. "They have been recommended by seed companies that have been experimenting with them."
Seed to Kitchen started in 2013 after Dawson and L'Etoile chef Tory Miller met up at a conference in New York for plant breeders and chefs. That gathering was hosted by Dan Barber, chef at Blue Hill Stone Barns and author of "The Third Plate" (Penguin Press, 2014).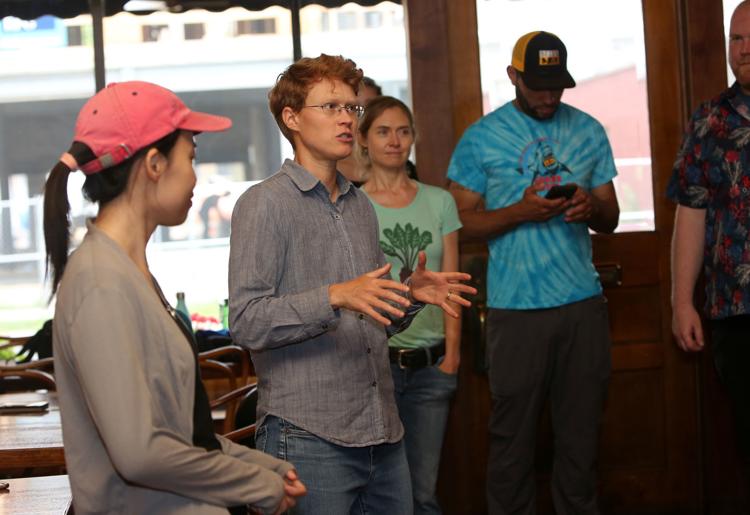 The Badger Flame, a pretty striped orange beet that's sweet enough to eat raw, has grown in distribution in part because of efforts like Barber's and Madison's Seed to Kitchen. Dawson's evaluation process has evolved a bit over the years — Jonny Hunter recalled tasting a few dozen varieties of beets, both cooked and raw, which was a challenge on several levels.
The evaluation form has gotten more detailed too, with number rankings for everything from bitterness to how much the chef's liked it. For Hanson, this tasting was the first step toward her "beet super group" of professional culinary minds.
"We need a more nuanced way to talk about flavor than what we have come up with before," Hanson said. "We're going to try to develop a lexicon of beet flavor. The first step is to generate vocabulary. ... Think about, what does this remind you of? The more words the better, and then we'll refine them later. Think of attributes, not emotions."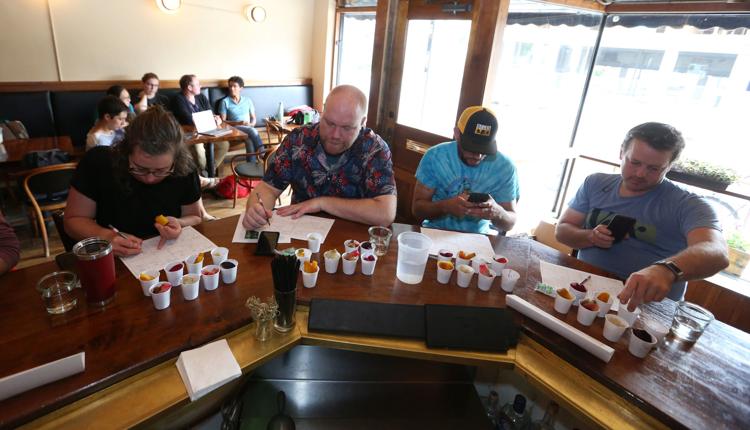 The Seed to Kitchen Collaborative will host a field day on the afternoon of Aug. 20 at the West Madison Agricultural Research Station. It will be geared toward professionals — plant breeders, seed savers and farmers — but ambitious and veteran local gardeners and farmers are definitely welcome.
Then on Sept. 26, many of the chefs who have been working with Seed to Kitchen will cook the produce they've taste-tested at the annual Farm to Flavor dinner at the Wisconsin Institute for Discovery. The dinner costs $25 (the price goes up after Sept. 11) and is open to the public, who will get to do some sampling themselves. 
As the beet tasting wound down, chef Joe Cloute said he was glad to be a part of a process that is so different than how he usually handles vegetables.  
"As a chef you usually get in produce and you think, OK, I have to do this to it to fix it or make it palatable," Cloute said. "It's interesting to be at this end and help guide, like 'these are qualities I want.'"