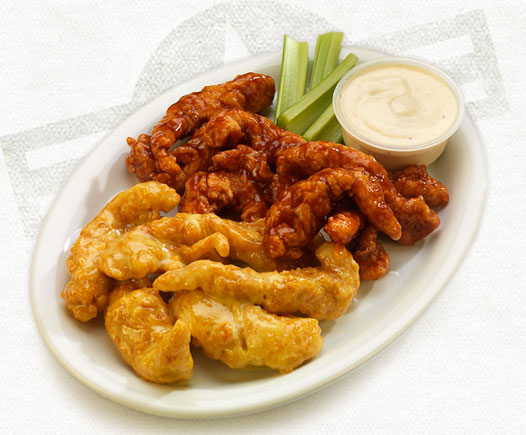 A local branch of the chicken and ribs franchise Wings Over (name of city) is set to open on the near west side of Madison (2739 University Ave.) on Monday, Aug. 27. 
Started at the University of Massachusetts in 1999, Wings Over was built on the premise that, according its website, "college kids love the idea of having wings delivered to them." Madison will be the 29th location, which concentrates in college towns like Happy Valley, Penn., and East Lansing, Mich. 
The menu for Wings Over Madison consists of boneless and bone-in wings, chicken sandwiches and fries. There are four dry rubs and two dozen sauces, from barbecue and buffalo to teriyaki, garlic, Jamiacan jerk and sweet chili. It is a takeout and delivery restaurant, with late hours ('til 3 a.m. Thursday, Friday and Saturday). 
Dave Gordon and Ben Puller are the local owners of Wings Over Madison. 
"Our background is in finance," Gordon said. "We always wanted to do something on our own and we always had a passion for restaurants."
Puller lived in Boston while he was working in finance, Gordon said. He frequently got wings delivered from Wings Over Brookline. (Puller's favorite was the Cajun barbecue; Gordon's favorite are the honey barbecue boneless wings.)
"We liked the concept. It was a bit of a niche market," Gordon said. Subs and pizza are pretty saturated. 
College kids are the main customer focus. They'll offer free delivery, and "we'll be open all day for football on the weekends."