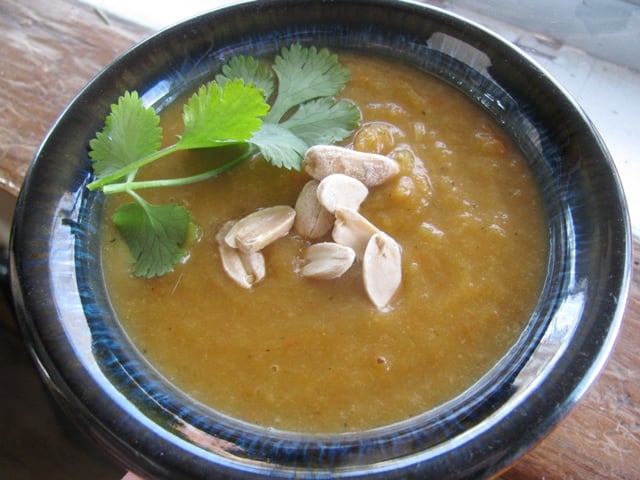 So I was thrilled to find this recipe, a similar combination of sweet and spicy, in Anna Thomas' "Love Soup," one of my favorite vegetarian cookbooks.
Spicy Indonesian yam and peanut soup, blended with curry and topped with fresh cilantro and roasted peanuts, is at once familiar and exotic. Carrots, yams and parsnips lend a natural sweetness, ginger and cayenne add warmth and spice and the lemon juice and tamarind give a nice, bright top note.
Taste for flavor balance and adjust the broth for thickness. This soup is vegan.
Spicy Indonesian Yam and Peanut Soup
From "Love Soup" by Anna Thomas (Indpendent Productions Inc., 2009).
12 ounces yams
6 ounces parsnips
6 ounces carrots
3/4 teaspoon sea salt, plus more to taste
4 tablespoons grated or chopped fresh ginger (2.5 ounces whole)
1/4 cup chopped cilantro
1 large yellow onion
1 tablespoon olive oil
2-3 cloves garlic, finely chopped
1/2 teaspoon curry powder
1/4 teaspoon ground cumin
1 1/2 teaspoon tamarind paste (or more lemon juice to taste)
1 tablespoon fresh lemon juice (to taste)
cayenne
3 tablespoons smooth peanut butter
1 1/2-2 cups vegetable broth (preferably homemade)
Garnishes: cilantro leaves, dry-roasted peanuts, harissa
Peel the yams, parsnips and carrots, cut them up roughly into pieces no larger than an inch or two, and combine them in a large soup pot with 3 cups water. Add a 1/2 teaspoon of sea salt, the chopped ginger and the cilantro leaves. Bring the water to a boil, then lower the heat, cover the pot and simmer the soup for about half an hour. Test with a fork to be sure the vegetables are tender.
Meanwhile, chop the onions and saute them in the olive oil, stirring over medium heat for about 10 minutes. Add the garlic and a pinch of salt and continue cooking for another 15 minutes (lower the heat if necessary), until the onions and garlic are soft and golden brown.
Add the curry powder and cumin, stir for about a minute, and add the onion mixture into the soup pot. Deglaze the pan by swirling some broth around in it and add that to the pot too.
Stir the tamaraind paste, about a teaspoon of lemon juice, a pinch of cayenne and the peanut butter into the soup. Remove the soup from the heat and add 1 cup of vegetable broth. Puree the soup with an immersion blender or in a stand-up blender, in batches. Add as much vegetable broth as you need to get a creamy, souplike texture; the soup should pour easily from a ladle, like a custard sauce.
Taste the soup and correct the seasoning with more salt or lemon juice if needed. If you didn't use tamarind paste, add more lemon to get the right acidic balance.