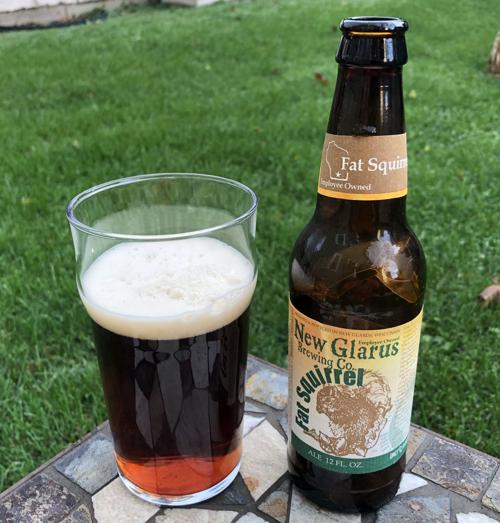 It's a trifle, but I love that fall's beers are the colors of the season.
The dazzling ambers of the Oktoberfests, the oranges (usually) of the pumpkin beers, and the oak-leaf browns of the brown ales.
Out of respect for the many good to great Oktoberfests produced in the Badger State, I hesitate to call this week's beer the king of Wisconsin fall beers, but you could make a case that New Glarus Brewing's Fat Squirrel brown ale is just that.
This classic New Glarus beer was a longtime year-rounder, and I've lost count of the times someone has told me that Fat Squirrel, not Spotted Cow, was the beer that really turned them on to craft beer. Many were up in arms when it moved from the year-round to seasonal lineup in 2013.
But it's returned every fall since then, and it just feels right when sweater weather is new and novel.
Fat Squirrel
Brewed by: New Glarus Brewing, which announced in September that its pandemic-related closure to the public for tours and beer garden drinking would extend through the end of this year.
What it's like: Brown ale splits into American and English variants, with Fat Squirrel on the somewhat milder English side along with Abita's Turbodog and Cigar City's Maduro. (Brown ales are big down South.)
Where, how much: Just about every bottle shop, grocery store and even gas station in southern Wisconsin carries New Glarus, even the seasonals like this one. A six-pack of bottles will generally cost $8-$9, but if you're a big fan of Fat Squirrel you could spring for a 12-pack of cans to extend your supply into winter.
Booze factor: Fat Squirrel weighs in at 5.8% ABV, which is a little on the high side for the style but relatively moderate in craft beer terms.
Up close: When you pull a Fat Squirrel from the fridge, make sure you pour it into a glass, and take a few minutes to admire the color — deep amber brown — and aroma — nutty caramel malt and toffee. This will also let the beer warm a bit, a key to unlocking its full flavor palette.
Fat Squirrel is gently and evenly sweet, with a hazelnut character that, like most "nut brown" ales, is achieved through carefully selected malts rather than actual nuts as an ingredient. The finish is more of that toffee-like sweetness, still restrained enough to never throw the beer out of balance. Its mouthfeel is soft and somehow warming — a sweater-clad hug for your palate.
Try it with an oatmeal raisin cookie to kick both treat and beer to another level.
Bottom line: 4½ stars (out of five)
Stay up-to-date on what's happening
Receive the latest in local entertainment news in your inbox weekly!