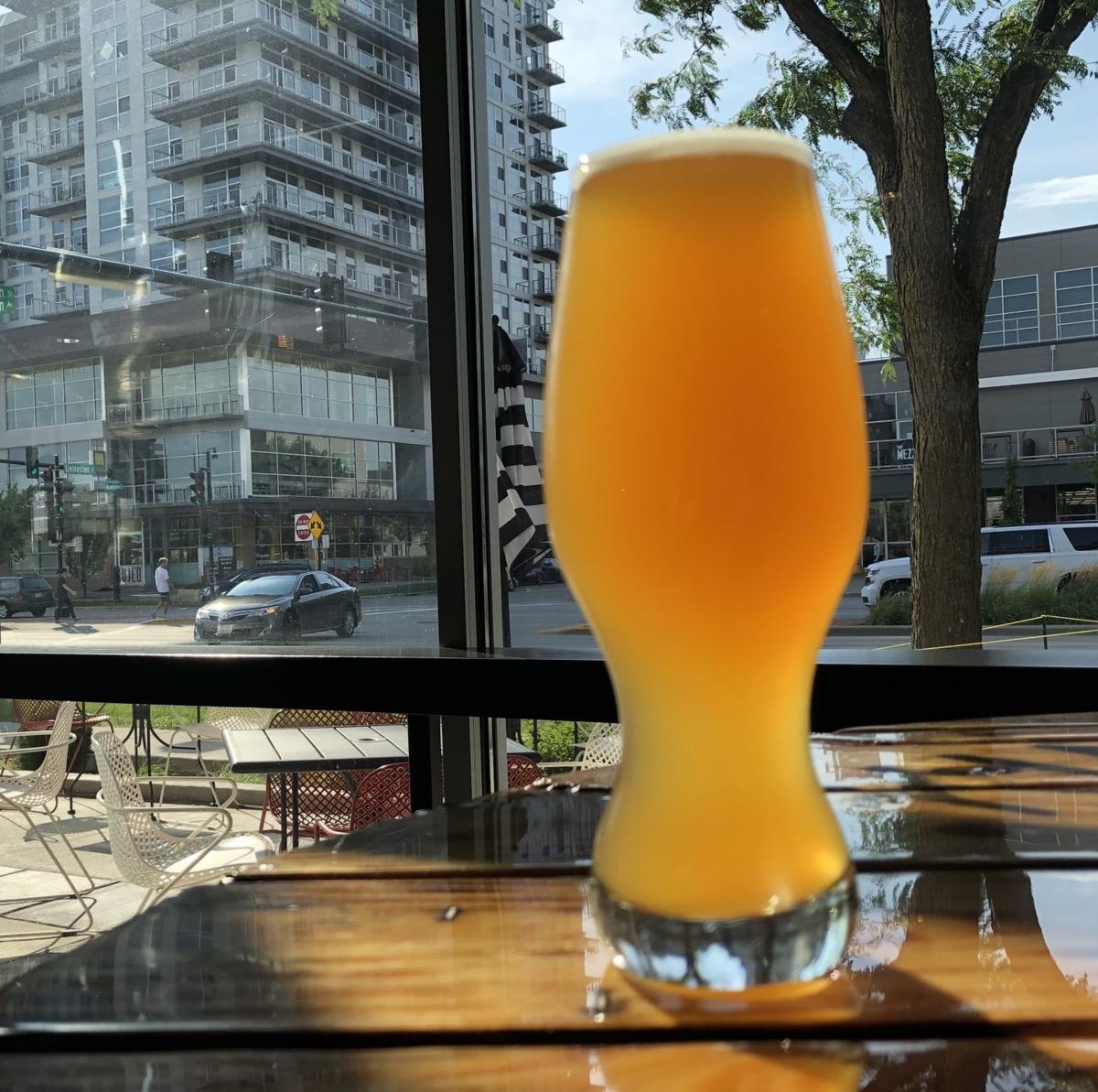 It's been six months since the Vintage Brewing Co. crew opened their third location under an offshoot brand called Tangent in the gleaming new Gebhardt Building on the Near East Side.
While the kitchen has been working through some tough early reviews, the beer program is hitting the mark squarely.
A recent visit found an array of interesting and tasty beers, including a growing contingent of beers fermented with the (literally) hottest family of yeasts in craft beer today. There was a fruited IPA, a pilsner, a saison, a Vienna lager.
Variety, quality and novelty, though, have always been staples of Vintage beer under brewmaster Scott Manning. So why the spinoff?
Location, location, location.
Vintage wanted to open in the red-hot Capitol East corridor, and the demographics there are different than around the original Vintage on the West Side and the much bigger, 20-month-old brewery in Sauk City. The people living in those big buildings along East Wash are young, Manning said, and they want different things.
So the Vintage team "pressed the reset button" and reinvented its concept for a new audience that may not have been as familiar with the Vintage brand.
The food, more chef-driven and less meatloafy (the Vintage meatloaf sandwich was great, by the way). Similarly, the beer menu would have more license to stray from Vintage classics that have been difficult to pry away from repeat drinkers. Twenty-somethings, it's been well documented, don't do a lot of repeat drinking (of beers, at least).
Avoiding being mistaken for a large chain like Rock Bottom or Granite City was also a goal, Manning said — noting that he got his start in brewing out west at the BJ's chain of brewpubs.
"Familiarity with the Vintage brand is great for some people, but we kind of wanted to diversify our portfolio, if you will," he said. "We wanted to break out of the mold."
The food portion of Tangent got off to a rocky start, with mixed-at-best reviews that suggested the anything-goes approach to the menu went a bit too far. A change was made at executive chef; Kate McGee moved into the role earlier this summer, Manning said.
The beer side of things has been steadier. (Tangent's beer is not brewed on site; it's made at the West Side and Sauk City breweries.) Some of the offerings during my recent visit have settled in as nearly always-on beers, including Unscripted pilsner and Go Man Go mango IPA. One, Late to the Party coconut cheesecake sour ale, has been tweaked a bit since I tried a prototype of it at the Tangent sneak peek at last year's Great Taste of the Midwest, six months before Tangent would open.
There's also a rotating hop series of pale ales, the current iteration featuring a hop so new it doesn't have a trade name yet. HBC 472 has citrusy, tropical aroma but drinks in a woody coconut flavor that Manning described as almost having barrel-aged notes — all from the hops.
But the most exciting thread running through some of Tangent's beers is their liberal use of the Norwegian family of farmstead yeasts known as kveik.
Each kveik strain is named for the farms from which it was harvested — they have been scaled up and made commercially available — and has unique flavor characteristics, not unlike hop varieties.
Kveiks ferment very quickly. In commercial breweries, batches can ferment completely in just 48 hours, Manning said, versus the seven to 10 days that a standard ale would require. All that fermentation activity drives the beer's temperature to extreme levels — often 95 to 100 degrees or even higher, with no adverse effects on the beer. Standard ale yeasts usually do their work from 60 to 75 degrees. Other once-wild farmhouse yeast strains, those used to make saisons, push fermentation temperatures into kveik range and impart peppery spiciness or barnyard flavors.
Kveik yeasts, though, don't bring in the phenolic notes of saison yeasts but instead intensely fruity aromas and flavors — a profile that has been front and center in the explosion of New England/hazy IPAs. Kveik yeasts are remarkable on their own, but when paired with juicy, tropical hops, it's like taking a sledgehammer to a fruit basket.
Yeasts that turn over tanks more quickly, with less need for controlling the temperature, with flavors squarely in the zeitgeist of craft beer trends? Yeah, there's a reason brewers are all in on kveiks.
Barring any unforeseen outages, Tangent has a triangular flight's worth of kveik beers on right now. The control beer of the bunch is just called Kveik, a relatively simple golden ale chosen as the clearest and most direct expression of the yeast's qualities.
On the other end of the spectrum is the newest member of the kveik family: A Fjordable Luxury, a double IPA that debuted at this month's Great Taste. It features pinier hops such as Simcoe and spruce tips in an homage to the Nordic homeland of the yeast.
But my favorite Tangent kveik beer isn't even labeled as such yet. Smirk is cheekily described on the menu as a "hazy IPA thingy," but Manning called the farmstead yeast the beer's "secret weapon." He thinks Smirk is closer to a juicy IPA but labeled it as such to capitalize on the interest in the (not all that different) hazy style. He said he may change that in the near future.
"It could be hazier — and sometimes is — but I don't really care," Manning said. He could add ingredients such as fruit pectin or flour to boost haziness just for the sake of its visual, but "you have to look at yourself in the mirror and say, I'm not that kind of brewer."
So let's take a closer at this hazy-not-murky IPA made with the hottest yeast around.
Smirk
Brewed by: Vintage Brewing Co., Sauk City and Madison, for Tangent Kitchen and Tap Room, 803 E. Washington Ave.
What it's like: Before the haze craze took over nationwide in 2017, the big IPA trend was tropical IPAs, and Smirk reminds me of the better-done of those beers, but with a little extra juice from its kveikification.
Booze factor: The 6.6% ABV is in the middle of the typical range for IPAs.
Up close: Smirk pours a transluscent gold that really pops when the happy hour sunlight is streaming into the bright, airy Tangent taproom. And the aroma, wow: heady sweet orange marmalade and maybe a little bit of mango courtesy of the double-team of the Hornindal kveik strain and a hop cocktail that includes Mosaic, Citra and Ekuanot.
Tropical fruit runs the flavor, too, with only token bitterness that sharpens somewhat into moderate levels on the finish. The smooth medium body lacks the chewiness that can put some off of the true New England IPAs. It's an easy, satisfying drinker that even IPA skeptics should give a chance.
Bottom line: 4 stars (out of five)