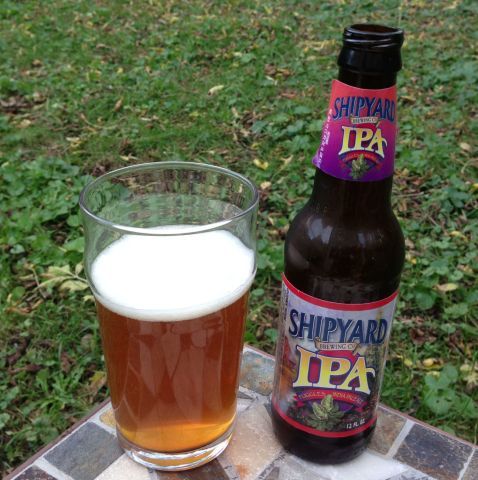 Astute readers may have noticed this column was missing for two weeks last month, raising the entirely valid question of why a beer columnist would ever really need a vacation.
Don't worry, I brought back some beer.
See, I took a break from the column to get married. Love and fall foliage were in the air, the beer was delicious and then it was time for a honeymoon. And while the Baroness and I didn't choose our destination — the Maine coast — for its beer, I came away with the same feeling about the beer there as I did with the trip overall: It's a very different place than Wisconsin, and man, some of it sure is nice.
The trip brought into vivid relief an axiom of the craft beer world: beer is highly regional, a true culture based on the history of the area, the taste of its inhabitants and the ingredients at hand.
Wisconsin's beer culture is first of all robust, thanks largely to massive influx of Germanic settlers in the 19th century. Germans like their beer, of course, and their preference for lagers is one that shaped America's beer taste through the Industrial Revolution. The craft beer era has broadened Wisconsin beer drinkers' horizons, but the roots show in the lager-peppered lineups of the state's craft titans, including Leinenkugel's, New Glarus, Lakefront and Capital.
The Northeast is called New England for a reason, and its beer culture largely reflects that of its early inhabitants' homeland. The beer scene I discovered in Maine was active — like Wisconsinites, New Englanders see the tavern as a community social place — and loaded with English influence, especially pale ales, ESBs and scotch ales.
During our five days in this exotic beer landscape, the Baroness and I visited five different breweries and drank so many brews from other local breweries that I quickly lost count. Most of the highlights came in our first day in Maine, which we spent checking out breweries in and around Portland, the state's biggest city.
Maine Beer Co. in Freeport, just 20 minutes north of Portland, was our first destination, based on a single beer a Wisconsin expat living in Boston brought back home for me two summers ago. I can't recall ever sampling beer from a brewery with such a consistent palette, although it was definitely an outlier as far as Maine beer goes.
Maine Beer's brews are exceedingly hop-forward, with barely-there malt outshined by crisp, bright American hops on exceptionally dry bodies. India pale ales — straight-up, black or session — took up half of brewery's eight taps, and only MO pale ale and Mean Old Tom stout didn't have the word "hoppy" in the description scribbled on the chalkboard beer menu. (This didn't sit well with the Baroness, who in an "Odd Couple"-type irony despises hops but married me.) My favorite was Lunch, a straight-ahead IPA that beer geeks rank among the best in the world. In a bit of serendipity, Maine Beer announced the week I returned to Wisconsin that it would begin selling its beer in Chicago, the first market outside the East for this 5,000-barrel-a-year brewery.
Our next stop, back in Portland, was Allagash Brewing Co., with its awesome rustic tap room, made awesomer by the free samples (four three-ounce pours per visitor). It's good stuff, too, with an emphasis on traditional Belgian styles. Allagash is a big name out East and across the country for its flagship White, a witbier widely regarded as the one of the best on either side of the Atlantic that comprises some 80 percent of the brewery's sales. That, combined with its longstanding program of lambics and other wild yeast beers, made me think of it as the New Glarus Brewing of Maine.
We also had a successful visit to In'finiti Fermentation & Distillation on the Portland waterfront, but we had far more brewery recommendations than time in Portland. Most beer geeks know the reputation Portland, Ore., has, but I came away thinking the East's Portland is no slouch when it comes to beer either.
Other enduring impressions of Maine beer: Blueberry beers and a different kind of IPA.
Many Maine breweries, especially in the touristy area around Bar Harbor where we spent most of our trip, have blonde or wheat ales infused with the famous local crop. Most of them work pretty well, a nice local twist when you want an easy-drinking beer.
IPAs, of course, are a staple of craft beer, the segment's most popular style and my personal favorite. But a large majority of the IPAs that craft drinkers have fallen in love with feature American-grown hop varieties like Cascade, Centennial, Columbus over the traditional English hops such as Golding and Fuggle. On my trip I found where all those hops live these days: in the pale ales and IPAs made by New England's brewers.
Shipyard IPA
What it's like: A fine example of a locally brewed English IPA is Lake Louie's outstanding Kiss the Lips IPA.
Where, how much: Shipyard is the only Maine brewery I've seen with distribution in Wisconsin, and even so it's not an easy find. I found the six-pack alongside its well regarded Pumpkinhead fall seasonal at Jenifer Street Market for $9.
The beer: It pours a hazy, coppery light amber, with an aroma of sweet malt and a touch of light, floral hops. The medium-bodied beer is balanced — American IPAs often tilt more toward the hops — with the malt base snipped off by modest earthy, floral bitterness that endures into the finish.
Booze factor: The 5.8 percent ABV is about standard for an English IPA; American IPAs tend to be a little boozier.
The buzz: Shipyard IPA is a single-hop showcase for Fuggle hops, an aromatic English variety from which many classic American hops such as Willamette, Cascade and Centennial are descended. Single-hop IPAs are quite common (most IPAs are brewed with a blend of multiple varieties), but Shipyard's is the first I've seen to showcase an English variety. This makes sense, both in the context of the region's beer and because Shipyard was founded in 1994 by brewmaster Alan Pugsley, a Briton.
While there are American IPAs in the lineups of Maine breweries, I was surprised at the primacy of the English variant in bars and restaurants. By the time the honeymoon was over, I was missing the higher bitterness and citrus and resin flavors and aromas that make an IPA American. It's a nice beer place to visit, but I wouldn't want to live there.
Bottom line: ★★½ stars (out of four)