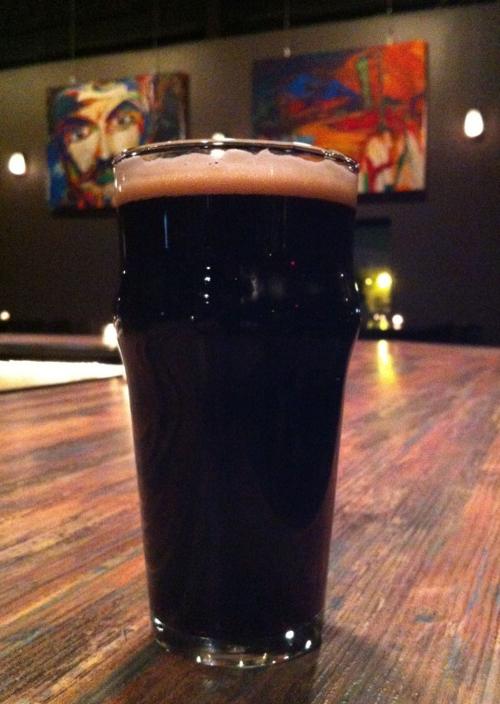 Madison's newest brewery, Karben4, began serving its beer last weekend in the East Side location that for now is known as the former Ale Asylum.
But thanks to a sweeping overhaul of the space, unique branding and a beer portfolio distinct from the former tenant, I have a hunch Karben4 will soon be making its own name known among Madison's beer geeks.
The four Appleton natives who founded Karben4 are well aware of the big shadow cast by Ale Asylum, which quadrupled its production ceiling this September when it opened a new facility a couple miles from its East Side birthplace. Ryan and Zak Koga, Alex Evans and Tom Kowalke are grateful for the opportunity the vacated space and brewing equipment represented, and they hope Karben4 will make the East Side around Madison Area Technical College's Truax Campus even more of a beer destination.
"I think this is going to be the beer side of town," Evans said from behind the bar during the tap room's soft opening last weekend. "If you're not coming out by the airport, you're not getting great beer."
There's little chance brewmaster Ryan Koga's creations will be confused with the other denizen of the "beer side of town." His English-influenced beers have an emphasis on the sweet malt yin, while Ale Asylum's beers are known for their devotion to the bitter hop yang.
Karben4 will have at least five flagship beers on tap: SamuRyePA American pale ale, Block Party amber ale, NightCall smoked porter, Lady Luck Irish red ale and UnderCover, a session ale that will be the lightest brew in flavor and alcohol content. Koga also plans to keep an India pale ale on at all times, with seasonal varieties rotating into the tap lines. First up is Silk Scorpion, a powerhouse black IPA whose name is based on the embroidered jacket worn by Ryan Gosling's character in the 2011 movie "Drive."
The three beers on tap last weekend suggest good things ahead for Karben4. SamuRyePA is loaded with the sharp, fruity tang of rye, balanced by a smooth, rich malt body. Block Party is fruity and floral with biscuity malt and a highly drinkable body. (Koga said he was planning to beef up the malt bill in future brews to give Block Party a slightly heavier body.) They're good beers, but NightCall is a standout, my pick to become Karben4's most popular beer. Lady Luck will be available by Friday, UnderCover by next weekend, and Silk Scorpion will debut at the Karben4 grand opening Jan. 19.
It's been an unusual journey to owner-brewer for Koga, 31, who is just six years removed from his beer epiphany. His "aha moment" came when he tried an oatmeal stout while working a bottling job at Yellowstone Valley Brewing Co. in Billings, Mont. Koga had never homebrewed and was working that job just for the paycheck, not intending for it to become a career, but he fell in love with the brewing process and by 2009 was brewmaster there.
It's not a lot of experience, but Koga is confident in his recipes and his beer.
"In the end, to be perfectly honest, I brew for myself," he said last weekend while washing the kettle after the first brew of Silk Scorpion. "I've come to understand what my brewing style is, and I'm comfortable in my own skin."
When Koga tasted the first batch of NightCall, he whooped with excitement at how well it turned out. Sounds like a good pick for this week's brew.
Brewed by: Karben4 Brewing, 3698 Kinsman Blvd.
What it's like: The comparison that jumps to mind is O'so's Night Train, but NightCall is much more approachable, sweeter and with a softer body.
Where, how much: The Karben4 brain trust hopes to be bottling beer for retail sale by the end of 2013, so for now the brewery's tap room is the sole outlet for its beer. Pints are $5 and growler fills cost $12. (New growlers for purchase are on order but haven't arrived yet.)
The beer: OK, confession time. I can't stand smoked beers. I keep trying them, but for whatever reason, that flavor is just nails on a chalkboard to my palate. That said, I loved NightCall. Koga uses beechwood-smoked malt, which makes the smoke character a light accent instead of the featured flavor. It's enough to add an interesting twist for hard-core beer fans while keeping it drinkable and accessible to craft beer novices. It helps that the underlying beer is an excellent porter: soft and smooth, focused on the sweet malts with the chocolate and coffee notes common to the best of the style.
Booze factor: NightCall weighs in at 6.1 percent ABV.
The buzz: Given Madison's thirst for craft beer, the success Ale Asylum had in this location and Karben4's early output and what looks like a solid business plan, it's hard to imagine these guys won't make it work. They're determined not to push it too fast and not to take on too much too soon. But I wouldn't be surprised if by this time next year, we're popping the top on bottles of NightCall in the comforts of home.
Bottom line: 3½ stars (out of four)
---