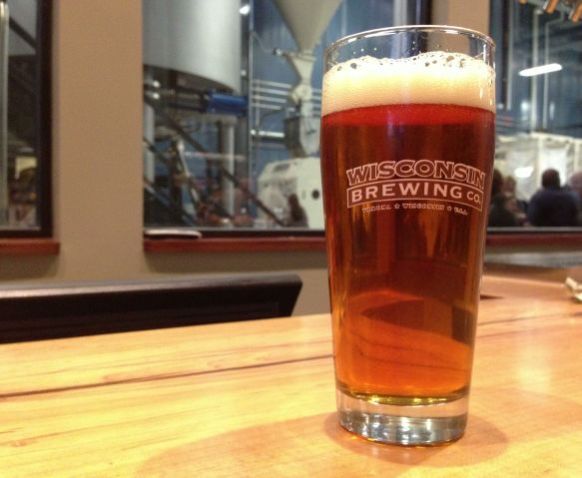 A new brewery is a blank canvas, and while we know the beer artist who's going to be painting this one, the Wisconsin Brewing Co. Kirby Nelson is different from the lager-centric Capital Brewery Kirby Nelson we knew a year ago.
The Wisconsin Brewing opening beer lineup contains four beers, three of them ales. Two of those are India pale ales — Nelson has made no secret of his disinterest in this hoppy beer — and the other is a porter, a style Nelson said he had never brewed before.
"I was very conscientious about not wanting this to be Capital Brewery II," Nelson said during a party ahead of the brewery's official opening this weekend.
The brewery Nelson built, along with founding partners Carl and Mark Nolen, is a far cry from the former egg processing plant that he brewed in for Capital for 25 years. The mammoth 80-barrel brewhouse means every batch will yield about 160 kegs or 4,400 six-packs of beer. Nelson can sit at a control panel and add hops, adjust kettle temperature and transfer wort with the push of a button.
Nelson said he had to be a very hands-on brewer at Capital, but at this point in his career — the brewery opened to the public on Friday, his 58th birthday — he's ready to design and control the processes more than execute them. This state-of-the-art facility, he said, gives him the precision it takes to consistently brew great beer.
But this is not beer brewed by robots. Nelson said he's still out on the brewing floor regularly, checking boils and looking for ways to customize the system, "learning how to make the automation work for you."
Last week, before a drop of Wisconsin Brewing Co. beer had been sold to customers, CEO and President Carl Nolen said the brewery was already at capacity. More fermenting tanks will need to be added — the pipe fittings are already in place for the expansion — before Wisconsin Brewing will be able to make enough beer to launch in the Milwaukee market by early next year. Other markets are expected to follow, as will bottling operations; kegs are filled in Verona but the finished beer is being trucked to Stevens Point Brewing for bottling for now.
Nelson promises the brewery's starting lineup will be constantly changed and added to, with his one-barrel pilot brewing system working overtime on test batches and small one-offs. But at its outset, Wisconsin Brewing Co. offers:
Amber Lager. More on this beer in a moment.
American IPA, a classic West Coast IPA with an assertive piney bitterness that weighs in at a robust 7.1 percent ABV.
Brown & Robust Porter, which blends roasty, flavorful dark malts with the easy-drinking body that embodies this traditional style.
Session IPA, a 4.8 percent ABV brew that gives the hop-forward experience — albeit not overwhelmingly so — of the IPA in a more sessionable package.
All of these beers except Session IPA are brewed with nearly all Wisconsin-grown hops from the Dane County-based Gorst Valley Hops collective. All of them are brewed exactly to style and to go down very easy, even that big IPA.
These aren't jaw-dropping beers, but they aren't made to be, and there's plenty of time for Nelson to hit another big-beer home run like he did with his doppelbocks at Capital. But I get the sense that this — tasty, highly drinkable beer — is where Nelson is in his comfort zone, most precisely wielding his craft. It fits with his brewing/beer philosophy.
"It's all about making a great companion, a good glass of beer," he said. "I view beer as an adjunct to the enjoyment of life."
So let's take a look at one of Nelson's newest adjuncts, the beer the brewery is calling #001.
Amber Lager
Brewed by: Wisconsin Brewing Co., 1079 American Way, Verona.
What it's like: Nelson has brewed an amber lager before: Capital's Wisconsin Amber. His new Wisconsin Amber Lager is roughly similar, perhaps with a little more hop crispness.
Where, how much: Wisconsin Brewing already has sold a lot of beer to its first distributor, the Anheuser-Busch InBev affiliate Wisconsin Distributors. That suggests that Amber Lager and its labelmates are going to have a very high profile from the Fox Valley through Madison and into southwestern Wisconsin. My guess is, come Monday, you'll see it at almost all grocery and liquor stores and a heckuva lot of bars. The brewery says six-packs of each of the four beers will run $8-$8.50.
The beer: Amber Lager looks exactly as you'd expect and wafts a mild, floral aroma with a hint of breadiness. It tastes ... like beer. It's clean and perfectly balanced, with a firm caramel malt back and a modestly bitter finish, an easy-breezy drinker. I know that doesn't say much, but it's the kind of beer that's much easier to drink than it is to write about.
Booze factor: A middle-of-the-road 5.5 percent ABV.
The buzz: The prevailing attitude among craft brewers has always been that a rising tide lifts all boats, that the business is less about competition than community. That's easy to maintain when you have a constantly growing customer base as people defect from macrobrews — a scenario the craft beer segment has seen for many years now. I think the size and the running start of Wisconsin Brewing makes the question of whether it will be eating other state brewers' lunch a fair one.
But if other brewers are worried about that, they weren't letting on at the Wisconsin Brewing soiree last week. Several local brewmasters joined Nelson and the Nolens to celebrate the opening, including Dan and Deb Carey from New Glarus Brewing, the elephant in the Wisconsin craft beer room. Mark Knoebl from the Grumpy Troll, just up the road in Mount Horeb, said he thinks Wisconsin Brewing will actually help drive traffic to his brewpub.
Last year I said Wisconsin Brewing Co. will be the story of the local beer scene in 2013, but I think I may have jumped the gun on that. Now, with questions about how the brewery performs in the market and where Nelson takes its beer portfolio, I'd say 2014 is looking a lot more interesting.
Bottom line:  (out of four)