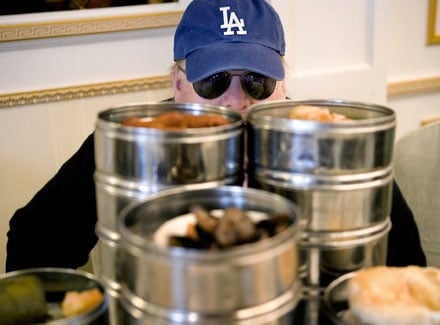 Jonathan Gold, restaurant critic for LA Weekly, has eaten sea intestine (a Chinese seafood delicacy), numbingly spicy dan dan noodles and fermented, sticky-slimy soybean soup that is so fragrant, "it takes over your system like an animus spirit."
And yet, he still remembers his first taste of cheese curds.
"The first time I was in Madison, I was hanging out in the kitchen at L'Etoile," Gold said. "I'd gone to the farmers' market, and they had cheese curds, which I'd never had before.
"And I was like, 'Wow, these are great!' And I went back to the kitchen and was sharing with people, and I said, 'I wonder if anyone's ever thought of deep-frying these?'
"Everybody looks at me with this weird expression. It wasn't until later that I figured out that's like walking into a kitchen in Napa Valley and saying, 'You know, they grow a lot of grapes around here. You think anybody's decided to make wine with these?'"
Gold, the first food writer to win a Pulitzer Prize (in 2007), will speak about the concept of authenticity and global food culture in a local context at the Chazen Museum on Thursday, April 28. Gold is hosted by the University of Wisconsin-Madison's Center for the Humanities.
"Food has been of great interest to people," said Sara Guyer, director of the center. "We brought Michael Pollan a couple years ago. (Gold) provides a different take, thinking about the global U.S."
Gold, a writer Guyer discovered more than a decade ago when she was living in California, is "a cultural critic of the first order," Guyer said. "He captures something about Los Angeles in the way the best ethnographers do."
Gold's 2000 book, "Counter Intelligence: Where to Eat in the Real Los Angeles," is a compilation of his restaurant reviews. Guyer called it "the bible of Los Angeles," the book she'd give to visitors to LA.
Now, most adventurous food lovers follow Gold's reviews online and through the KCRW-FM/89.9 radio show "Good Food."
Part of Gold's widespread appeal is that he'll try almost anything, from a Korean place where nothing on the menu is in English to WP24, Wolfgang Puck's high-end Chinese restaurant, which he classifies as "unabashedly retailing luxury."
In Madison, his talk will focus on authenticity and its nebulous definition. What's "authentic" about a Korean dish nicknamed "Johnson Stew" that includes pre-packaged ramen and spam, or the perceived value of a woman from Oaxaca, Mexico, grinding cornmeal in her kitchen versus using technology like a food processor?
Authenticity is "chimerical," Gold said, "because cuisine, wherever you are in the world, it's always changing. You want it to be rooted in something, you want it to have a place in the land and to be something people actually cook at home and understand … but whatever that is is so completely different from decade to decade, it's hard to be exact."
In some ways, replicating "authentic" Thai cuisine in Madison is a direct contradiction to the local/sustainable movement, though Gold esteems both. He's a fan of the Dane County Farmers' Market (not just the cheese curds) and a friend to L'Etoile founder Odessa Piper.
"Ovens of Brittany introduced a certain kind of eating in Madison that was replicated by a lot of other places," Gold said. "Odessa Piper took it a little farther and made Madison the nation's center of local, sustainable cuisine. She brought into wider view these products that had been around there — the hickory nuts and the ground cherries."
But Madison also has a reputation for having the most interesting assortment of ethnic food in the Midwest. Gold tried Lao Laan-Xang on a visit years ago and left perplexed.
"I was sort of expecting Laotian food, and it was … well, something," Gold said. "Laotian food is very salad-y, very greeny. Flavors are super strong and there's a lot of bitter flavors. It's a poor country, so the idea is to eat small amounts of really highly flavored food with vast amounts of sticky rice.
"But you never know, if you suddenly gave Laotians the opportunity to eat the kinds of foods you eat in Madison on a regular basis, would the food shift to adapt to that? Of course it would."
Gold will likely stay through the farmers' market on Saturday, giving him the opportunity to eat at least five meals in Madison. Several months ago the couple behind the blog Eating in Madison A to Z posted an open letter to him listing more than two dozen places Gold should try, including Underground Kitchen, Ale Asylum, Graze, Gail Ambrosius Chocolatier and Bradbury's, among others.
While his schedule is unconfirmed, Gold's "reviews" of such places are likely to take a much shorter form that his full-length pieces. On a recent trip to Oregon, he remarked on the "formidable tripe and trotters at Belly in Eugene" on Twitter (@thejgold).
Gold's style appeals because of "the way ... he can tell a story," Guyer said. "We don't always think about the genre of the restaurant review as great essay writing, but he's done that.
"He's turned a genre we often think of as functional — 'Where are we going to eat for dinner tonight?' — and brought so much pleasure into it."