Madison author Jeff Nania draws on his years of law enforcement and his love and knowledge of the outdoors to create an all too true mystery surrounding a drug war set in the Northwoods of Wisconsin.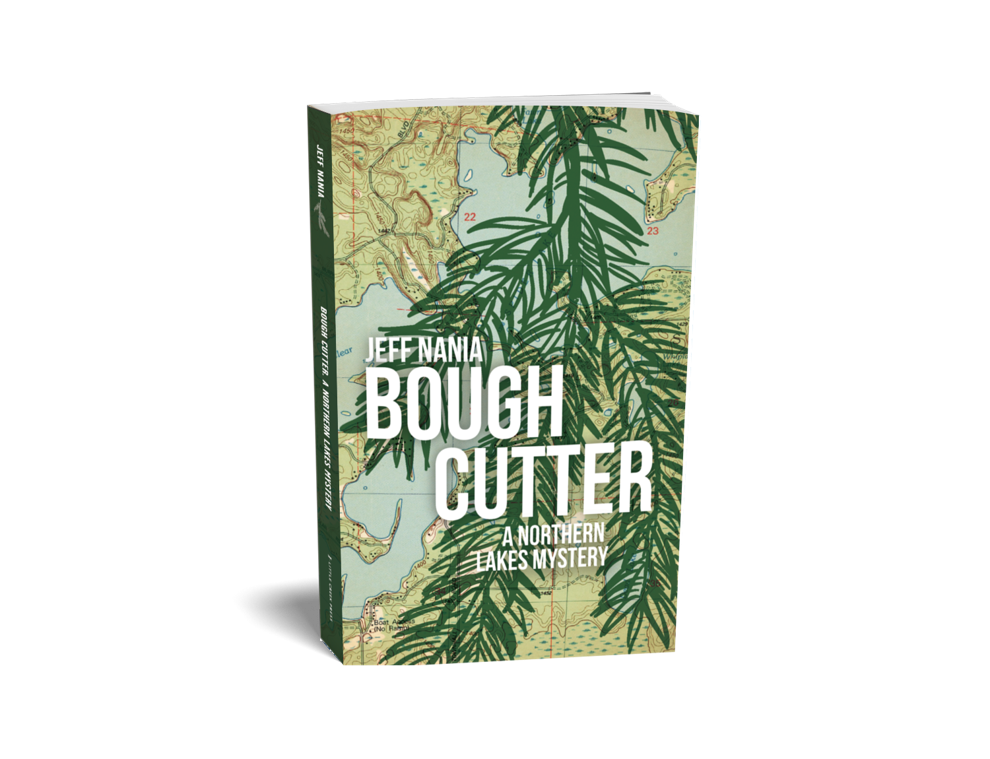 "Bough Cutter" is Nania's third mystery in his Northern Lakes Mystery series featuring main character Sheriff John Cabrelli. Nania has been recognized for his work on wetland restoration and environmental education, and is also known for his nonfiction writing in several outdoor publications, including "Wisconsin Outdoor News."
Q: What is your background and how did you get into writing?
A: I've written feature stories for outdoor publications and outdoor magazines. I enjoyed it. How I got started writing books … is a good story: My dad, before I was born, had gone to northern Wisconsin to go grouse hunting. He and his partner were looking for a place to stay and found this old work camp being converted to tourist cottages on Spider Lake in Sawyer County. That's started a tradition in our family that has lasted four decades. We all get together at Spider Lake in cabins and have good, honest, swimming, fishing, hiking fun together. Every year I would buy a case of mystery books from a local author and we'd read books together. One year (the author) didn't write a book. I don't know what possessed me but I wrote my first book, "Figure 8," and handed it out to my family as a book to read. Little Creek Press in southwestern Wisconsin says "Hey, we really like this book." So "Figure 8" came out and it did really well so we continued on with "Spider Lake" … and here we are at "Bough Cutter." I couldn't be more pleased. If you would have told me four years ago that people were going to buy a novel I wrote, even one copy, I would have laughed at you.
Q: In addition to being an outdoors writer, you're also a former police officer. How does your background influence your writing?
A: I was in law enforcement for a long time and I went on to do wetland restoration work in Wisconsin and became involved in environmental charter schools in Wisconsin. I'm not capable of retirement. In these books, every place, every scene, every bit of landscape I describe in these books I've put my feet there, I've walked there, I've swam in those lakes. The people (in the books), I've met every one of them. I've been blessed with an eclectic group of strange friends … and I enjoy telling those stories.
Q: How is novel writing different from the feature writing you've been doing?
A: I have found feature writing to be the most difficult kind of writing imaginable. It's much easier for me to write a whole book than to write a 1,500-word story about someone. People have wonderful stories, stories that deserve to be told and told well. That is a difficult task.
Q: While "Bough Cutter" is about a drug war and homicide investigation, it's not without its charm. Why is it important to incorporate both dark and light into your books?
A: I want my books to be PG. I don't want to have graphic violence that keeps you up at night. I don't want them to be something kids wouldn't read. I just wanted it to be a good adventure tale and a good mystery.
Q: What real-life experiences during your time on Spider Lake have made a difference to you?
A: I sat on a boulder on the shore of Spider Lake and it was 40 (degrees) below zero. The silence was perfect. I'll never forget that. I've been up there when the snow was butt-deep. I love the whole sense of community. …In "Bough Cutter" there's one scene about Thanksgiving where everyone (in the town) gets together for Thanksgiving. And that's a real thing. I wish we all had these experiences and that my books will help people think about keeping traditions and good things alive.
Q: The crux of the homicide investigation in "Bough Cutter" is a drug war in the Northwoods of Wisconsin. Do you think people realize drugs are a problem outside bigger cities?
A: I think they're keenly aware of the issues. Look in (a northern Wisconsin) newspaper today … half of the arrests are drug related. This (drug) movement from the cities to rural areas is a plague and it has happened for any number of reasons. No one is immune to this and we have yet to find any solutions for it. We're wasting our young people and there is no one who is unaffected by the use of drugs. … The only way we're going to make any progress is education.
Q: What kind of research did you do for the book?
A: No one escapes my grasp. I use my (law enforcement) experience, but I want to be current, so I have all sorts of people in law enforcement and people who are retired, like a retired medical examiner, who help me out. (Writing the novels) has been fun for all of us. All these characters are fictional.
Q: I got near the end of the book and was shocked that I didn't realize who the bad guy was until the very end. But "bad guy" might be a tricky term and part of what the book shows is that situations are not always black and white — even in the war on drugs. Do you agree?
A: Drug dealers are criminals. They murder people every day and they do it with no regard for the victim, not to mention the families that are destroyed. Over 1,500 people died of drug overdoses last year in Wisconsin. It is not black and white, because it affects everyone differently. Imagine the pain and anger a family feels when the ME tells them their son or daughter has died of an overdose. What is the narcotics agent thinking when he or she hits the street everyday fighting what seems like an endless war? What about the social worker trying to help people get into treatment? Each is fighting a common enemy; each seeing it from a different point of view.
Q: This is your third in the series, yet "Bough Cutter" read well as a stand alone novel. Did you intend to write it that way?
A: I did. "Figure 8" is a good book to read to start with, but when I write them I want them to stand alone. I want you to be able to pick it up and find your way through it.
Q: And you're currently working on book number four?
A: Yes, I am. I shouldn't write them so fast, but I have to write them as I'm thinking of it.
Q: Do you foresee yourself continuing with the Northern Lakes Mystery series?
A: I've been very involved with kids in the outdoors. In the 1950s and '60s adventure books were really very popular. I'd like to take a crack at writing a kids' outdoor mystery. My favorite book of all time is "Rascal" by Sterling North. It's a story of a boy and his raccoon during World War I and it is the most charming story of life in Wisconsin during that time. I would never be able to write anything that well done, but I'd like to tell a wonderful story about kids and being part of the outdoors.