The exhibition opening Saturday at the Chazen Museum of Art was — fittingly — put together by the Smithsonian American Art Museum as a way to cope with an economic downturn.
The 56 paintings in "1934: A New Deal for Artists" were pulled from the Smithsonian's archives and put on display in Washington, D.C., in 2009 during the depths of the Great Recession as a cost-saving measure, since that was cheaper than bringing in another exhibit.
"1934," which has since traveled across the country before landing in Madison, assembles some of the great paintings to come out of the Depression-era Public Works of Art Project — the first federal government program to support the arts. The PWAP lasted only seven months and put $1.3 million directly into the hands of 3,750 artists assigned to depict the "American Scene" of the day, both to inspire Americans and help boost the economy.
But in today's tough economic times, government funding for the arts has often found itself first on the chopping block.
The money Wisconsin will spend this year on the arts — 15 cents per capita, compared with $5.77 in first-ranked Minnesota — reflects a 67 percent cut in funding to the Wisconsin Arts Board in 2011, when Gov. Scott Walker folded that statewide arts agency into the Department of Tourism. (Wisconsin's Percent for Art program, in which 0.2 percent of a public building project was devoted to public art, also was dismantled that year.)
Philanthropic dollars are also down, forcing a cut in the amount in grants the Dane County Cultural Affairs Commission can give to arts and culture projects, said Pamela Andros, interim director of the commission.
"We could sit around and whine about it," said Anne Katz, executive director of the advocacy group Arts Wisconsin.
"But what I see is people figuring out how to grow the new sources of money. And that is a totally creative, entrepreneurial mindset."
The New Deal fostered programs such as the Works Progress Administration's Federal Art Project and Federal Writers Project — providing salaries for young artists such as Jackson Pollock, Wisconsin's John Steuart Curry, even novelists John Steinbeck and Richard Wright — and newly recognized artists as "workers," an essential part of the American workforce.
But almost 80 years later, experts say, the label "worker" is being replaced by "entrepreneur." And the art world is devising new ways to survive. Using technology to sell itself. Promoting catchphrases like "creative placemaking." Linking the arts to jobs, tourism and economic development.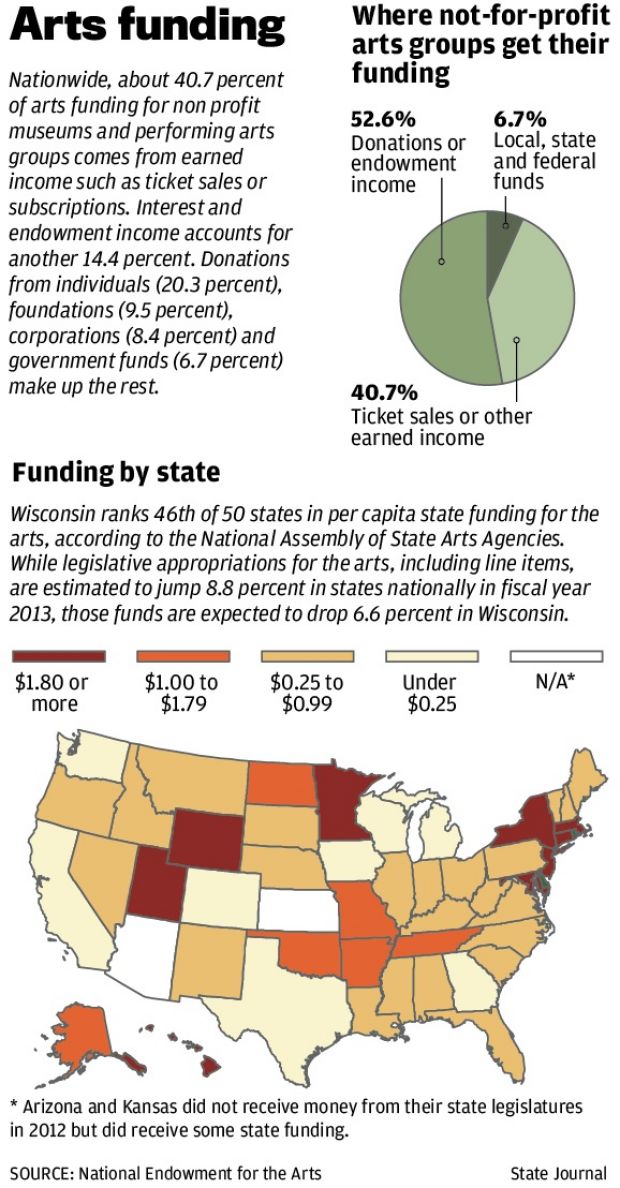 "I think the arts have had a hard time in the past trying to make the case for their inherent value," said Sherry Wagner-Henry, director of the Bolz Center for Arts Administration, part of the School of Business at UW-Madison.
"We haven't made the strongest argument possible for arts education, so we've seen schools start to jettison their arts programs when they start to lose funding — and arts organizations have had to pick up that slack and try to replace those educational components in other ways.
"Therefore another way to make the case about the value of the arts has been about its contribution to the creative sector or to economic development within communities," she said. "There's been a real movement afoot, really only about a decade old, thinking about arts entrepreneurship from a really deliberate standpoint."
One example is on the UW-Madison campus itself, where students can enroll in an arts enterprise course or compete in the "New Arts Venture Challenge" that awards a seed-money grant to a student with an innovative business idea in the arts.
Yet newly labeling artists as entrepreneurs discredits the centuries of craftspeople and artists who have always "had to hustle" to survive, said Chazen Museum of Art director Russell Panczenko.
What's new today, he said, "is a kind of shift — and I don't know if this is around the country, but I sense it around here — away from culture, toward things more literal," he said.
"People don't seem as comfortable looking at art and appreciating it for its formalism, for how beautifully it's made."
Linking art to the economy reaches all the way to the National Endowment for the Arts, led until recently by UW-Madison alumnus Rocco Landesman. Landesman, who pushed for leveraging NEA dollars by pairing them with other economic development efforts, coined the NEA motto "Art Works."
Today the amount of money Wisconsin gives to its art agency is tied to whatever the state receives from the NEA — currently $781,300. That means dollars for the arts in Wisconsin are critically linked to how much federal support there is, said Wisconsin Arts Board executive director George Tzougros.
Faced with this uncertainty, arts advocates are looking for new funding streams.
For example, in 2012 the Dane County Cultural Affairs Commission — whose grants dropped from $469,000 in 2007 to $296,000 last year because of a decline in donations — launched its version of the website power2give.org. There, creative types can make a pitch to the public for support of an arts, culture or local history project. Since June that effort has generated more than $36,000 in online donations for projects, plus $18,000 more in matching funds raised by the commission.
In Madison, city funding for the arts has been relatively stable overall, although amounts have shifted from one project to another through the years, said the city's arts administrator, Karin Wolf.
Government funding for the arts is probably going to continue to shrink, said the Bolz Center's Wagner-Henry.
"But in a way that's kind of freeing," she said. "I'm probably not going to be the most popular person for saying that. But I think like any supported entity, it's best supported on the most localized level because those are the folks who see the results of the investment."
Local pride was a factor in many of the paintings in "1934: A New Deal for Artists." Many painters set aside the day's Modernist style and returned to their home regions to "depict something that meant a lot to them" — whether workers in a cotton field or a night game of 1930s baseball, said Ann Prentice Wagner, who authored the Smithsonian's exhibition catalog and will visit Madison to talk about the PWAP.
Newspaper accounts from 1934 also demonstrate how much local pride came from having a hometown artist's work recognized nationally or even hung in the White House, Wagner said. At a time when "art" was considered to come from faraway places like Paris, the PWAP made it part of the American story.
"It showed there wasn't one place to make art — that every part of this country was a place to make art," she said. "I think that message still holds."