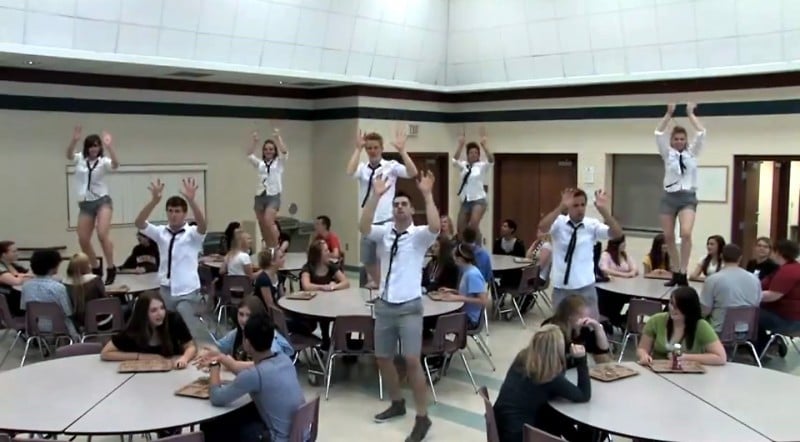 A UW-Madison student and filmmaker wants bullied teens to know that life gets better after high school.
UW-Madison senior Colton Boettcher unveiled a music video on Thursday, Jan. 26, that promotes the message of the "It Gets Better" Project, an Internet-based support group for LGBT teens that arose after a series of gay teen suicides in 2010.
After less than 24 hours of being posted, the video, set to Lady Gaga's "Hair," has received nearly 14,000 views. Lady Gaga praised the clip and linked to it on her Facebook page Friday, commenting "The Choreo! I died!"
The video shows one teenager's path to acceptance from his peers, from being bullied and harassed to feeling comfortable taking a date to the prom.
While the plot unfolds, a group of energetic, impeccably choreographed dancers -- a group of UW-Madison students involved in the LGBT community -- celebrates the self-accepting message of the song. When the song concludes, Boettcher urges teens to speak up to end bullying and to visit itgetsbetter.org or the Trevor Project online for support.
Boettcher, who directed, produced and edited the video, was the first in his class to come out at his high school in Bonduel, Wis., a small town of just over 1,400 in which the video was shot.
"I had a really good coming out experience," he said. "The administrators, teachers and all the staff made it okay for me to be gay."
In September, three years after graduating, Boettcher began production on the music video with the help of former teachers and current high school students, who served as extras.
Boettcher said he was grateful for that encouraging environment, noting that many LGBT teens are not met with the same support from peers and adults and endure cruel forms of harassment.
"I don't know what I would have done if I had been bullied because I had so much support," he said. "I wanted to do something that would be helpful to the gay community."
Aside from fundraising efforts like T-shirt sales, the college senior financed the $1,500 project himself as the second product of CeeJbee Productions, his own start-up.
Responses to the YouTube video have been overwhelmingly positive in a short timeframe. Many have expressed hopeful sentiments about LGBT acceptance and affirmed that life for bullied LGBT teens improves post-high school.
One reads, "This video made me cry ... I remember walking through the hallway in high school being afraid to live to my identity. But after high school, things got SO MUCH BETTER!!" The video has also received attention from national blogs, including the Huffington Post, LGBTQ Nation and Instinct Magazine.
Boettcher hopes that any gay teens facing harassment will watch the video and feel uplifted by thinking about a more hopeful future.
"Whatever you're feeling is nothing compared to what your life entails for you," he said. "There's so much more you have to do in your life than just high school.
"So once you get through that four years of getting picked on or bullied, you're going to find a bunch of friends, you're going to meet different people, you're going to go somewhere different in your life, and you're going to know that high school is nothing compared to what your life should be."