The Shotovers look, at first, like a very strange sort of family.
Sisters don't recognize each other. Love matches proceed unaffected by trivial things like who's married or engaged to whom. People behave one way to a man's face, then tear him down as soon as they think he's not paying attention.
Actually, most families do that, right? Maybe it's not so strange.
In "Heartbreak House," running in the Hill Theatre at American Players Theatre through Oct. 5, every member of the Shotover family has an extra helping of the obstinate streak common to toddlers and uncles with conspiracy theories.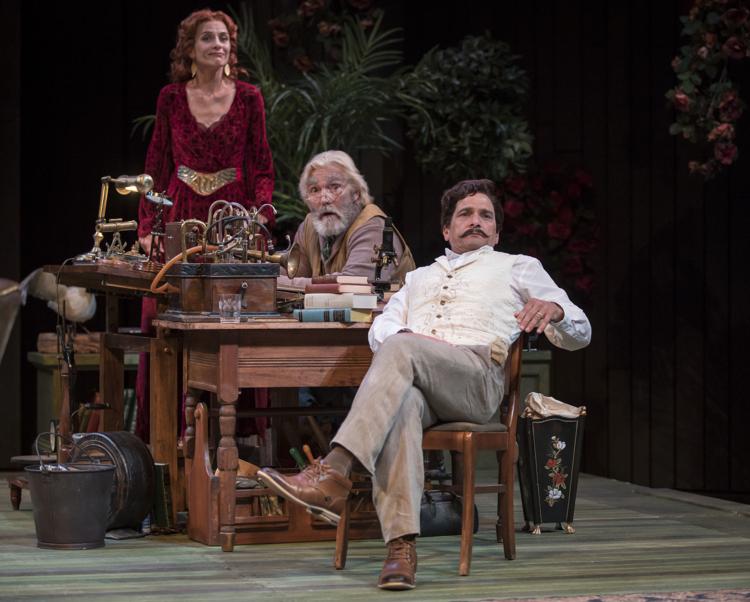 "You will find it far less trouble to let papa have his own way than try to explain," says Hesione (hess-eye-oh-nee) Hushabye, who would prefer to be given the same kind of allowance herself.
Written by George Bernard Shaw during World War I and published soon after, "Heartbreak House" pitches a young woman, Ellie Dunn, into this odd group of "Bohemians."
Captain Shotover (Jonathan Smoots with perfect coming timing) imagines his English country house to be a ship and has kept a taste for Caribbean rum. 
His daughter Hesione (Tracy Michelle Arnold), a mischievous siren in a flowing red lounging dress, invites people over so she can meddle in their lives, all the while "coaxing and kissing (and) laughing."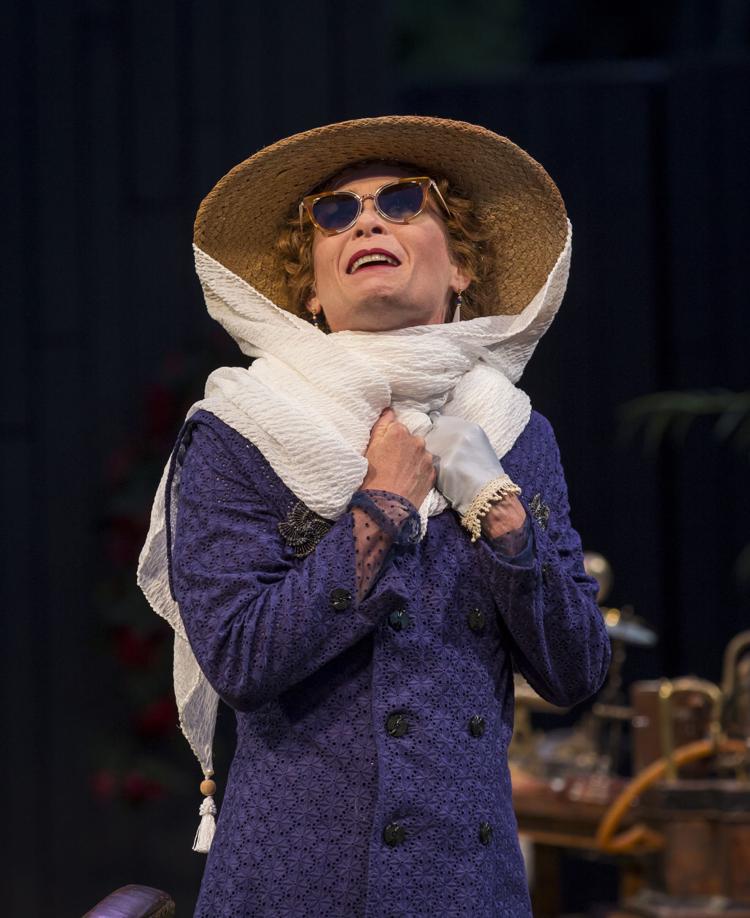 Her sister (Colleen Madden), back after 20-plus years in the "crown colonies" with her diplomat husband, waltzes in wearing sapphire blue and proclaims herself "rigidly conventional." She then promptly strikes up a heavy flirtation with her sister's husband (Jim DeVita, gallant and dramatically bored).  
Ellie, played with a thousand expressions of dismay, exasperation and determination by the marvelous Chicago actor Phoebe González, just wants a life where she doesn't have to worry how long her gloves will last. She figures her best bet is an alliance with her father's boss, uptight businessman Mangan (John Taylor Phillips, showing again how sleeping onstage can be funny).
But, as Arnold's cunning Hesione quickly pulls out of her, Ellie pines for an adventurer who's been filling her head with stories. But Ellie's fate is spelled out right above her head: "HEARTBREAK HOUSE," like a sign on a grand old hotel where the rooms have "character."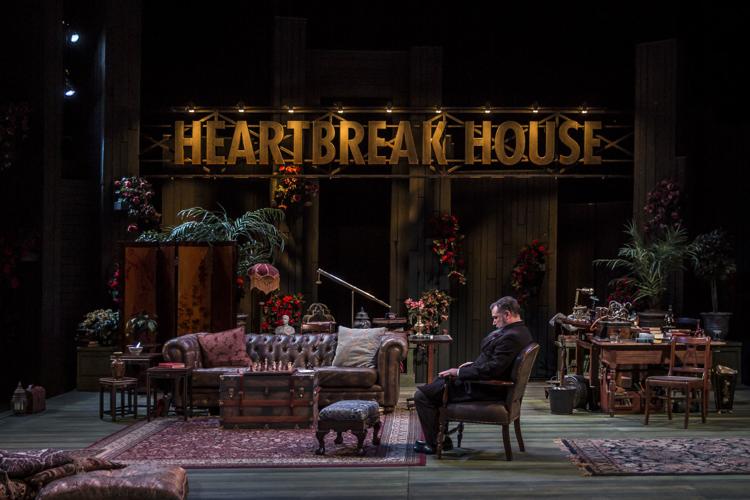 Shaw called his play "a fantasia in the Russian manner on English themes," and the third act in particular drips with the ennui of the landed gentry. Set designer Andrew Boyce coyly nods to the play's Chekhovian inspiration with a stuffed seagull in flight, wings outspread on one of the bookshelves. The rugs and pillows, too, look swiped from "Three Sisters."
The adapter and director of APT's "Heartbreak House," Madison-born director Aaron Posner, is known for his riffs on Chekhov ("Stupid F-ing Bird" at University Theatre in 2016, "Life Sucks" at Forward Theater in 2019).
To get the play under three hours, Posner snipped out a couple of characters — a lovestruck brother-in-law of Lady Utterword and a burglar with a secret. He had to kill a few of Shaw's darlings to do it (Hesione: "Other women can snare men in their hair but I can swing a baby on mine"). Though Marcus Truschinski would have been a perfect Randall, the play is better for these trims.
"Heartbreak House" has Shaw's streak of socialist cynicism — he'd have called it "accurate observation" — and his gift for comedy too. Posner's direction is playful and self-aware.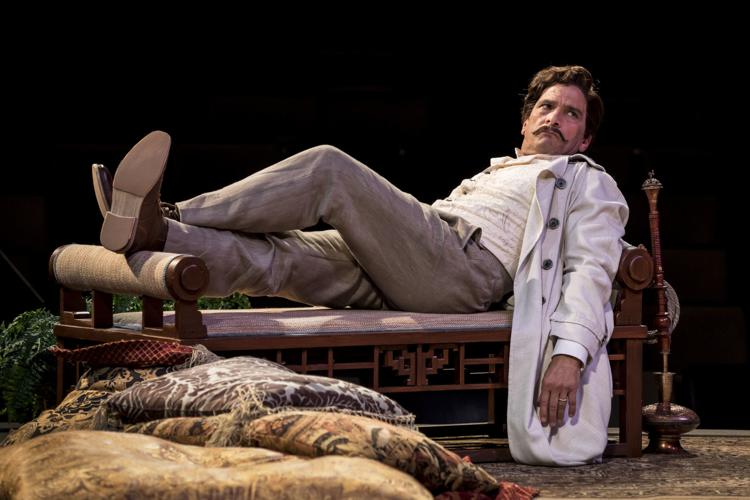 Restless and agile as a teenager, Arnold balances her way along the back of the couch on bare feet. Madden, cast for a second time this season as a bit of a seductress, sucks some pudding off her finger and strikes self-consciously haughty poses.
DeVita, playing the Don Juan, swoons on a chaise as though in a parody of a silent film. Phillips, as the "bloated capitalist," deflates like a parade float.
Throughout, Andre Pluess's plucky sound design evokes a live action Disney film with a touch of Mancini. Costume designer Rachel Laritz dresses the Shotover women in deep jewel tones, while Ellie looks like a cleaned up Eliza Doolittle before she gets fancy. With his hat and vest, Mangan could be the Monopoly man.
Every time someone mentions heartbreak, the white carnival lights around "HEARTBREAK HOUSE" pulse briefly and a sound chimes. It's a talisman or a touchstone, a literal frame for an old, familiar kind of story.
Just like the cherry orchard is destined for the axe and Irina's never going to get to Moscow, the fate of this family has been spelled out from the very beginning.