When it comes to access to arts education in Madison, the message has been consistent for years.
The city has an abundance of resources for children to study the arts in school, from music programs to visual art classes, as well as theater programs and even some dance.
But the same disparities that fall out along racial and socioeconomic lines affect access to the arts, too. 
"There are rich resources available here in Madison," said Jennifer Cheatham, Madison Metropolitan School District superintendent. "We can help more students have access ... connecting students that need it to the resources that already exist."
Tuesday night in the Madison Museum of Contemporary Art's lecture hall, MMoCA convened about 80 arts leaders, administrators and educators for an evening discussion about arts in local public schools. 
The event, called ART+Learning, is the second in a series of "ART+" lectures. The first featured geopolitics with "Lands in Limbo" photographer Narayan Mahon and professor of geography Richard Kaiser.
On Tuesday, MMoCA director Stephen Fleischman introduced Cheatham, who was hired to run Madison's public schools in 2013, and Aaron Olver, managing director of University Research Park. Olver primarily served as interviewer to Cheatham.
"The combination of accountability pressure with budget challenges caused some serious problems around the country when it comes to lack of access to the arts," Cheatham said. "And the students who are lacking access are the students who would probably benefit most.
"The good news is, in Madison, we never made that mistake," she said of cutting arts programs. "We have a foundation in place that is stronger than most school districts I've worked with.
"Our issue is lack of equity and access to those experiences." 
One primary focus of the night was on work being done by Any Given Child. Since summer 2013, arts leaders have been working with a team of Kennedy Center consultants to improve the breadth, depth and variety of arts education in K-12 public schools. 
"As a school district we've described what good looks like, and described the essentials of an arts-rich school," Cheatham said, using "resource mapping ... (and) really understanding where we are as a community." 
"Now we're really diving into implementation, how to meaningfully integrate the arts into daily instruction." 
As part of Any Given Child, for example, each school is set to have an arts liaison, a volunteer position that helps coordinate arts happening in the school with community opportunities.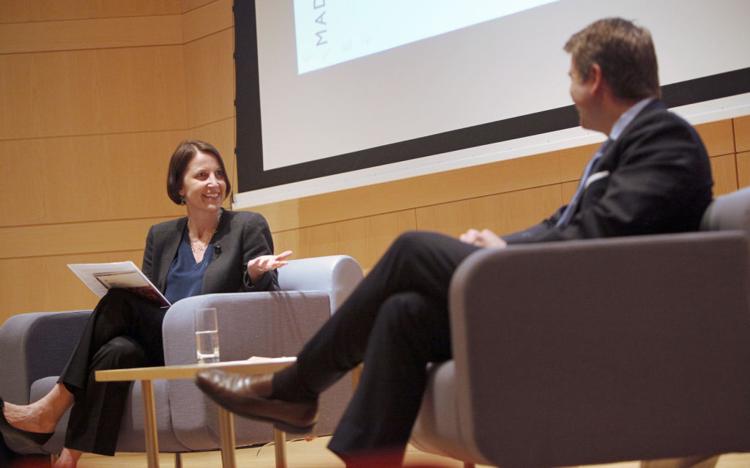 Cheatham also discussed the creation of an "arts pathway" for high school students who may want to pursue artistic careers.
The narrowing of curricula in many districts across the country, a response to No Child Left Behind, has left out the value of the arts in creative problem solving. But there's still a strong local value for a well-rounded education.
"We've been talking about, 'What are the skills and abilities we want for our children?'" Cheatham said. "There are certain things that are implied — people don't talk about mathematics skills when we have these discussions. They don't talk about explicit reading skills."
"They take it for granted," Olver interjected.
"Right, they're assumed," Cheatham said. "But they are talking about resilience, creativity, self-awareness, interpersonal skills. Grit." 
Toward the end of the lecture, former Dane County executive Rick Phelps asked Cheatham and Olver about making access to high quality early childhood education a priority for all Madison families. Recent mayoral candidate Bridget Maniaci asked about "third spaces" for teenagers like the ones she grew up with, places where teens can create their identity.
"A missing piece of this is youth engagement," Cheatham said of arts education reforms. "It's about community — I met with a group of student leaders yesterday, and they were talking about the lack of opportunities for students to create their own networks with one another."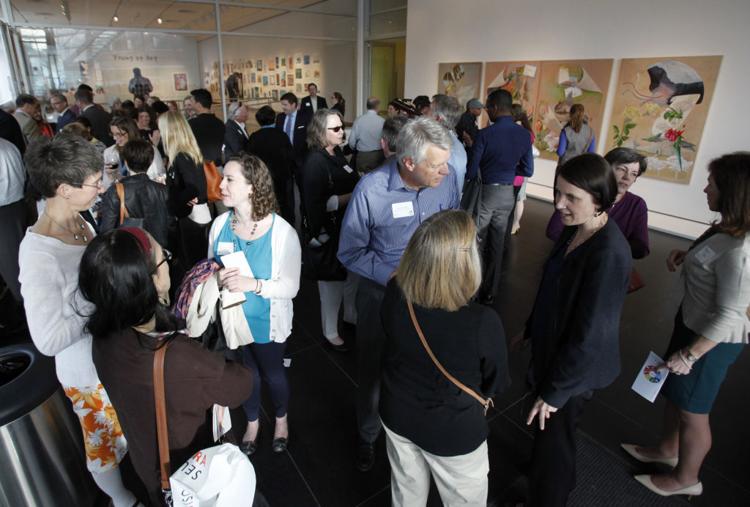 Cheatham herself is a former violinist who played in musical theater pit bands and chamber groups in high school. Olver said his background in theater helped him think on his feet at the Wisconsin Department of Commerce.
Both emphasized a multi-faceted, long term view of arts in local education. Educators should feel free to experiment and take risks, they said. 
"Venture capitalists will try to get one home run out of ten, or maybe two out of ten," Olver said. "It's really important for us to get used to the idea that in order to have home runs and wonderful outcomes ... we have to have this tolerance for risk. 
"If you let the first failure drive you out of something that you care about, (something) that's meaningful to you, we're all going to be poorer for it."