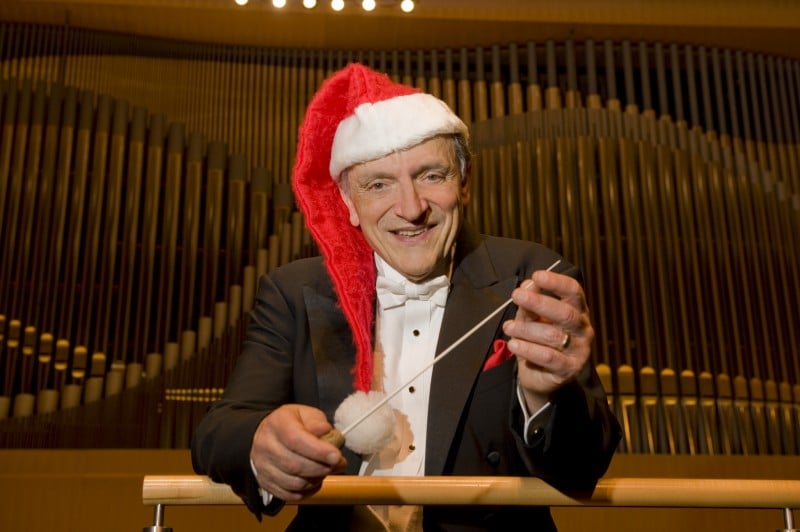 There is always a carol sing at the beginning of each performance, the buoyant energy of each tune trickling from the lobby into Overture Hall. 
Christmas at the Madison Symphony is one of Maestro John DeMain's favorite times of the year. Every year, the number of musical personnel rival those in the audience, and we're asked to imagine that any excerpt from a Mozart mass or "Ave Maria" will fit into a holiday roster. 
This year's concert, more than two hours of carols, hymns and pop ditties, kept to tradition in all the familiar ways. There were big "Messiah" choruses by Handel ("For Unto Us a Child is Born" and the all-skate "Hallelujah") and a soulful gospel arrangement of "Little Drummer Boy." As arranged by Stanley, it's arguably the best the carol has ever sounded.
One difference that few probably noticed was the name. The Madison Symphony Christmas Spectacular carried on for more than a decade until Radio City Music Hall issued a "cease and desist" order. (After all, it's so easy to confuse an orchestra in middle Wisconsin with a corps of high-kicking Rockettes, in Manhattan or otherwise.)
In 2012, the orchestra instead promoted "A Madison Symphony Christmas." 
For soloists, DeMain invited Milwaukee mezzo Emily Fons and Texas tenor David Portillo, both graduates of the Ryan Opera Center for young artists at the Lyric Opera of Chicago.
DeMain lobbed Portillo two softballs – the Bach/Gounod "Ave Maria" and "O Holy Night," both of which he performed with warmth and ease.
Fons, a winning, capable performer, looked a little too flirtatious on her Mozart aria ("Laudamus te" from the Mass in C Minor). But she settled in easily with the boys' choirs on "Gesù Bambino" and sold every word of the jazzy 1967 piece "This Is That Time of the Year," which praises the joys of "presents that you'll never use" and the "perfect excuse to go right off your diet."
Among the opening night hiccups, Portillo boogied so hard in his antlers that he missed a line in the poppy, silly "Reindeer Rock" with Fons. The opening of Stanley's "A Christmas Greeting" sounded like no one was watching the baton.
The only grievous misstep was when DeMain turned the stage over to a power ballad by Foreigner, performed by every single person onstage. Laughably inappropriate both in quality and content, "I Wanna Know What Love Is" must have presented a challenge to the orchestra, simply to get through it with a straight face.
Still, there is much to love in the symphony's overture into holiday music. Whether or not we call it "spectacular," this musical Christmas is big-hearted, tuneful and inclusive, from the carols to the post-show candy canes.