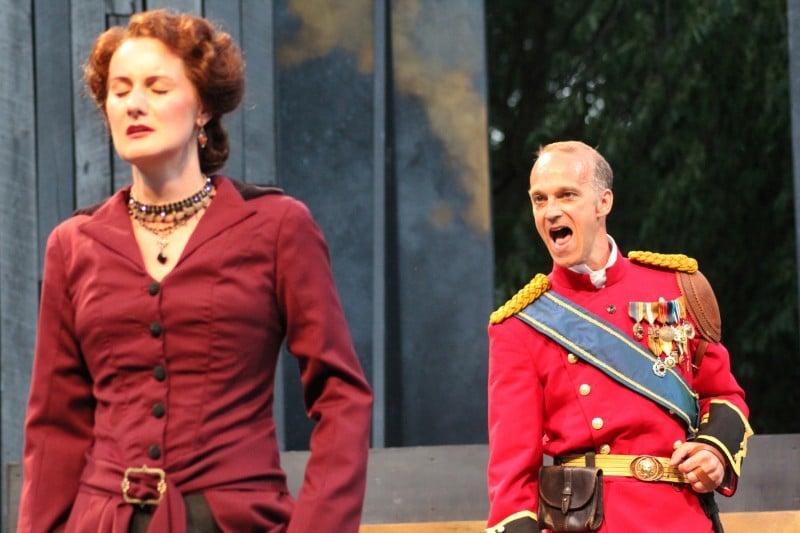 SPRING GREEN — The crown, for all its royal sparkle, also means something sinister in "Richard III," one of Shakespeare's best history plays.
From Edward IV, who profits from the murder of his predecessor, to the conquering Richmond at the end of Act V, every king is a killer.
What makes Richard the playwright's most famous sociopath is how baldly he indulges his vanity, how deliberate and ruthless he is in pursuit of the crown.
The first "up the hill" play directed by longtime company member James DeVita, American Players Theatre's "Richard III" has an almost nightmarish quality, full of visible spirits and invisible demons. Loosely set in the years before World War I, this "Richard" makes a depressing, contemporary case that war leads only to more war.
DeVita's production opens with the last scene of "Henry VI" (part three), in which King Edward IV honors his son, the appointed heir. As the dedication proceeds, Richard, played brilliantly by Jim Ridge, briefly clenches his jaw, giving subtle lie to his brother's pronouncement that "here begins our lasting joy."
The country may be at peace, but now is the winter of Richard's discontent. Unable to enjoy the fruits of his family's success ("deformed … I cannot prove a lover"), Richard glowers in the shadows, unloved and untrusting.
Within a few scenes, Richard dispatches his brother, Clarence, to his death in the Tower, which in turn hurries the death of his other brother, the king.
Aided by the Duke of Buckingham (a zealous, smooth-talking David Daniel) and several thugs with ropes and knives (Nate Burger, Eric Parks and Nathan Hosner, all quite sinister), Richard ascends the throne with his feet on the necks of his comrades.
As a tyrant in training, Ridge's Richard is a smooth dissembler, nimble despite his stiff right leg and disabled arm. Each murderous choice seems not only necessary, but inevitable in his rise to power.
Still, Richard looks surprised when his machinations begin to work. Most astonishing, to him and to us, is Richard's seduction of Lady Anne, whose husband and father-in-law Richard has recently killed.
While she mourns the dead king, lying in a shroud before them, Richard delivers a classic abuser's line — "'twas thy beauty that provoked me." As the furious Anne, Melissa Graves makes her eventual fall an extension of crippling grief and powerlessness.
Tracy Michelle Arnold as Margaret, Henry VI's widow, embodies the fury of women used as political pawns. Fearless and spectral in a long cloak and wild gray curls, Arnold curses Richard and the men who ignore his villainy, fearing for their own lives.
Throughout Richard's blood-soaked (and frankly, gory) rise, DeVita makes strong choices that emphasize the tyrant's inner torment. In a surreal battle scene, voices of the men, women and children Richard has dispatched swirl in whispers around him, like the mouth of hell opening (Josh Schmidt's sound design is excellent).
Overlapping the oratory of Richard and Richmond as they lead their troops into battle makes both speeches stronger. And unlike the relentlessly masculine "Henry" plays, DeVita gives the women — Colleen Madden as the anguished Queen Elizabeth, Sarah Day as Richard's conflicted mother — ample stage time to deliver their curses.
Takeshi Kata's minimal set gives the players room to toss chairs, joust and strangle one another.
Throughout the play, Richard gives back what's been given to him his whole life — callousness, bullying and deception. This makes his crisis of conscience in the final act feel devastatingly honest, and lends a new depth to Shakespeare's centuries-old tragedy.