Over more than two hours of lovely music on a perfectly balmy summer night in Garner Park, just one solo earned a spontaneous "popcorn" standing ovation.
Mezzo-soprano Wallis Giunta made her Madison Opera debut before some 14,000 people at Opera in the Park on Saturday.
Giunta's jewels flashed from the stage as she swept her hand across her forehead during a romantic, lively performance of "Una voce poco fa" from "The Barber of Seville" (the third opera on Madison Opera's 2014-15 season).
Her high notes soared; her embellishments sounded effortless. When she finished, dozens of audience members jumped from their blankets and camping chairs in effusive praise.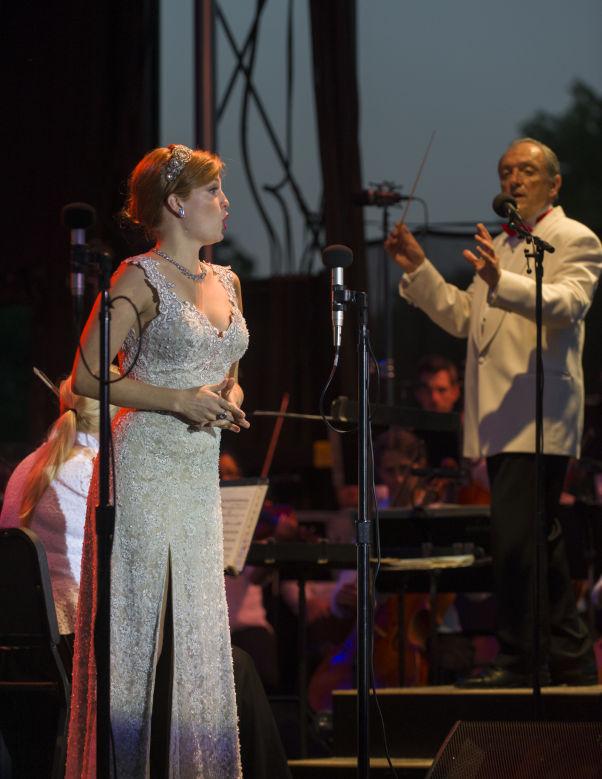 Perhaps Giunta will return, as Mack has, in a lead role that will let us see more of her range. ("Alcina" in Toronto and a production of "The Merry Widow" at the Metropolitan Opera get her first.)
"Una voce poco fa" may have stolen the first half, and Giunta's languid take on "The Miller's Son" from "A Little Night Music" very nearly stole the second, ceding ground only slightly to Kelly Markgraf's swaggering turn as Escamillo in the "toreador" song from "Carmen."
Maestro John DeMain's 13th annual Opera in the Park spread the highlights around. 
Hearing the Madison Symphony Orchestra in the open air can feel like taking a 15-foot statue that seems massive indoors and moving it outside, where the vastness of the sky makes it look suddenly tiny.
Reliable amplification for the instrumentalists and singers alike helped the MSO, Madison Opera Chorus and four soloists fill the "room," as it were, all the way to families sprawled on blankets near the Garner Park shelter. 
The evening's best moments included a duet between Giunta and Jamie-Rose Guarrine, a soprano who earned a doctorate in vocal performance at the University of Wisconsin-Madison.
Their rendition of "Ah, perdona al primo affetto" by Mozart, which Madison Opera general director Kathryn Smith called "four of the most beautiful minutes in opera," was affecting and surprisingly delicate — I felt a little thrill the first time their voices combined.
Sean Panikkar, a tenor also making his Madison Opera debut, got to play the romantic twice, first in a capable rendition of "Che gelida manina," an aria from "La boheme" sung by the poet Rodolfo to his newly beloved Mimi.
And I can't have been the only one swooning when Panikkar launched into "Dein ist mein ganzes Herz," a charming song from a Franz Lehar operetta that showed off Panikkar's gorgeous high range.
While all of the soloists performed well, the Madison Opera Chorus under the direction of Anthony Cao deserves special praise for excellent renditions of "The Ballad of Sweeney Todd," the opening number for Madison Opera's February 2015 production in the Capitol Theater and their triumphant "Bell Chorus" from "Pagliacci."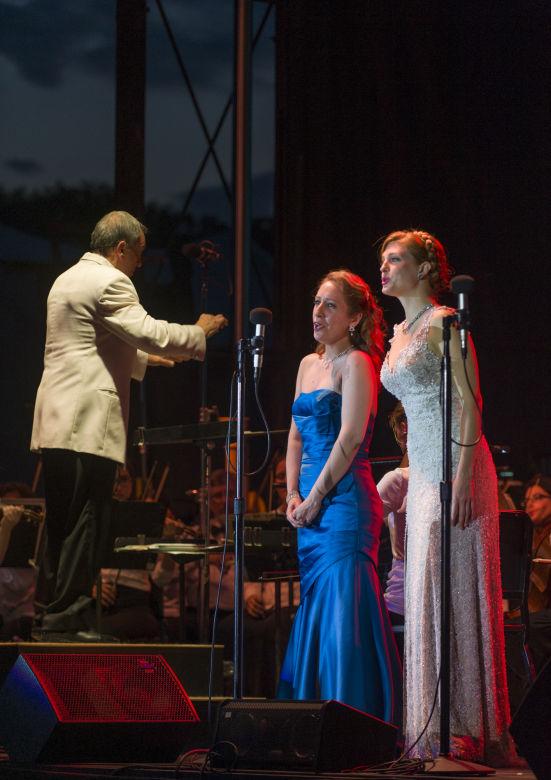 They sang the "toreador" song with gusto while hundreds of brightly colored neon rings and batons circled and dipped in the audience.
Opera in the Park must toe a careful line between the familiar — "Carmen," Rodgers and Hammerstein — and what might be new, like arias from Madison Opera's dramatic season opener, Beethoven's "Fidelio." (Smith joked that, after April's successful "Dead Man Walking," it's the only other opera she knows of that is set in a prison.)
In regards to the unfamiliar, this year's performance may have asked more of its audience than usual, with a number from the obscure musical "Carnival" and a flashy men's duet from Verdi's "Don Carlo."
But despite the mispronunciations and flubs of blundering emcee Brandon Taylor (WKOW/Ch.27), one noticeable sound glitch and a few tentative entrances, this year's Opera in the Park looked polished and enjoyable.
It was, as the audience joined with the chorus at the evening's close, "a grand night for singing."