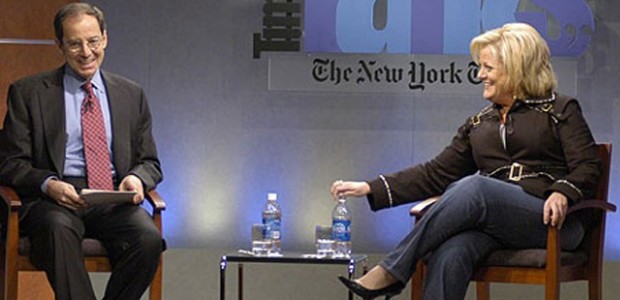 Before he was the classical music critic for the New York Times, Anthony Tommasini was a professor at Emerson College at Boston and an accomplished pianist.
As an arts journalist for the last 15 years, Tommasini covers the Metropolitan Opera, the New York Philharmonic and performances at Carnegie Hall, but he stays in touch with his academic roots through workshops and lectures.
He'll speak to students and concertgoers about classical music makers and audiences on Friday and Saturday, March 23 and 24, as part of the Pro Arte Quartet's centennial celebrations at the University of Wisconsin-Madison. (Pro Arte will premiere William Bolcom's Piano Quintet No. 2 with Christopher Taylor on Saturday at 8 p.m.)
Pro Arte "is a very distinguished ensemble," Tommasini said. "It's done important things, championed a lot of ... contemporary music, living composers. I'm happy to be part of this anniversary tribute."
Tommasini spoke to 77 Square from his home in New York, soon after a trip to the Midwest during which he reviewed John DeMain conducting "Show Boat" at the Lyric Opera of Chicago.
Does the content of your talk, "Concert Music Today: A State of the Union Address," vary depending on where you're giving it?
I'm talking about issues in arts journalism that are applicable everywhere. What I would have to say (doesn't) change much … I did a recent talk at Brown, and some people asked me about the decline in coverage in the papers in that area. It does seem to me very wrong-headed for regional local newspapers to cut their local reviewers. They will keep movie reviewers but they will get rid of the music critic.
Reviews of Hollywood movies, you could get anywhere. What you really need is somebody in Madison to cover the music going on there, or dance, or drama. That's where it's really essential to have coverage.
I do love coming to university towns … where a university takes on the responsibility of tending to the arts.
The university also employs people, which allows professional quartets like the Pro Arte to live here.
It's very hard for ensembles to do adventurous things and also have professional success. They have to be entrepreneurs, which is why residencies at universities are so coveted.
If you have a home base where you can hang your hat and get health insurance and have some professional role — work with students and do coaching and master classes, then you can branch out and have your career.
With just that little bit of security, far from tying an ensemble down, it liberates them. They can take more chances. They're not so dependent on things outside.
Do you often travel to talk at universities? What do you like about it?
If my life had gone differently, I might be teaching in a place like the University of Wisconsin. It gives me a chance to reconnect. I'm a pianist … I got my masters of music at Yale, I got my doctor of musical arts at Boston University. I played a lot, made a couple recordings.
Criticism all came as a surprise. It's nice to go back, to go a place like University of Wisconsin and see, yeah, this is another way to have a life in music.
How do you define your role as a classical music critic?
I'm not on the other side of the art form, of performers. We're on the same team. I like people running ensembles and institutions. I want everything to thrive; I want the field to be creative and healthy and thriving. That's what my job is. People focus too much on the critical stuff. A lot of the words I write attempt to bring attention to things, champion artists, composers, institutions, ensembles, to educate, bring understanding about music to readers. When I was growing up, those were the critics I valued, people who did that for me.
Stay up-to-date on what's happening
Receive the latest in local entertainment news in your inbox weekly!