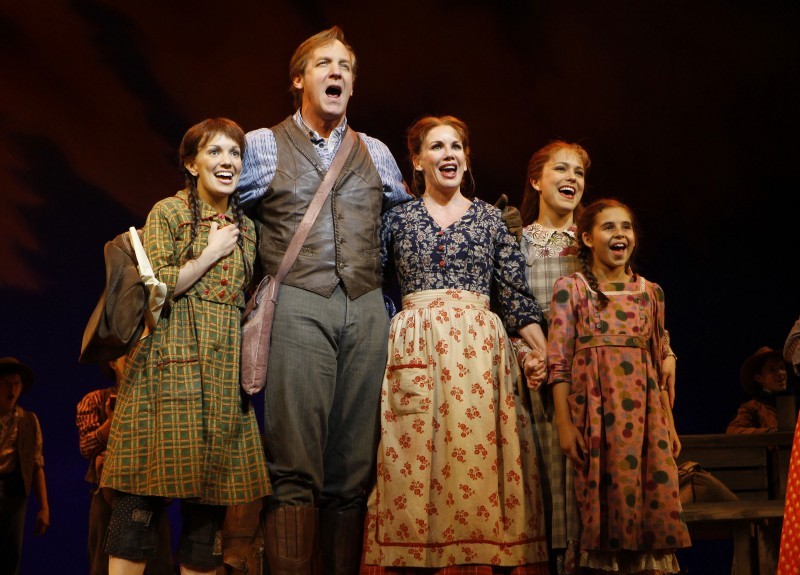 As we all learned from watching "Little House on the Prairie," being a mom on the prairie was tough. You had to deal with floods, blizzards, fires — maybe your oldest daughter would go mysteriously blind in a Very Special Episode.
So by comparison, Melissa Gilbert has found that being a mom on the road isn't so hard. Gilbert, a television icon for playing Laura Ingalls on the "Prairie" television show from 1974 to 1983, has now taken on the role of Ma Ingalls for a new musical version that arrives at the Overture Center on Tuesday.
But on the day she's doing a phone interview from a stop in Omaha, all is not going smoothly. Her hotel room has no hot water, and the school supplies for the show's child cast (including her own 14-year-old son, Michael Boxleitner) haven't been sent along from the previous stop, leaving the crew to scramble to schedule an educational field trip so the young actors can get the school credit they need.
So Gilbert, who still has the spark in her voice that fans of the show remember from when she was a plucky kid, deals with all that while doing interviews and getting ready for the show that night. It's her first musical ever in an acting career that spans more than 40 years, since she was 2 years old.
77 Square talked with Gilbert about making the jump from screen to stage, the enduring popularity of the "Little House" books by Laura Ingalls Wilder (a Wisconsin native), and whether anybody has the nerve to still call her "Half Pint":
Did you know what you were getting into?
The show itself, that schedule I adapted to pretty quickly. I thought it would be a lot harder. I must say I'm tired at the end of it. I do an awful lot of dancing for a 45-year-old woman. An awful lot of jumping about. But it's worth it, and I'm in great shape, which is fun.
Had you done theater before this?
I had done quite a bit of theater before this. This is the first musical I've ever done.
Had you had any voice training?
I hadn't had any voice training, actually. I had absolute abject terror about singing in front of people. It was the one thing that I just knew I would never do. Which is unusual for me; usually, if something scares me, then I tend to push myself to do it.
At first, it required me dipping into a well of courage I almost didn't know existed. Those first workshops in New York and the first couple of performances last year at the Guthrie (in Minneapolis) for me were really scary, but also really exhilarating. What it basically boiled down to for me, aside from the "Can I do it?" challenge was, when you're a female actor, and you get to be a certain age, the opportunities start to dry up. For me to have the chance to do something new was a real gift, and it would have been a real slap in the face to whatever — God, the universe — if I had not taken this chance.
It really is such fun. I'm working with one of the most amazing groups of people I've worked with in years. I don't think I've worked with this cohesive a group of performers and crew since I did the series. And that was like a family. Michael Landon created that environment intentionally, and this has that same feel.
I'm curious if you had any trepidation. Obviously the show was such a landmark show and such a positive experience for you.
My initial reaction to my manager, was "Are you crazy? First of all, I can't do a musical and secondly, did you see 'Waiting for Guffman'? This is 'Guffman' waiting to happen." There were moments during the rehearsal where we would try choreography here or there, or other things that wouldn't work, and we'd look at each other and say "Prairie Guffman," and then it would not be put in the show.
But when I heard the music and I read the book for the first time, it was just handled so beautifully and did such honor to the books, and by osmosis to the television series, that I just couldn't say no.
How did you feel about stepping into the role of Ma?
Other than the challenge of taking on a new role, I didn't feel pressure in any sort of way. I had to sort of focus of bit to get the sound of Karen Grassle (who played Ma on the TV show) out of my brain, because she is Ma. She's a completely different Ma than I am, as written in this piece, too.
Both Ma and Pa are written very differently. There's still that core that makes the story work so well, family and community and love and faith and strength through adversity, but the people themselves are different. Ma and Pa are much more of a team. It's a little — how should I say this? — a little sparkier. When you see me and Steve (Blanchard) onstage, you understand why the Ingallses had so many kids. (Laughs)
As an actress, do you look for parts that are 180 degrees from Laura Ingalls, like the role on "Nip/Tuck" (where Gilbert played a woman who was into bestiality)?
The only time I really rebelled against the image was in my later teen years. I wanted to be hanging out with my friends and I wanted to be able to cut my hair like everybody else, feather my hair like Farrah, and not have to work, and just go to the beach and surf and fool around. That was the only time where I sort of rebelled against the job and against the role.
Throughout the rest of my career, I've never made a conscious decision to stay away from the image that was created because of the show. It would be insane for me to do that. It's such an extraordinary legacy. To be the torch bearer as it were for Laura Ingalls Wilder for all these years in all these different ways is extraordinary. I treasure it and I take it very seriously.
Obviously, it's a big deal coming to Wisconsin with the show, her birthplace.
It's home! That's home for her. I'm really looking forward to bringing the show to Wisconsin. I can tell you that in the states that we've done so far that are home sites (Minnesota and South Dakota, in addition to Wisconsin), the audiences have a whole other layer of love and support, for us, for the show, for the books.
I grew up in the '70s, and like a lot of people my parents were divorced, and we're sitting there watching this show about this frontier family sticking together through adversity. At one level there should be this disconnect, but obviously we enjoyed watching it. Do you have any sense of why it did so well in the time that it did?
That's what we all wanted to be, including those of us who were on the show. My parents divorced before I started the show; my father died while I was on the show. Michael Landon was married three times. All of us in our hearts probably wished we could be the people we were playing. I know I did.
I wrote my autobiography last year, and one of the things I wrote in the book was that I hear a lot of times from women that they wished they could have had Laura Ingalls' life as I portrayed her. And I wrote in the book, "So did I."
What's really interesting, I realized, that when the television series debuted in the '70s, our country was in the midst of the worst recession that we had ever seen. And now here we are, traveling the country, doing this musical, and there's an even worse recession.
I think the reason that these stories hold up, especially at times like this, is that it reminds us that we started, literally, with nothing. Nothing. And we do that on stage in the show, we, the actors start with nothing. And over the course of the show, we build a home, and a town, and a community, and a whole city. And you see it. I think that it reminds us that if we can do that, we can deal with this.
Do people still call you "Half Pint"?
Just a select few, and they all worked on the show. They definitely still do. A couple, God bless them, they try really hard, and will call me "Half Pi. . . uh, Melissa." I say, "It's okay, you're allowed." Teasingly, sometimes my husband or my children will call me Half Pint. But generally, somebody gets punched in the arm.
What was it like being president of the Screen Actors Guild (from 2001 to 2005)?
I learned a lot from it. It was not the easiest thing I'd ever done; it was definitely challenging. But I learned a lot about myself, and a lot about the business that I didn't even realize I was learning. It's pretty evident when I go into negotiations on something, like my negotiations for this contract, I had a lot more knowledge, and I had a lot more control over it myself. Which is a benefit for me, but a real pain in the (butt) for the producers. (Laughs)