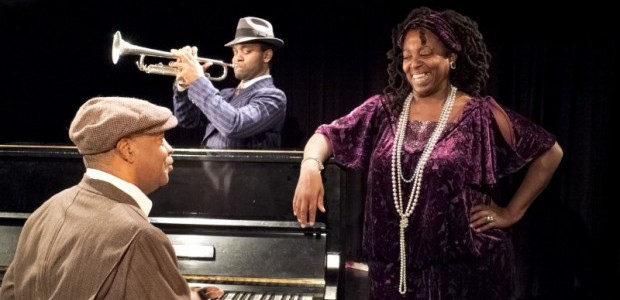 Gertrude "Ma" Rainey, the "mother of the blues," was an original diva, from her ostentatious jewelry and powerful alto to her demanding personality.
That's how August Wilson imagined her, 40 years after her death, in his 1982 drama "Ma Rainey's Black Bottom," about a group of black musicians caught between blues and jazz, tradition and change.
"He's looking at the behind the scenes, the dirty part, the gritty part," said jaki-terry, who plays Ma Rainey in University Theatre's production, opening in the Mitchell Theatre Friday, March 2.
"She had to fight for her own brand, her sense of autonomy," jaki-terry said. "She had to fight for her voice as a woman. … That insistence on that feminine voice threads through the entire play. Even when she's not present, she's big."
"Ma Rainey's Black Bottom" was named for a laid-back, shuffling dance tune with clarinet and low brass that Rainey recorded in 1927. The play is set in a Chicago recording studio, where a group of black musicians are preparing to record "Black Bottom" for a new album.
Though the play is named for one of Ma Rainey's songs, the story belongs to her young jazz trumpeter, Levee, who clashes with the older musicians. Talented, high-strung and a bit naïve, Levee wants to play in a more contemporary style and is convinced the white producers are on his side.
Trevon Jackson, who like jaki-terry is completing his final year of a master of fine arts degree in acting, plays Levee.
"It would be easy to play him as a thug," Jackson said. "He's like a caged animal. … He wants to make a better life for himself, and he doesn't understand why (the other musicians) want to stay stagnant."
Beneath the musical conflict, a dark undercurrent runs through the show. When Ma Rainey enters, she is followed by a white police officer who wants to arrest her because, it is implied, she drives a nicer car than thinks she should have. Late in the first act, Levee's intensity and agitation are partly explained when he reveals a traumatic childhood experience.
"One of the things that's particularly drawn me to (the play) is Levee's story as a tragic figure," said director Patrick Sims, an associate professor of acting at the University of Wisconsin-Madison. "The journey that Levee has in terms of trying to find out who he is, going after his dream and pursuing that, is a common phenomenon among African-American men."
Alfred Wilson, a professional actor, has come to Madison to play Toledo, the middle-aged, self-educated pianist who argues with Levee. Wilson (no relation to the playwright) has played Toledo four times.
"We have to work even harder to try and get stories like this to young folks and hope they can take some lessons away from them," Wilson said. "Levee lost out because he was so passionate about his dream. But he had a dream, and he wanted it."
"Ma Rainey's Black Bottom" will be presented in conjunction with the 2012 Lorraine Hansberry Project, a series of discussions inspired by the play set for Saturday, March 3, in the Mitchell Theatre.
"If actors do their jobs, audiences walk away knowing what they just saw," Wilson said. "August gave opportunities for black actors, older especially. … My fear is that actors will do the plays just to be doing the play. I do it because I want to tell his stories. I want it to be fresh every time and clear every time.
"This is important work, and it's hard work. It's not easy."
Note to audiences: Throughout the play, the "n-word" is used frequently by black characters in reference to each other.