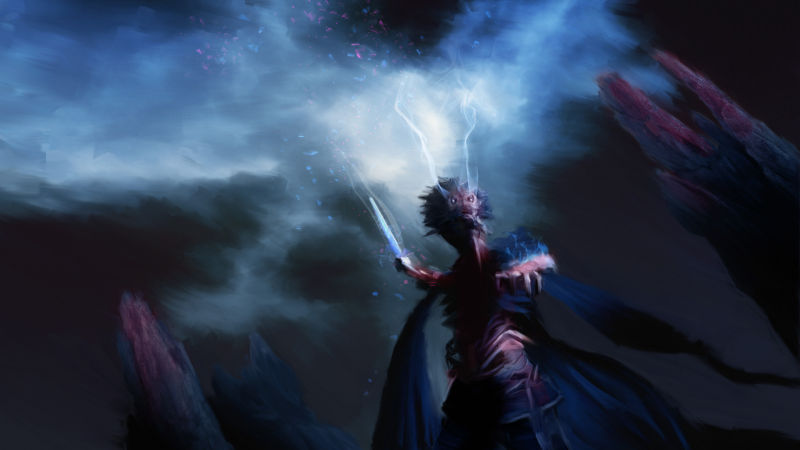 William J. Meyer had a hard time selling his 876-page fantasy adventure novel, "Fire on the Mound," to book publishers. So the Wisconsin native got creative and serialized his work into a podcast that utilizes the talents of a Madison voice professional.
A podcast novel, in Meyer's words, inhabits that space in literature that exists somewhere between an audio book and a radio play. Each episode is 30 minutes long, and is available for free from iTunes or through the novel's website, fireonthemound.com.
Meyer was living and working in Madison a few years ago (he moved to Hollywood in 2009) while he was shopping his book around, trying to get agents and publishers interested. When he realized that wasn't working, he took his father's advice to heart: "If you keep doing what you're doing, you'll keep getting what you got."
"A co-worker of mine at a media firm in Madison told me about the concept of podcast novels. I didn't even know it was a thing," Meyer said.
He tried to record himself reading the novel, but that wasn't working for him. He approached Steve Rudolph, who had been doing voiceover work at the media firm, with a question: Will you read my book out loud?
"I could hear in his voice the grandfatherly quality I was looking for," Meyer said.
"William gave me some pieces of the first few chapters and I tried it," said Rudolph, who has a small studio in which to record voice work in his Madison home. "I really started to get into the story."
The story is set on an island where life was first created. It has two main threads: One about a young boy and his father, and the other about a monotheistic mythology. Meyer said that he wanted to explore the idea of theophany, or the physical manifestation of a deity, like Moses at the burning bush.
"I wanted to explore what happens not only to someone who experiences theophany, but of the aftermath of that for their family throughout their lives," he said.
The young boy at the center of the story must come to grips with the death of his father, but "Fire on the Mound" also delves into mythological tales that suddenly come to life around the boy.
Rudolph admits that contemporary science fiction isn't really his thing, but that once he started reading "Fire on the Mound," he was hooked.
"I like 'Lord of the Rings,' I like 'The Hobbit,' but it's not something I seek out at bookstores," Rudolph said. But when he began reading Meyer's work, he came to the realization that he liked the characters and actually cared about how the story would play out, he said.
The character voices came as a surprise, even to the source of the sounds.
"At first I thought I wouldn't do character voices, that I'd just do a straight read," Rudolph said. "But then I started doing these voices, and once I was three or four chapters in, I realized I couldn't go back."
Rudolph describes himself as "an old radio guy," having worked at WIBA-AM and WIBA-FM. In "Fire on the Mound," he got to test his vocal skills by tackling scenes in which two or three female characters exchanged dialogue.
"I had to differentiate their voices, and I had no idea I could pull it off," he said. "I kept expecting William to tell me to just stop at some point, but he didn't, and I'm actually quite proud of it."
The novel, which features a score by composer William Seegers of Austin, Texas, is garnering a following on iTunes. So far, 20 episodes have been produced out of a total of 42. Meyer does all of the artwork that is found on the website, and he edits all of the episodes. He's working on an animation of the island, a sort of visual tour to help listeners understand the geography of his world.
While he makes no revenue off of his work on "Fire on the Mound," Meyer said that his mission is simply to share the story. Of course, if he gets a big enough audience for his podcast, the book might look a bit more attractive to a potential publisher. In the meantime, he enjoys spying on his listeners.