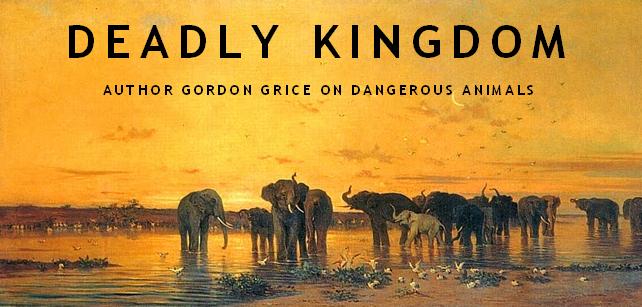 Deadly Kingdom: The Book of Dangerous Animals
by Gordon Grice (Random House, $27)
The kids might be begging for a trip to the zoo this summer, but before committing, read "Deadly Kingdom: The Book of Dangerous Animals" by Gordon Grice.
Grice, who lives in Somerset in northwestern Wisconsin, has been called "the Stephen King of nature writing." "Deadly Kingdom" is a richly illustrated and darkly funny compilation of instances in which the natural order takes a turn for the bizarre.
For as long as humans have walked the earth, we've walked it with animals in a generally amicable journey. Homo sapiens have befriended many species, and we've been fascinated by those we haven't tamed.
Take, for instance, the critters that live at the zoo. They're around people all the time, and seem cute and cuddly, making it easy to forget they are wild animals.
But big cats are unpredictable, capable of amazing aerial feats, and have made a meal of man in the wild; they'd happily do so elsewhere. An elephant's swinging trunk is extremely dangerous, monkeys are fiendishly strong, and it's unwise to be anywhere near an ostrich's feet.
OK, the zoo is out. How about taking the kids to the park?
Disease-carrying mice and rats live in the park. Spiders and wasps live there, too, as do snakes that may pack venom in their fangs. Birds are capable of attacking humans and some can do serious damage to small children.
OK, no park. Maybe a visit to relatives on the farm instead?
Domestic cattle are among the most dangerous large animals on earth, with bulls being at the top of the list. A horse's kick can be deadly and his teeth can tear flesh. Pigs don't discern between slop and human; they'll gladly eat both.
Forget it. Just stay home.
Good idea, but dangers lurk there, too. Cats and dogs need to be taught that their owners "outrank" them, lest they attack.
"Deadly Kingdom" is deliciously gruesome, delightfully shivery, and filled with creepy animal facts. Grice brings a wonderful sense of curiosity to his writing and - even though most of what he presents isn't "nice" - his contagious fascination comes roaring through the pages.
For readers who love animals and nature, or those who share their homes with a pet, "Deadly Kingdom" is a book that can be ingested in delicious bites, or swallowed whole.