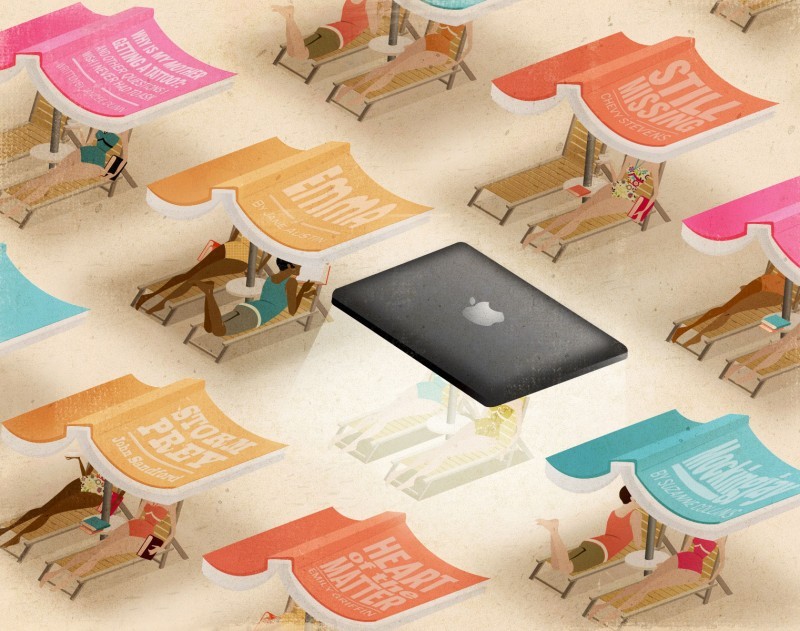 You're sitting by the lake on a lawn chair, sun beating down with a slight breeze. There's a tall bottle of Spotted Cow on the table next to you. You reach down to your side and pick up a book — what is it?
For many people, summer is a time to relax and their reading plans reflect that — chick lit, John Grisham, or the latest murder mystery from a favorite author. But for others, the summer months provide time to catch-up on a classic, tackle a challenging epic or dive into a book they feel they "should" have in their literary repertoire.
What many summer reads have in common, however, is the ability to spark conversation. Summer reading is a public event — we peek over shoulders at the beach, stare at strangers on airplanes paging through paperbacks or check out the cover of neighbor's novel at the Terrace.
"Beach reads might have a lot to do with people wanting to talk about reading or people wanting to be part of a group or a challenge, and that's a more social aspect of reading," said Sarah Cords, a former librarian who now freelances, edits and blogs at citizenreader.com. "People always think you just sit in a room, darkened, and read by yourself, but especially with beach reads there's a social component to them."
For a social but still structured summer reading experience, the Madison Public Library sponsors 13 book clubs, and they are well-attended despite vacations or other distractions, according to librarian Liz Amundson.
"Cold, dark nights mean some don't come out in the winter," she said, "but summer it's light, warm after dinner, and easy to get out. People also spend more time hanging out in ways more conducive to reading in the summer."
Both the Central and Sequoya branches have read or will read "The White Tiger" by Aravind Adiga — a "social commentary novel narrated by an Indian chauffeur turned murderer" with a lot of black humor, Amundson said. It won the Booker Prize in 2008. Later in the summer, MPL is sponsoring a citywide reading of "The Soloist," Steve Lopez's book about the issues surrounding homelessness which was recently made into a movie starring Jamie Foxx and Robert Downey Jr.
The library does a "brisk" trade in the summer, especially among college students. Recently Amundson said she checked out "The Autobiography of Malcom X" to a college-age patron.
"It's probably one of those books you're 'supposed' to read, and summer is the time to do it," she said. "Some people read 'Twilight' and some people do the opposite, especially when not in school — they read a book in the collective consciousness."
Last summer, an online reading group, Infinite Summer, formed around David Foster Wallace's post-modern epic, "Infinite Jest." At more than 1,000 pages (plus endnotes), the book is a daunting task. But when broken down to a more manageable 75 pages a week over three months, and with the added bonus of interacting with other readers online through the website, Facebook, Twitter, and personal blogs, the book became part of a reading experience, not a solitary activity.
But for other readers, summer beach or vacation reading requires something different — a plot-driven book like a thriller, where the action helps bring the reader back in after distractions.
"Part of it is they're easy to pick up, they grab you," said MPL librarian Jane Jorgenson, who is writing a reader's advisory guide on thrillers. "If you're on vacation you can just settle in, and it's going to pull you in. There's no guilt of the other life or the rest of your life pulling you away from it."
For Amundson, the summer is a time to "attempt to read some percentage of the books I place on hold and bring home from the library. There's always a stack," she said. The "pulpy-est" books on the pile include new works by Robert Parker and Randy Wayne White, along with more serious, time shifting and elegantly plotted books like "We Need to Talk About Kevin" by Lionel Shriver and Madisonian Lorrie Moore's newest book, "A Gate at the Stairs."
For blogger Cords, an avid nonfiction reader, summer reading doesn't necessarily mean less substance.
"I'm not used to thinking about 'beach reads,'" she said. "If you look at the motivation of why people read beach reads it's probably like fluffy reads or easy things that are escapist, and that's not typically why I pick up a book."
Still, there are many lighter nonfiction books that can be good summertime reads. Cords suggests memoirs like comedian Sarah Silverman's "The Bedwetter" or Jen Lancaster's "My Fair Lazy." She also enjoyed "Life Would Be Perfect If I Lived in That House" by Meghan Daum, a memoir about the author's move to Los Angeles and her attempts to find a home there.
Cords plans to step outside her nonfiction comfort zone this summer, taking on some big fiction reads like the 1985 Western epic "Lonesome Dove" by Larry McMurtry, Margaret Mitchell's classic "Gone With the Wind," and the works of classic author Thomas Hardy on tape.
"Summer is a good time to pick up subjects you would never, ever get otherwise," she said. "I think people think summer exists outside the parameters of their lives, and maybe that's the time to take something special in."