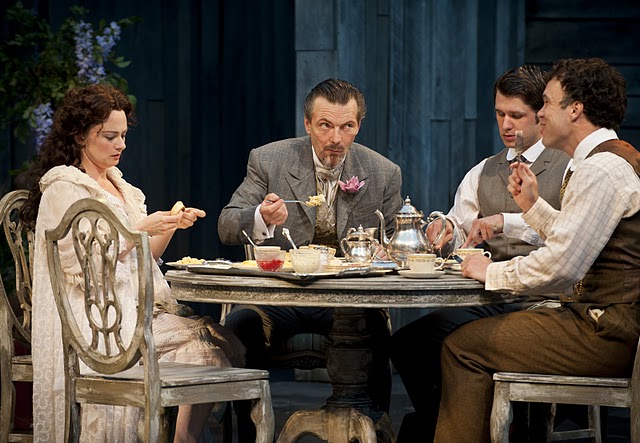 Rain, I discovered this weekend, does not derail American Players Theatre.
Early in the first act of "Another Part of the Forest" on Saturday night, a great rustling arose -- the audience was pulling on ponchos, shuffling to the back and putting up umbrellas. The actors soldiered on, seemingly oblivious to the spattering rain. They went about their breakfast. I strained to hear the dialogue.
Though most everything up the hill is meant to handle the weather, I've heard that some of the costumes can be sensitive to rain and when things like this happen, some actors have to race backstage and stand in front of a fan.
And costumes may have pieces to them that allow layers for cold weather, but it's not like Tiffany Scott can grab a raincoat to cover her "wrapper" (apparently a Southern term for a nightie) in the middle of a scene.
If it starts to rain during an outdoor show at APT, my best advice is to just wait. At "Forest," it only really rained for about three minutes, spit for a few more and then it was done. It cooled us all down and actually helped with the bugs, so it was a welcome shower.
APT explains on the web that "we will make every effort to complete the performance, including playing in light rain. We never cancel a show before show time, and we will hold a show up to 45 minutes to wait for rain to pass ... If the show is cancelled before the first act is complete, we'll offer you a refund or an exchange or another show. If we have to cancel after intermission, we'll offer an exchange."