Pauline Diayen's most prized possession is actually a wall in her bedroom that she's turned into a giant collage, using art that she's collected or created herself.
But it always felt like one piece was missing: An image of a Liberian flag.
The flag represents a country that her parents fled years ago with their six children. Pauline, their seventh, is among the 328 Madison School District students whose work will be showcased in "Young at Art," an exhibition running through April 21 with a reception Sunday afternoon, March 17.
Pauline created "Liberia" based on the stripes and single star of the Liberian flag, using the labor-intensive cloth, wax and dye technique known as batik.
"I just thought it was so beautiful," said Pauline's art teacher at East High School, April Sopkin, who nominated "Liberia" for "Young at Art."
"She works very hard," Sopkin said. "I wanted to acknowledge her as an artist."
Pauline, who lives on Madison's Far East Side with her parents, two sisters, a niece and a nephew, aspires to a career in international development, international business and education, working to benefit impoverished countries such as Liberia and Haiti. A serious student, the East High junior is also passionate about learning French, and hopes to study abroad next year. She's a People scholar with the UW-Madison People Program, a member of her school's Black Student Union and French club, and plays soccer.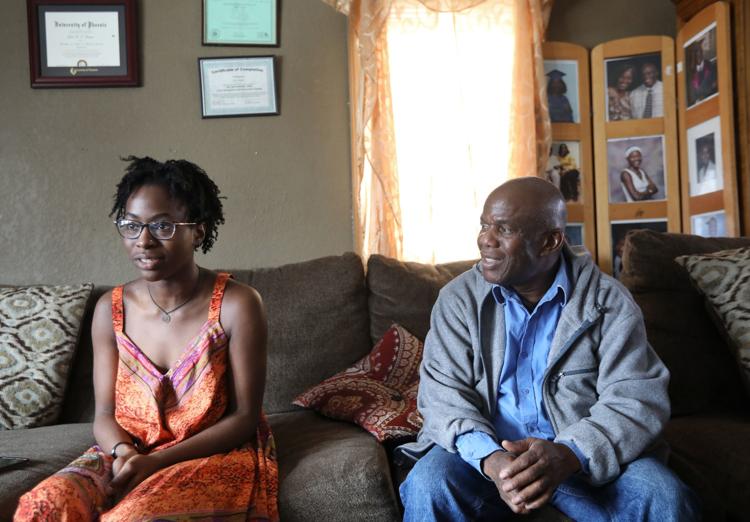 Pauline had a much different upbringing than her siblings; the oldest is now 40. Though she still has a grandmother and other relatives in Liberia, she's never been able to travel there because of the dangers.
Her father John, sponsored by a Madison church, sought asylum here in 1999 from his war-torn West African homeland. Even today in Liberia, "people look for food one day at a time. Some people can't even get enough to feed their family," he said.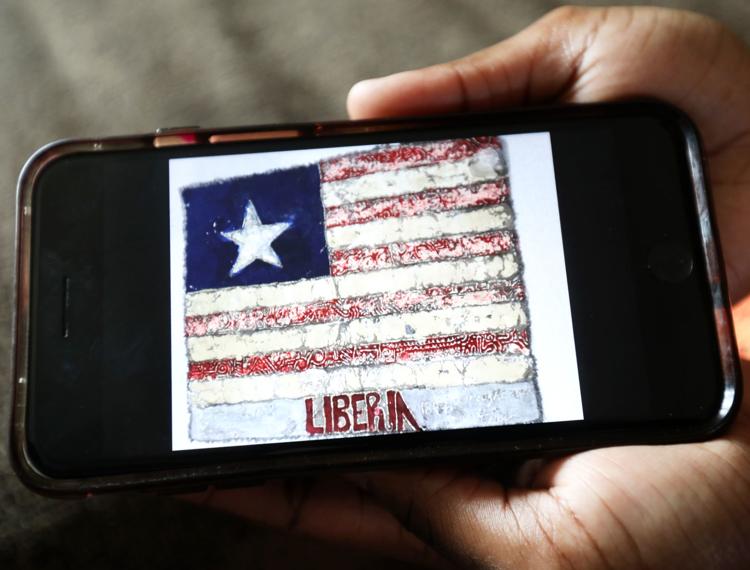 John has stressed education and talked world politics with his children from the start.
"When Pauline is in the car with me, I tell her stories. I like parables," he said.
"I always tell my children there are two things to hang on to: education and faith in God."
John's mother did not go to school, he said. "I was born in a little hut." His own formal education started after a Peace Corps volunteer arrived when he was about 7, and started signing up children for school.
"I didn't wear shoes – I didn't have shoes" when he registered for school, he said. He returned home and convinced his friends to sign up, too. When he learned how to read and write, he taught his brothers and sisters.
Today, John is working on his second graduate degree, a master's in social work at Edgewood College. He works as a special education assistant at East High School.
That's where Pauline spends her spare time in Sopkin's art room, or collects pieces of scrap from the school wood shop to make collages from wood, her favorite medium.
"Art is everywhere," said Pauline, who plans to be at the "Young at Art" opening Sunday.
"Art is inspiration, and brings life to the world. Without art, people would be clueless as to what other people are thinking. It's a way of expression. We write and we talk, so why not put things on a board and say, 'This is what I'm feeling today?'"
The power of symbols
When the fourth and fifth graders in Gwen Kong's Hmong sewing club carefully cut out and stitch shapes onto a new piece of cloth, they know they are echoing traditions from centuries past.
Snail shell. Tiger face. Cucumber seed.
The images are symbols from Hmong culture dating back centuries. Learning about them, copying them and ultimately using them to inspire new, personal symbols gave rise to an original artwork by the group from Lincoln Elementary School.
That artwork, titled "Paj Ntaub Symbols," was selected to be among the hundreds of student works on display in "Young at Art" at MMOCA.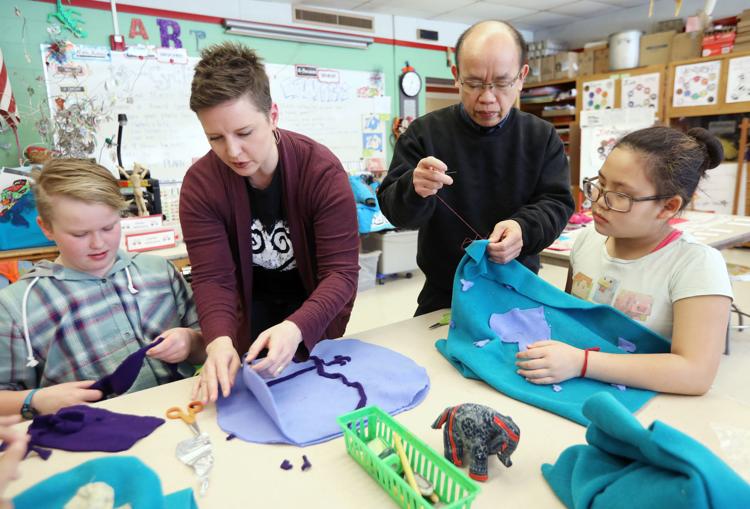 "I feel very proud, because it's only a few kids who have a chance to have their artwork in a museum," said fourth grader Stella Gustafson. "And I'm glad it's a Hmong piece, because not a lot of people know there's a huge Hmong population here in Wisconsin."
Allies of the U.S. during the Vietnam War, many Hmong sought asylum as political refugees after the Communist takeover in Southeast Asia in the mid-1970s. Hmong Americans, from an ethnic group living chiefly in China and Southeast Asia who speak Hmong, are today the largest Asian ethnic group in the state, according to the Wisconsin Hmong Association.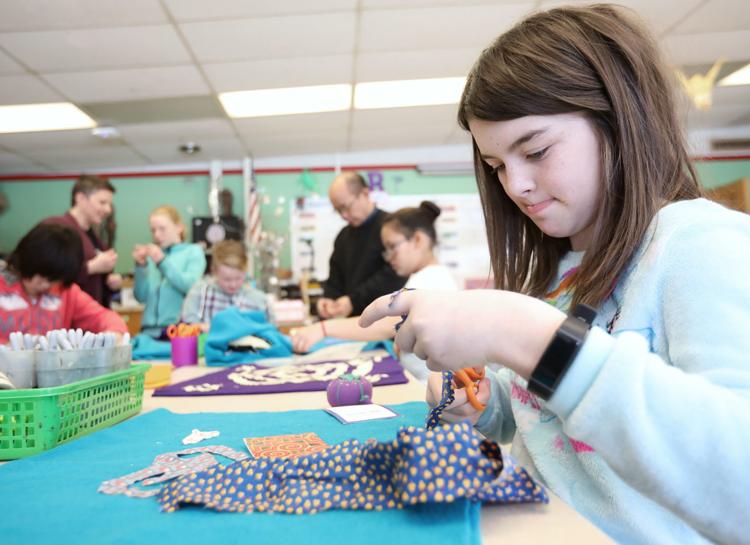 Nine Lincoln Elementary students – some with Hmong heritage, several without — give up their recess time to participate in the weekly Paj Ntaub, or sewing, Club in art teacher Gwen Kong's classroom. Kong reads, writes and speaks Hmong; her husband is Hmong, as are many of Kong's students. Kong also runs a Hmong language club for students who are non-native beginner or intermediate speakers, plus an advanced section for native speakers.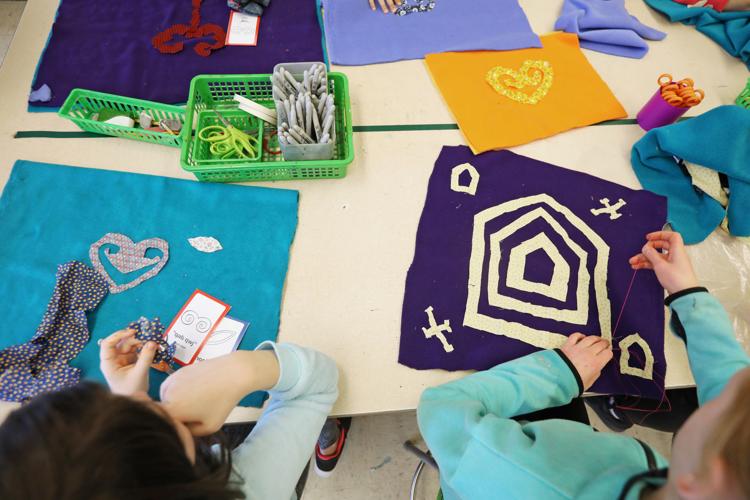 During the regular school day, "it's part of my art curriculum that I introduce kids to Hmong artists and explore Hmong history a bit through artwork," said Kong, whose classroom is filled with illustrations of the color wheel, with the color names written in the languages of the many nationalities represented by the Lincoln student body.
"Classroom teachers (also) take it on to make it part of their social studies or their history work in their classrooms," she said. "I've led a couple professional development sessions for teachers, and I've developed some curriculum tools" on the website www.hmoobasics.com/about.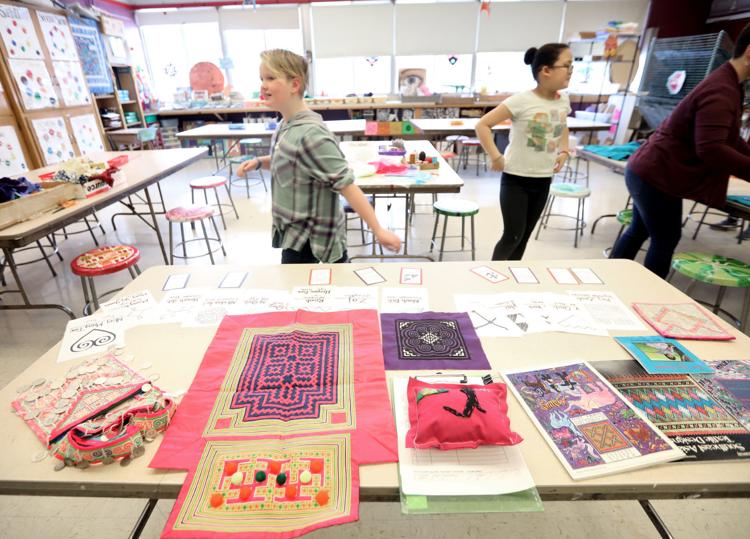 Students in the Hmong sewing club learned that, in centuries past, artful symbols served as a sort of a "code" language.
"The symbols always mean something to Hmong culture," explained fourth-grader Stella, as she worked on a vine design curling up the front of a pillowcase she was making in Kong's classroom. "For example, this one is a cucumber vine. This one for me symbolizes growth for my family."
The "Paj Ntaub Symbols" artwork in "Young at Art" was made from paper, not cloth.
"I think it's pretty cool" that it'll be on display at MMOCA, said Amelia Pauli, a fourth grader in Paj Ntaub Club. "We made the artwork, and it's ours, and it tells our families' stories."
Discovering an artist within yourself
When Gaia Braman-Wanek came to Shabazz City High School in 10th grade, she felt she had found a home.
"I even can't imagine my life without going here," said Braman-Wanek, who transferred from another school in the Madison district and is now a college-bound senior. "It was the best fit ever."
The same might be said for the alternative high school's art room, where Braman-Wanek is increasingly spending more of her time. One of the pieces she created there, titled "Her," is among the works by Madison public school students in the "Young at Art" exhibition at MMOCA now through April 21.
When Braman-Wanek first came to Shabazz on the city's East Side, "I didn't do a lot of art at home. I didn't think I was an artist, or good at art," she said.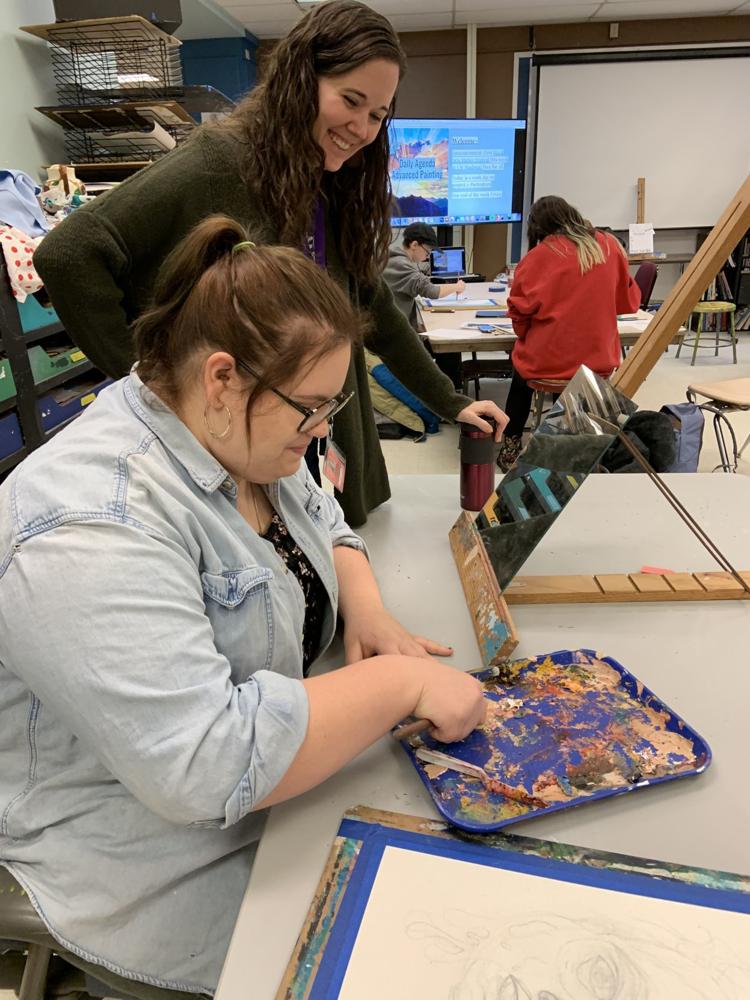 But after two courses with art teacher Rachel Schramm, she hesitantly signed up for a portfolio class. Created by Schramm, the class teaches students how to display and talk about their artwork in a professional manner — for a job or a college application, say — and includes reviews by art professionals from the community.
"Gaia said, 'I don't think I should take this class. I haven't done very much art,'" Schramm said. "I said 'No, I think you should.'"
"What I'd noticed about you, Gaia," the teacher continued, turning to her student during an interview, "is that you just loved (creating art), but you really doubted it. You just needed to find that confidence to own your work and do it more."
"I think so many times we get stuck in this mentality that if you're not naturally good at art, then you can't be an artist – and I just don't believe that," Schramm said. "I think opportunities should be provided for everybody, and you can discover an artist within yourself, sometimes unexpectedly."
One of the assignments in Schramm's portfolio class was to create a self-portrait. Braman-Wanek's concept took a turn for the sculptural, and she began to construct a layered face out of cardboard. As the piece took on a life of its own, Braman-Wanek began to call it "Her."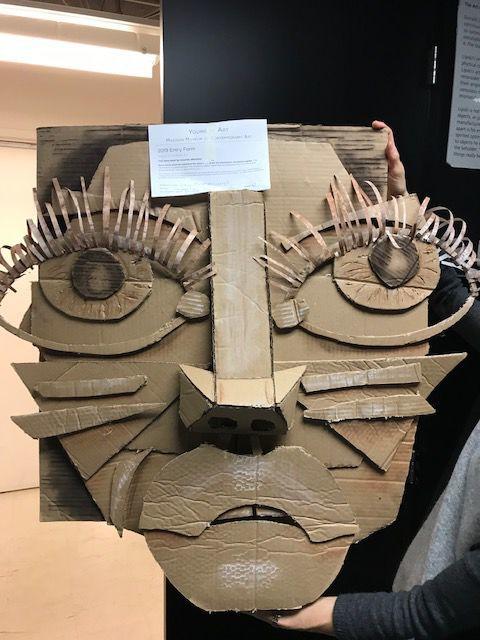 "I don't know what made me want to use giant sheets of cardboard," Braman-Wanek said with a laugh. Previously, most of her work had been acrylic paintings. But in her preliminary sketches for the self-portrait, "everything I was drawing was really geometric."
"Sculpture's something I've always admired. I thought, 'What can I use?' Cardboard is something I'd never used before."
The material turned out to be challenging. "We had an interesting relationship – there was often anger, and my hands hurt so bad for that week, trying to cut all the pieces," she said. "But I like how it turned out."
As she looks toward college, Braman-Wanek hopes that one day she'll earn a doctorate in psychology. But she also might minor in art.
"I like the idea of being able to combine science and art," she said. It's "a field that's growing, with art therapy — or just realizing how influential art can be on the mind."
[Editor's note: This story has been updated to correct the spelling of art teacher Rachel Schramm's name.]