Maybe you haven't done a do-si-do since high school gym class.
You don't know an Allemande Left from a Star Promenade — or haven't even heard of the 68 moves needed to become a certified "mainstream" square dancer. But there's a community out there that wants to teach you.
For three days, dancers in bouncing skirts and Western shirts practiced steps from square dance to rumba, contra to cha cha. Some 40 callers cued them with rhythmic patter, and another dozen cuers directed the quick-change moves for couples doing the ballroom-inspired round dance.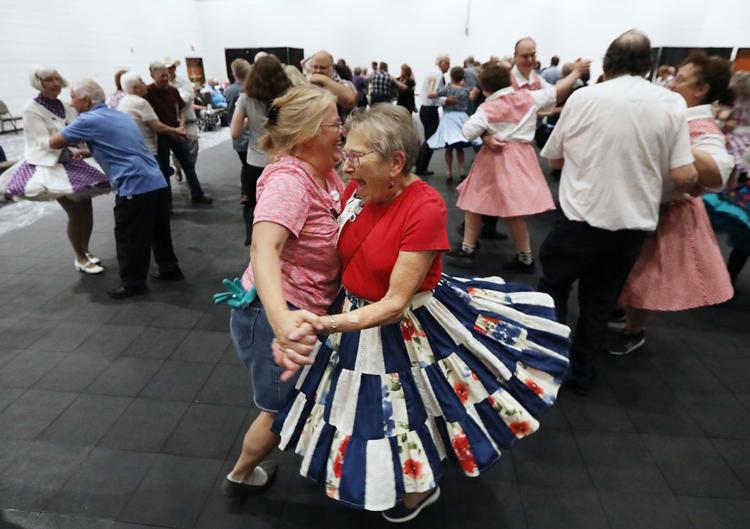 Part physical workout, part mental exercise and largely a social outlet, the nonstop-dancing convention sometimes felt like a reunion between longtime friends.
"It's like a community. 'Friendship set to music' — that's a motto we often use," said Cat Johnson, a member of the Madison-area square dance club called Westport Squares.
The local group meets most Friday nights to dance — and on Friday will offer free lessons to anyone who wants to give it a try.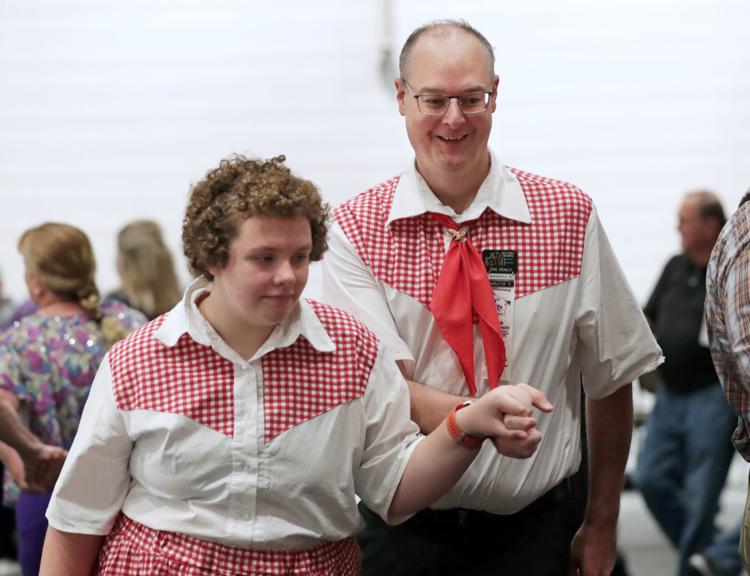 The idea is to get even more people interested well before next year's Wisconsin convention, to be held in North Fond du Lac. Because in square dance, Johnson explained, "The more people you have, the more fun you have."
From a circle to a square
Square dance has its roots in America's immigrant past, said Eric Tangman of Pewaukee, a member of the Wisconsin Caller Hall of Fame.
It began with people "predominantly from the northern European countries, (who) all had their own ethnic types of dances," he explained.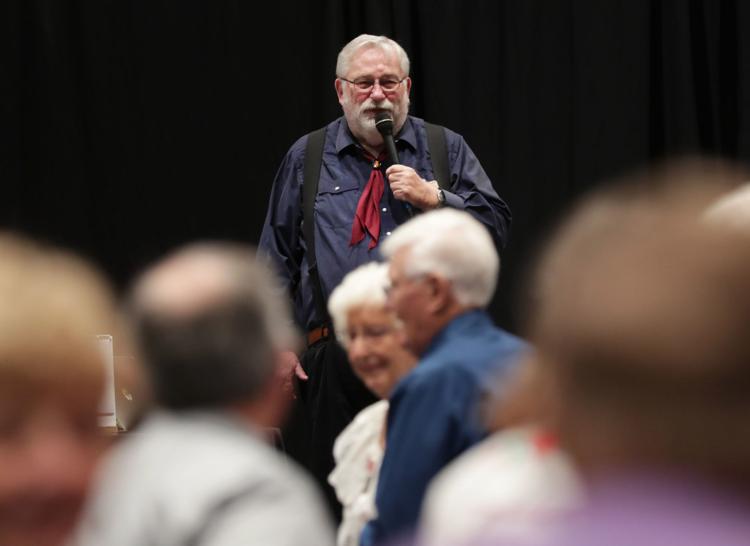 "As they came to North America, the different ethnic groups were side by side, so when they had parties, everyone contributed what (dance) they knew, and it merged together."
"It started out predominantly with couples, then lines, then nighttime dances around a big bonfire, which became circles," Tangman said. "As people were moving West, there would be smaller numbers of people together. If you had a circle of eight, that's an easy way to make four couples to make a square."
"That became very popular and worked its way East," he said. "It became known as 'square' dance, but all these other types of dances are part of the history and the culture of square dancing."
Over the years, square dancing has become more complex. But there's a movement afoot to return it to its simpler roots, Tangman said.
Part of that is to make it more accessible.
"We need to evolve, and we are," said Dave Crowley, a member of Westport Squares.
"We're getting new students integrated into the club faster" by starting a program this fall that combines lessons with dances with more experienced club members. There's also a push to get more families involved, said Crowley's wife, Carrie.
"The music has changed a lot, too," said Johnson's husband, Dennis. "Miley Cyrus tunes, Michael Jackson."
Dancing and camping
Madison had enough clubs in the 1960s and 1970s that dancers could find a square dance happening every day of the week, said Duaine Boehm, a Westport Squares member from Belleville.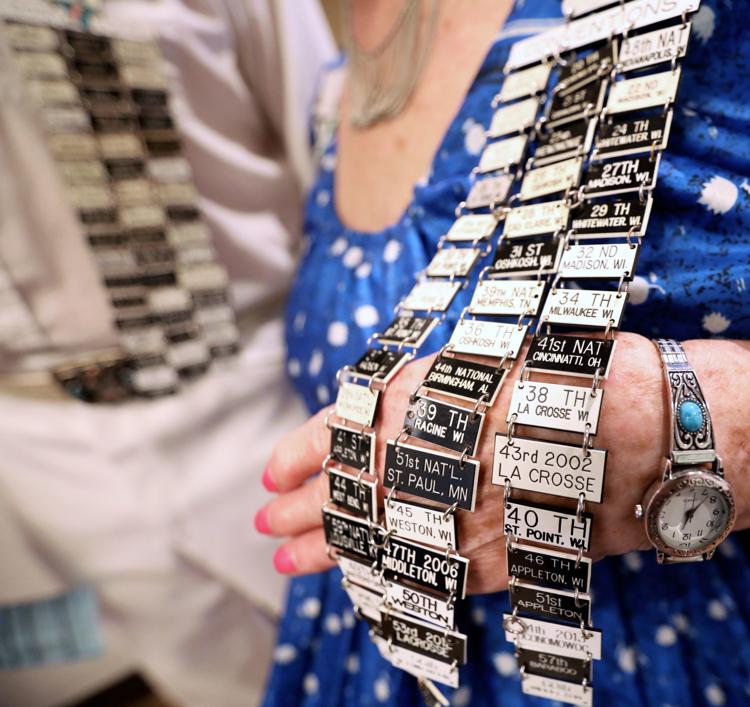 Founded in 1955, the nonprofit, volunteer-run Westport Squares got their name from their former meeting place, the Westport Town Hall near Waunakee. But when the old hall — complete with creaky wooden floors and weathered benches along the walls — was torn down five years ago, the group had to find a new home. About 30 to 60 people from across Dane County now come for weekly dances on Madison's North and East sides, or more if a well-known guest caller has come to town.
Most dancers have a home club, but "When we have these dances, anybody can come, from any other club," Crowley said.
"We have people from Beaver Dam who come to our dances; we have people from our club who go to Beaver Dam. We all really support each other."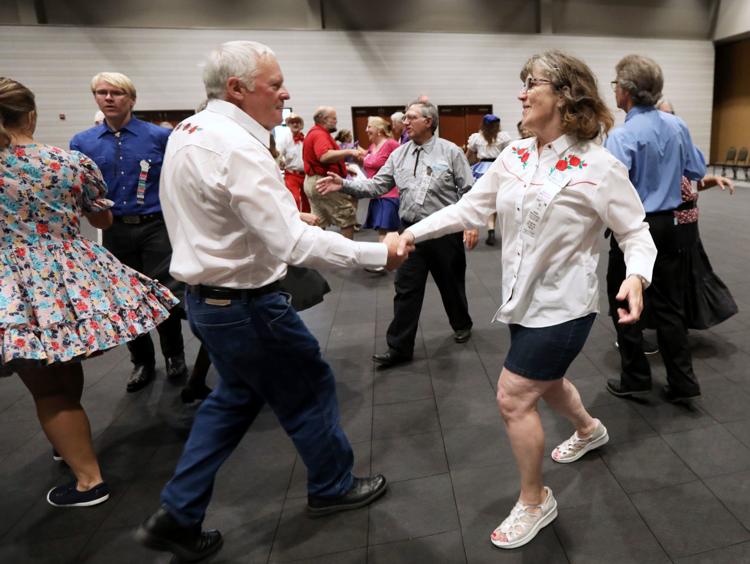 Dancers can arrive as couples or singles, and get paired with a partner. Terri Smith of Sun Prairie, who square-danced as a girl, recently took lessons to begin dancing again using her wheelchair.
Wisconsin has 28 square dance clubs, including the Badger Rovers, another Madison-area group that combines the outdoors with square dancing. During three weekend campouts a year, the group turns a park pavilion into a dance hall and holds a Saturday night supper followed by a dance. The Badger Rovers also attend a national camporee whose location changes annually.
Like walking 3 miles
Touted as a low-impact exercise for all fitness levels, a night of square dancing can be the equivalent of walking three miles, Crowley said.
"I love moving to music. Everybody's just having fun," said Linda Brazy of Madison, a member of Westport Squares.
Dancing is a great way to make friends, said Kathy Nickel, who along with her husband, Tom, is a dance instructor for Westport Squares.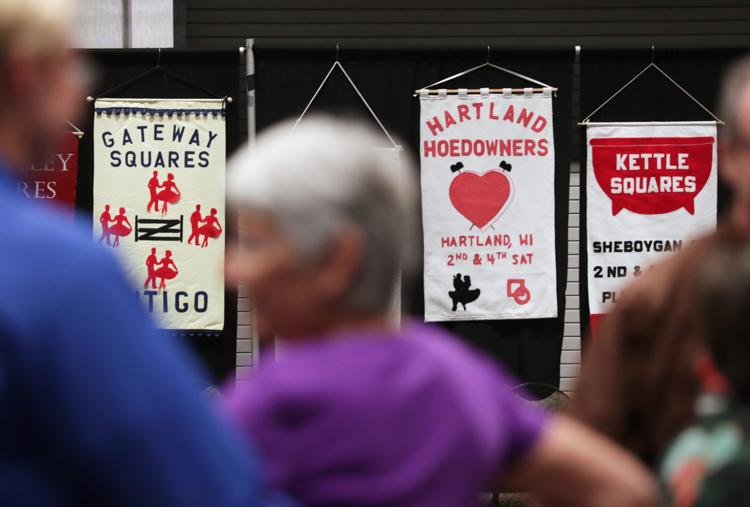 "We had our 50th anniversary this year, and we had over 200 people at our (party)," she said. "And it was all square dancers. We just put it out there, and said 'Everybody come.'"
The Nickels attended the recent state convention along with three of their daughters and two of their grandchildren.
The event hit its peak attendance in 1981, when 4,600 people came.
This year at the Marriott Madison West Hotel, many women wore ruffly skirts, with bouncy crinoline petticoats and tight-fitting petti-pants beneath. Others danced in shorts and sneakers.
Youth dancers had their own schedule of activities, including a square dance in the hotel swimming pool and a black-light dance, where their white shirts and gloves glowed in the dark.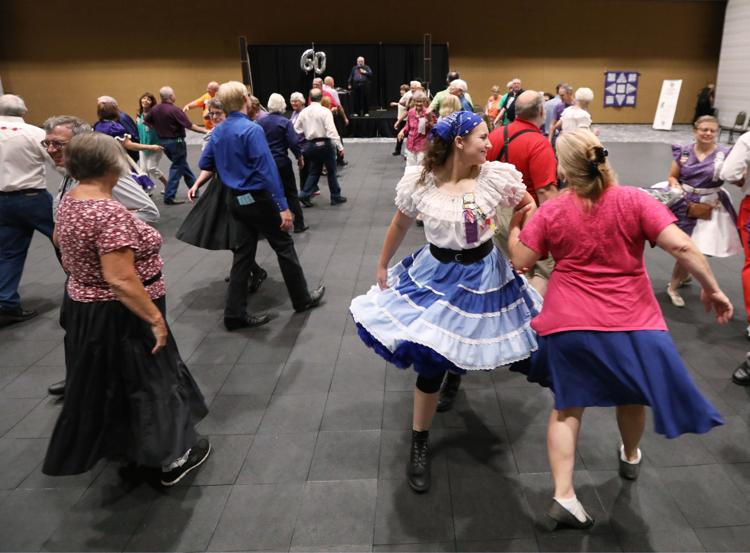 Dancers need to be familiar with 68 calls to reach the "mainstream" level of dancing, or more if they want to move to more advanced levels. Getting to mainstream takes about three or four months of lessons, said Tom Nickel, also a square dance caller.
Like others, he cites square dancers who had to be dragged to their first lessons by a spouse or friend. But once they had a taste, they couldn't wait for the next lesson.
"When I'm done with work and stressed out, I come to dance," said Johnson, who'd embroidered her square dance skirt with silver thread to mark the convention's 60th year, "and I leave with a big smile on my face."
60th Square and Round Dance Convention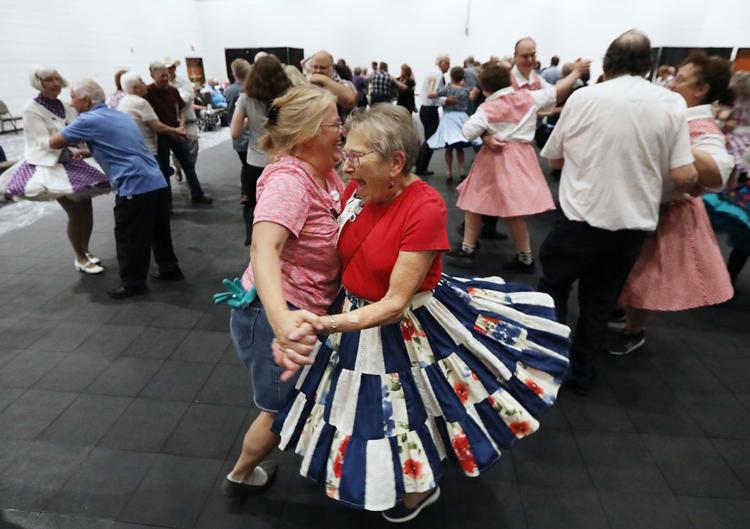 60th Square and Round Dance Convention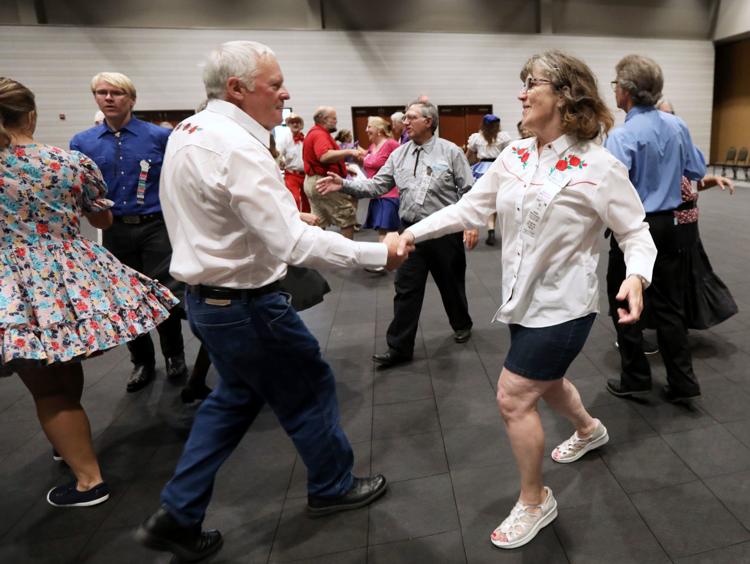 60th Square and Round Dance Convention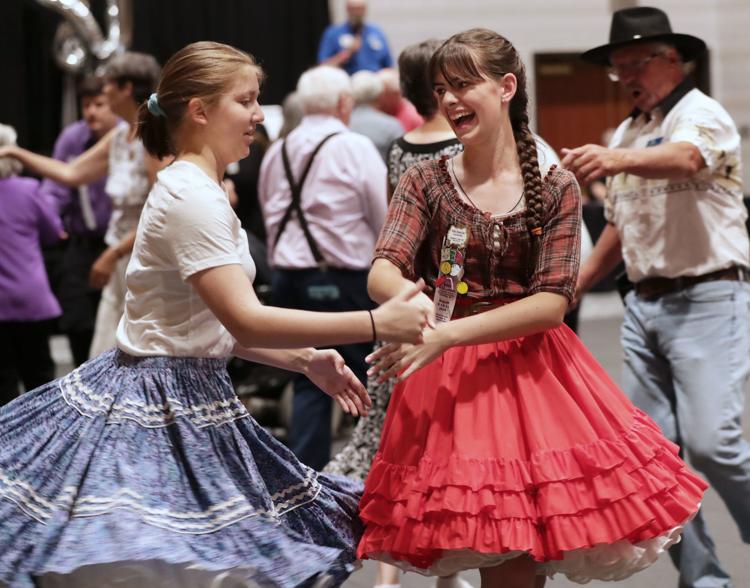 60th Square and Round Dance Convention
60th Square and Round Dance Convention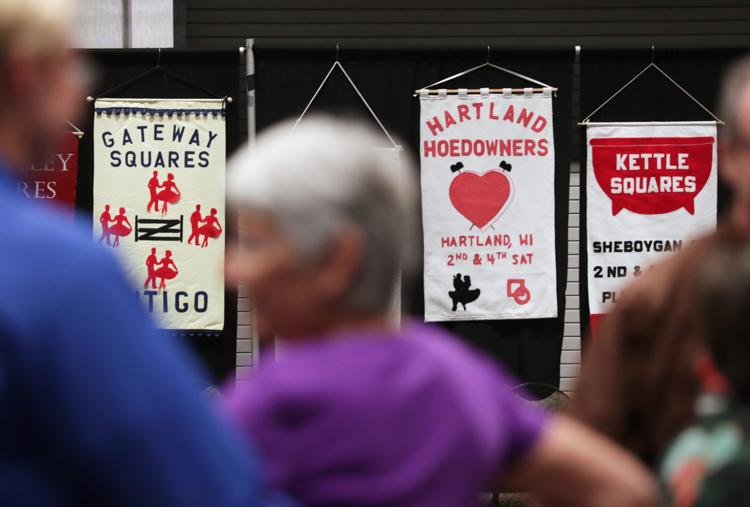 60th Square and Round Dance Convention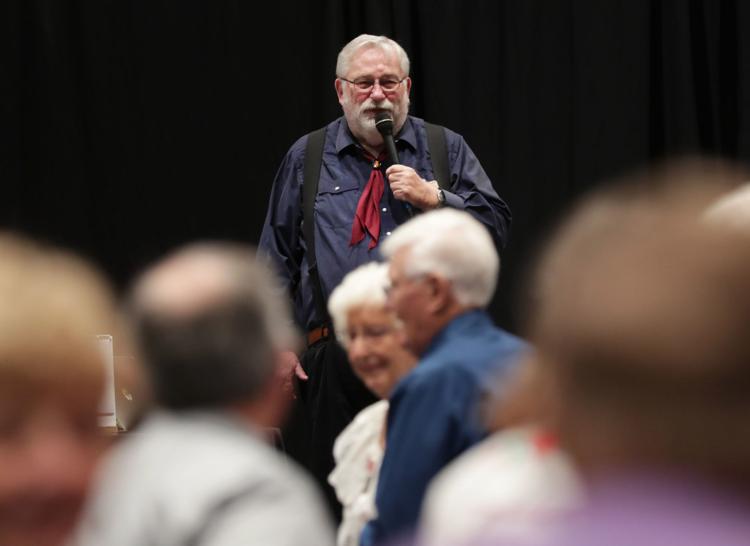 60th Square and Round Dance Convention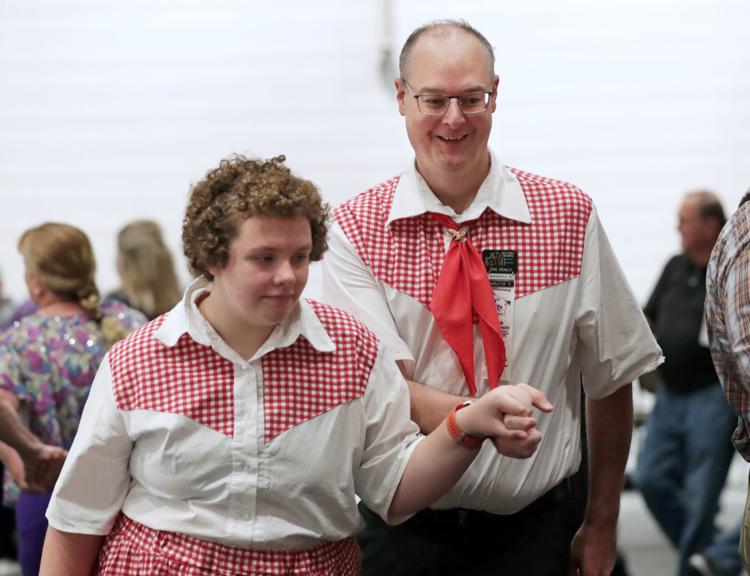 60th Square and Round Dance Convention
60th Square and Round Dance Convention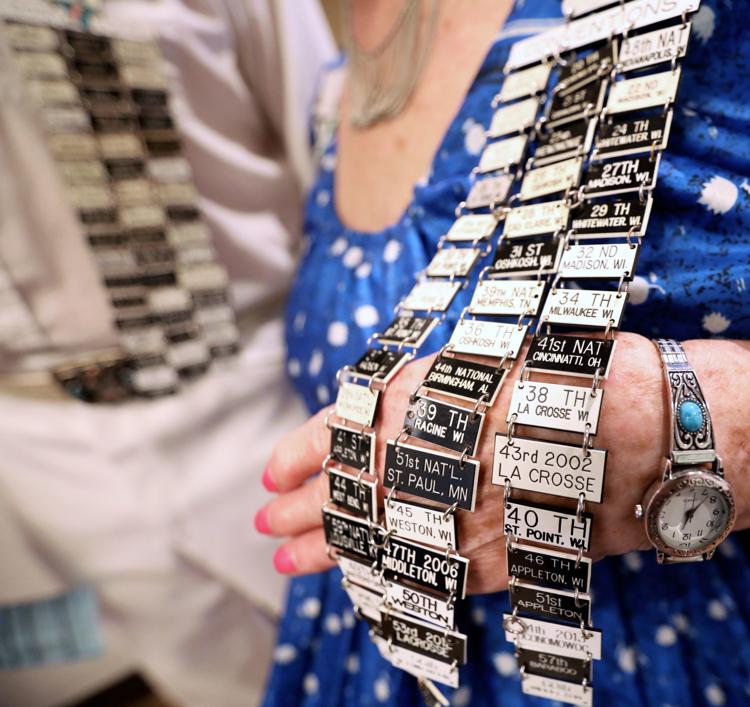 60th Square and Round Dance Convention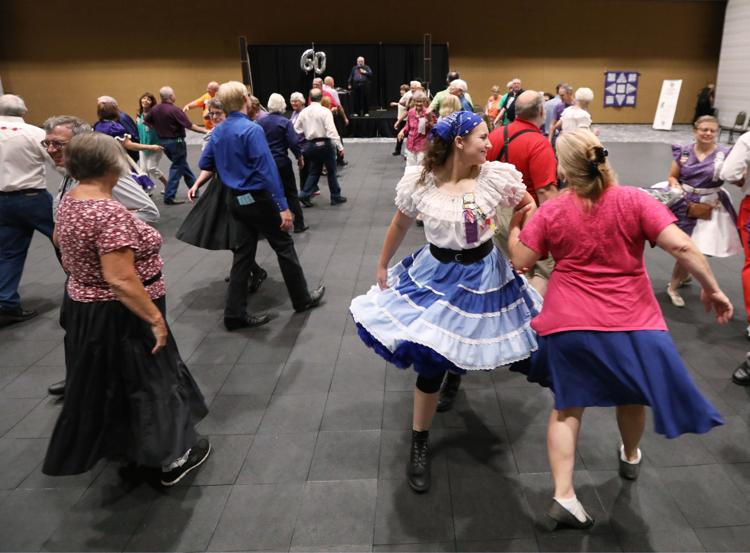 Stay up-to-date on what's happening
Receive the latest in local entertainment news in your inbox weekly!