In a Broadway production headed to Baraboo, a young whooping crane gets an education during her first solo migration. Heather Henson hopes spectators learn some things, too.
The daughter of famed puppeteer Jim Henson will bring "Ajijaak on Turtle Island" to the Al. Ringling Theatre this month. Developed by Henson and college classmate Ty Defoe, a Wisconsin native, the spectacle of dances, puppets and kites demonstrates the interconnected nature of all living things.
"It's the lesson she's learning from these characters along the flyway," Henson said.
Two performances will benefit the Ringling Theatre and the International Crane Foundation. Henson sits on ICF's board of directors, and previously brought her production "Panther & Crane" there. "They've done such amazing work," she said.
The local performances are the only ones to be held in Wisconsin, and Baraboo is one of only four cities that will host "Ajijaak." In the production, the crane travels alone and learns the importance of survival and perseverance.
The lavish piece is, like all of Henson's IBEX Puppetry Studio productions, designed to provide a transformative experience through the use of non-traditional storytelling. She blends performance styles to create immersive experiences that leave audiences thinking about their relationship to the environment.
Ajijaak, for example, encounters a series of characters and visits indigenous cultures. "We are hearing from all these different voices," Henson said. "These are important messages to be working with."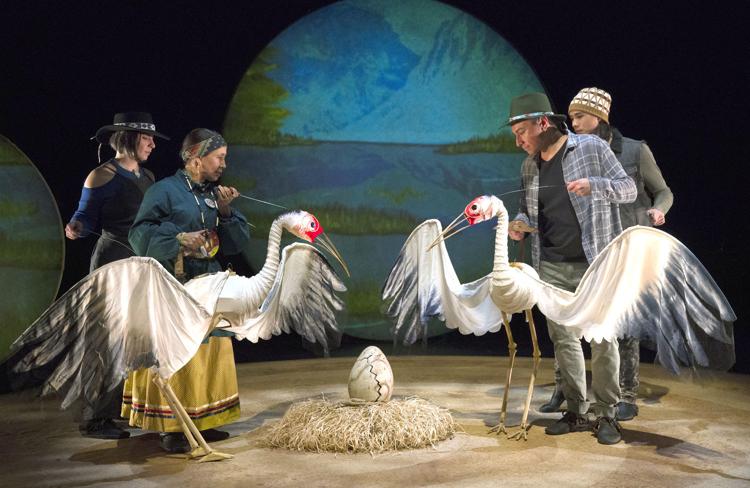 Defoe, an Ojibwa and Oneida performance artist, partnered with Henson in writing and directing the production. It features a variety of traditional Native American dances, songs and an original score composed by Defoe and his collaborators.
Cranes are important creatures, Henson said, because they mate for life and care for their young an entire year. They are celebrated in literature and folklore around the world.
"It matters what people's relationships are to the cranes," Henson said. "We really have to change the way we walk on this Earth."
While in Baraboo, the company will offer two complimentary matinee performances for students of Dane, Sauk and Columbia counties.
"It's important to talk to the youth about this," Henson said. "We really try to make it a fun event."