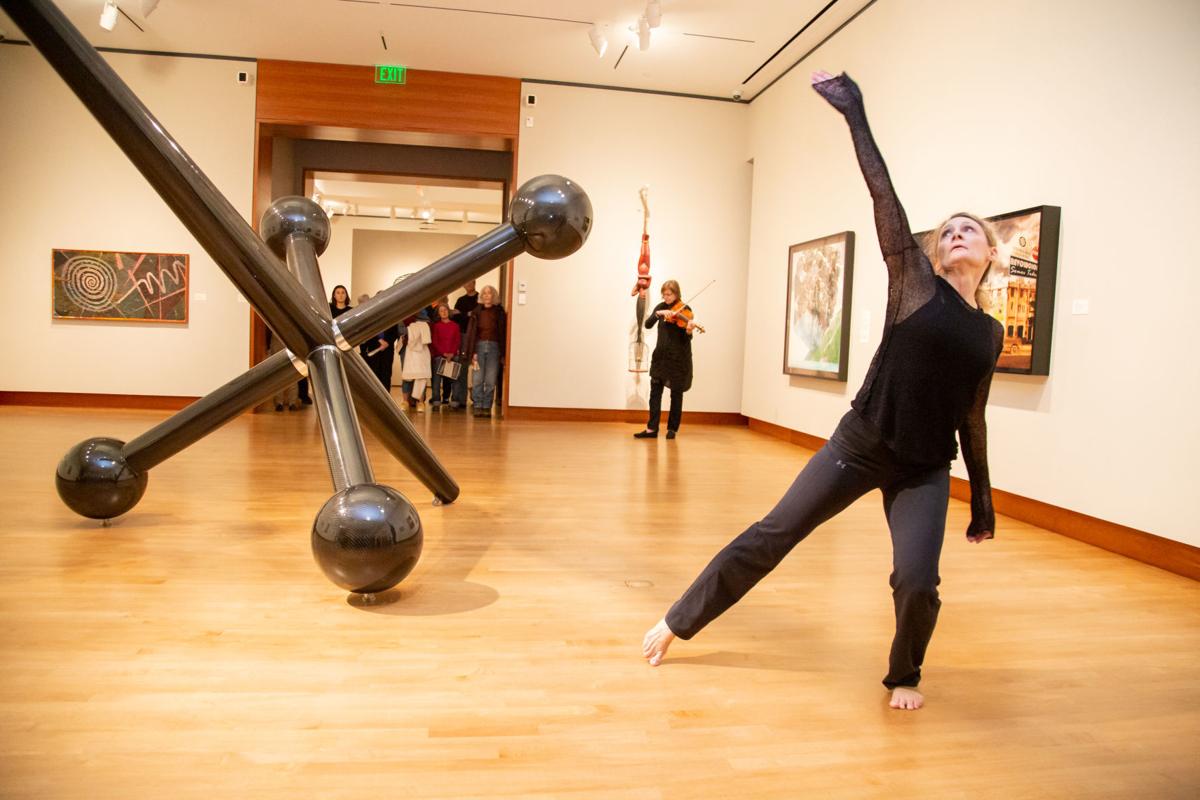 Australia is burning. The Arctic is melting. The most pressing issue of the day — climate change — has pushed artists to grapple with this global emergency in profound, complex and expressive ways.
So audiences for "Floe," a world premiere coming to Union Theater Jan. 22-24, should be prepared: It will not be a simple experience.
A dance theater work, "Floe" will combine movement, art, sound, spoken text, lighting and more. Images from a changing Arctic will be projected on large inflatable icebergs. Voices from the Arctic to the Gulf of Mexico will be heard. And just as a floe — a sheet of floating ice – travels its own path, both the dancers and the audience will move between Memorial Union's Play Circle Theater and the stage of Shannon Hall, encountering more surprises along the way.
"Floe" is the creation of the acclaimed Chicago dance company The Seldoms, whose founding artistic director, Carrie Hanson, served as the Fall 2019 Interdisciplinary Artist-in-Residence in the UW-Madison Division of the Arts' Interdisciplinary Arts Residency Program.
"We like having the audience experience something with different perspectives, often in close proximity to the dancers," Hanson said of the unique staging for "Floe."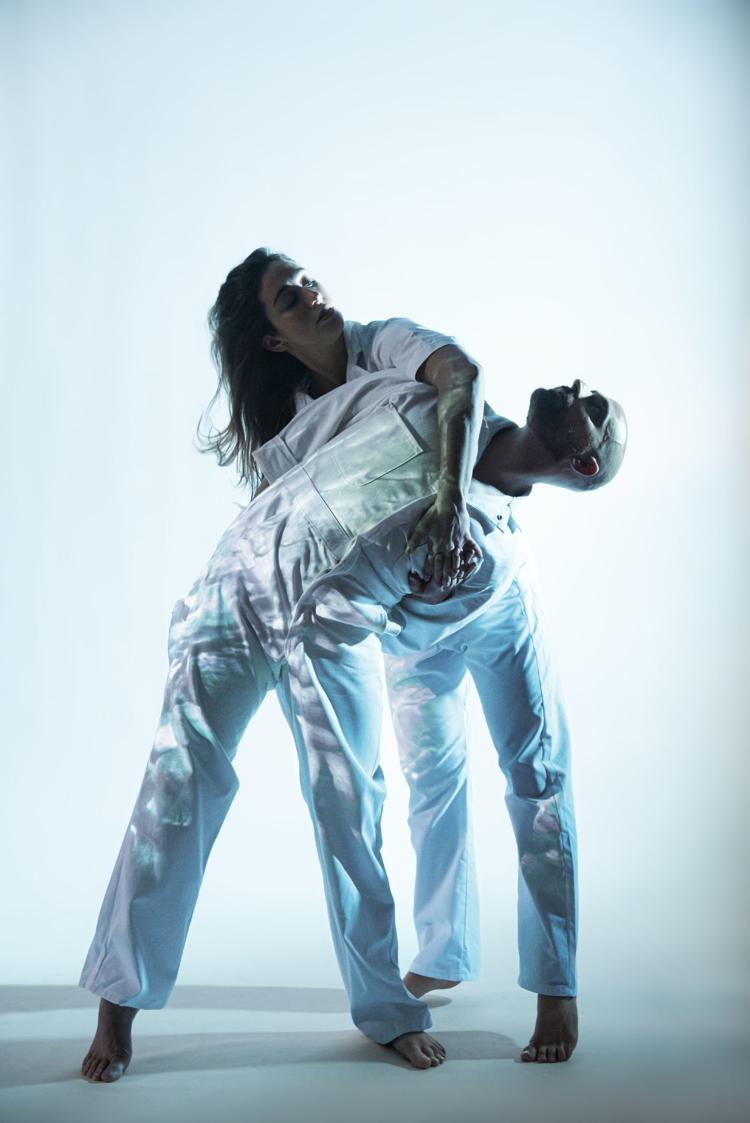 "I want people to perceive dance as a viable way of understanding our world. I think we can learn certain things by watching articulate, fluid bodies. We can see effort, power dynamics, of course a whole range of emotional situations and life conditions."
For "Floe," Hanson collaborated with playwright Seth Bockley to create a performance "by turns irreverent and elegaic," according to The Seldoms' website. The creative process went both ways: Sometimes Hanson's choreography inspired Bockley to create text; "sometimes Seth (led) the way with a piece of writing and we pick that and use it" to create a piece of dance, Hanson said.
"There's so many intersections with this performance," said Sam Wood, a UW-Madison sophomore and community engagement coordinator for the Wisconsin Union Directorate Performing Arts Committee, which helped book "Floe" at Memorial Union. Just like Hanson's artist residency this past fall, "Floe" will bridge dance, environmental science, pop culture and music, and visual art.
Hanson's residency was hosted by the UW Dance Department and the Art Department, but also co-sponsored by the Chazen Museum of Art, the Wisconsin Union Theater and the Nelson Institute for Environmental Studies. Hanson participated in the Wisconsin Science Festival along with biologist, conservationist and underwater photographer Alex Rose, and taught a semester-long course titled "From Topic to Topography: The Body, the Environment and Social Action."
"The course's final performance at the Chazen was beautiful," said UW-Madison dance professor Kate Corby, lead faculty for Hanson's residency. "It brought the museum alive in a way I hadn't seen before and was well attended by faces I didn't recognize."
Corby and Hanson first met in in 2007 while part-time faculty members at Columbia College Chicago.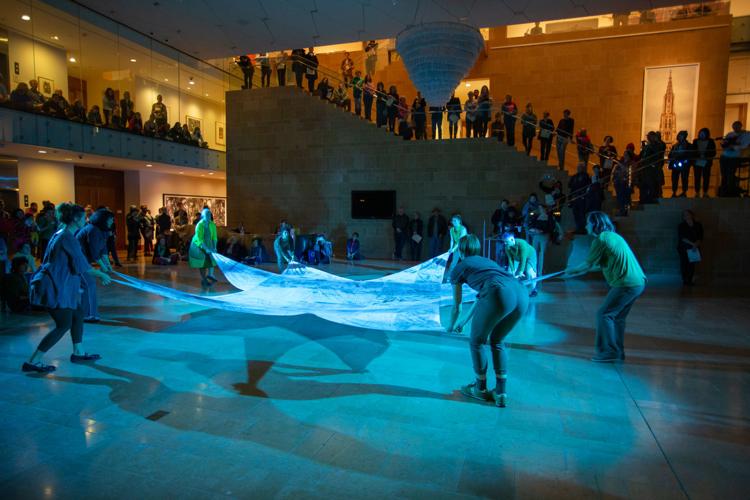 "We've remained in contact since," Corby said in an email. "Chris Walker (associate professor of dance at UW-Madison) and I commissioned a duet choreographed by Carrie, I believe in 2009, and she was a guest artist in the UW-Madison Dance Department in 2010 or 2011. She also hosted my company in Chicago in 2014. I'm a big fan of Carrie both as an artist and as a human."
An Iowa native who earned her BFA at Texas Christian University and her MA in Dance Studies at Laban London, Hanson founded The Seldoms in Chicago in 2002. In 2015 she was named "Chicagoan of the Year in Dance" by the Chicago Tribune and praised for her "brawny, brainy movement."
The Seldoms have danced in venues ranging from a truck depot to an outdoor swimming pool. An excerpt from "Floe" performed last year in Houston, Texas, earned the company a spot on the Houston Chronicle's "Top 10" list for dance in 2019.
"Floe" emphasizes "movement invention" and, like other work by The Seldoms, takes on big ideas. Hanson's "Power Goes," a 2015 work about the figure of Lyndon B. Johnson, received a National Dance Project Award and visited 10 cities across the country. A community cast was engaged in each location.
Likewise, "Floe" will involve graduate students from the Nelson Institute as guides who share their research. The idea is to "situate this out-of-town dance company into the community," said Hanson, who's also used the technique when The Seldoms performed "Power Goes" and the 1960s-themed "RockCitizen" at Memorial Union in the past.
"Floe" will feature The Seldoms ensemble members Solomon Bowser, Philip Elson, Sarah Gonsiorowski, Damon D. Green and Maggie Vannucci under Hanson's direction. Text is by Bockley, visual design by Bob Faust, projection by Liviu Pasare, sound design by Mikhail Fiksel, lighting design by Julie E. Ballard and costume design by Jeff Hancock.
"The Seldoms taps into this energy field," WUD Performing Arts Committee Director Keerthana Sreenivasan noted in a statement. "...'Floe' is not only a show or concert; it's an experience, a learning experience to be more specific."
After its world premiere in Madison, "Floe" will be performed in Cincinnati, Ohio, in early April and at the Art Institute of Chicago April 22-25 to coincide with the 50th anniversary of Earth Day.
"We're lucky to be able to experience the premiere of 'Floe' here in Madison," Corby said.
"Carrie is a fastidious editor and the work will no doubt develop over time, but there's something special about seeing choreography and dancing of this caliber in its raw form. I'm also thrilled about the inclusion of community cast members, including a couple of our dance majors. … The Seldoms are some of the strongest contemporary dance performers in Chicago."