The Wisconsin Department of Natural Resources is planning a virtual public hearing on a Canadian company's plans to reroute an oil pipeline around a Native American reservation in northern Wisconsin.
As a result of a lawsuit filed by the Bad River Band of Lake Superior Chippewa Tribe, Enbridge Energy is planning to remove a 12-mile segment of its Line 5 pipeline from the Bad River Reservation and bypass the reservation with about 42 miles of new pipe.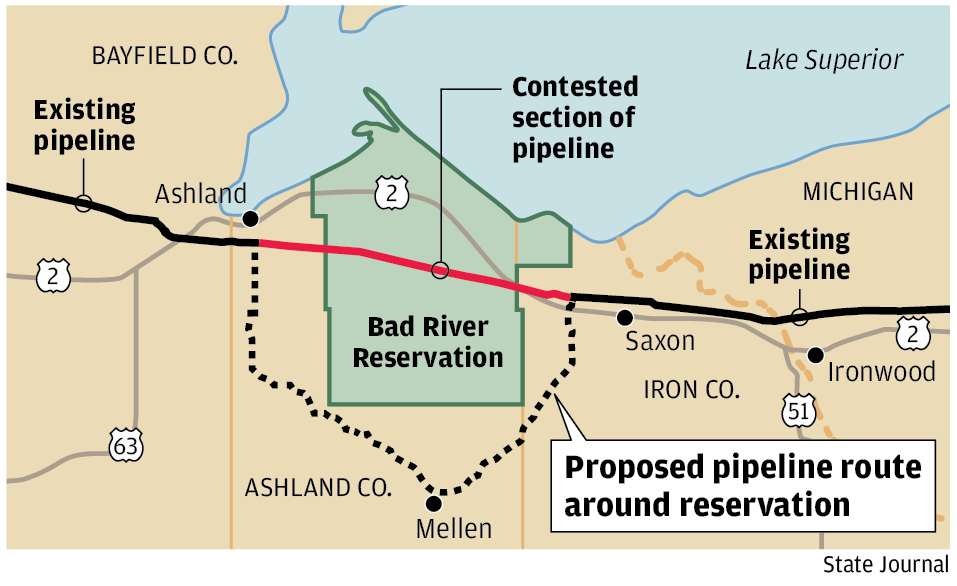 The DNR will hold a hearing at 4 p.m. July 1 -- accessible by telephone or through the online platform Zoom -- on Enbridge's applications for permits to cross dozens of public waterways and fill wetlands and on the scope of the environmental impact review that will be required of the project.
Construction of the proposed pipeline would affect 109 acres of wetlands, resulting in the conversion of 29.5 acres of wooded wetland to non-wooded wetland and the permanent loss of 0.06 acres.
Enbridge would use trenching or dredging to install pipe under 87 public waterways and would need to temporarily bridge 185 waterways during construction.
The company says the line, which transports an average of 540,000 barrels a day between Superior and southwestern Ontario, is a key piece of energy infrastructure.
According to Enbridge, the line delivers liquified natural gas to a Plains Midstream Canada terminal in Rapid River, Michigan, that supplies propane to dealers in Michigan and Wisconsin.
Opponents of the line point to dozens of spills on Enbridge pipelines over the past 20 years, including a 2010 rupture in Michigan that cost $1.2 billion to clean up.