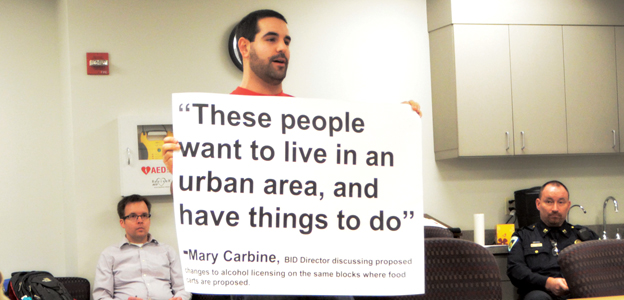 Members of the Vending Oversight Committee came to a unanimous agreement on amendments to a late-night food-vending proposal that are expected to improve the current licensing and spacing ordinances.
The new amendments aim to provide late-night vendors with a greater number of vending sites throughout the downtown area to avoid concentration on North Broom Street, as well as more flexible licensing procedures.
Steven Lawrence, owner of Fried & Fabulous, along with other late night food vendors including the owners of La Empanada and Curd Girl, urged committee members to consider an upgraded late night vending map with more locations to choose from.
The new locations the committee agreed on to host vendors include North Frances Street, University Avenue, North Broom Street and West Gilman Street.
"It is an excellent way to go in that each vendor has an opportunity to build a successful business," Lawrence said.
Lawrence added it is difficult for vendors to profit off of the few allotted downtown areas including the over-crowded North Broom Street vending site.
You have free articles remaining.
"The business isn't there, the numbers don't work," he said.
The Central District Captain of Police Carl Gloede provided an opinion on behalf of the Madison Police Department. Gloede said the changes would be considered a "work in progress" to see how the flow of pedestrians works with the late night food carts. However, Gloede found the new locations to be a "good alternative" for the vendors.
The other major topic of discussion pertained to the licensing process for late-night food vendors, who requested the committee members make adjustments to the seniority system.
Currently, the ordinance gives priority to those food cart owners who have the most seniority regardless of the time of day the license allows operations. This could place late-night food-cart owners at a disadvantage if a long-standing daytime license holder should choose to apply for a late-night license.
The committee members agreed to base seniority solely off of late-night food-vending licensing and not daytime licensing. Seniority allows vendors to select locations on a first-come, first-serve basis.
"It would be unfair to negotiate those spaces for a new late-night license holder that has seniority over a late night vendor that has been there longer," committee member John Magnino said. "We want to promote stability among vendors, not usurp their space."
The late-night venders were pleased with the results of the meeting.
"I think this a step forward for the future of downtown," Lawrence said.