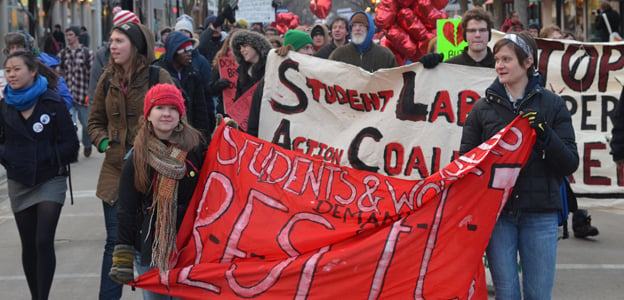 University of Wisconsin-Madison Teaching Assistants' Association and Madison Teachers Incorporated, among other unions, organized a rally of about 100 people Thursday to commemorate the second anniversary of the 2011 Capitol protests and call for solidarity against current and impending union and education issues they say Gov. Scott Walker's leadership created.
The rally began on Library Mall in the late afternoon, with participants, including a number of UW-Madison students, sporting anti-Walker and pro-union signs. Ralliers started walking down State Street at approximately 5 p.m. to meet representatives from MTI at the state Capitol for solidarity singalongs and a candlelight vigil.
The protesters made their way down State Street alternately taking up call and response chants. A few supporters joined from the sidewalk before the ralliers ended their march at the Capitol while singing "Solidarity Forever" to the tune of "Battle Hymn of the Republic."
Volunteers in red MTI hats passed out hand-held candles and as darkness set in, people passed lighters to start "The Fire Still Burns Vigil" to represent the protesters' continued work against Walker. The Capitol steps were quickly engulfed with flickering candles and anti-Walker protest songs.
Charity Schmidt, co-president of the TAA, said the rally was held to reunite many of the people who started the first Capitol protests two years ago. Schmidt also said she hopes the rally brought attention to recent cuts to statewide education, specifically at the expense of liberal arts and humanities, as well as limits on TAA collective bargaining for better wages.
"If you ask corporations what they want in their workforce, they want a strong liberal education," Schmidt said. "It's one more example of how disconnected [Walker] is to the needs of Wisconsin."
Kerry Motoviloff, president of MTI, said she hoped the event would draw attention to lingering state problems like a limited education budget and the successes unions have recently had in broadening voter access and voting rights.
"I think the university is looking at more [budget] cuts, and how they'll manage that I have no idea," Motoviloff said. "Any cuts at this point will directly impact the quality of education in any classroom."