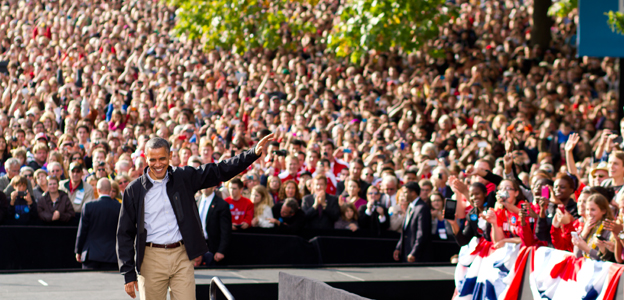 The tree-lined slopes of Bascom Hill and 30,000 enthusiastic spectators played host to President Barack Obama Thursday, as the embattled incumbent rallied supporters and attempted to spark fresh excitement into his campaign.
While recent polls have shown he holds a double-digit lead over Republican challenger Mitt Romney in Wisconsin and a narrow lead nationwide, the president came to the University of Wisconsin-Madison following what many have called an uninspiring performance in the first presidential debate Wednesday night.
The Obama campaign, which originally planned a Thursday stop in Columbus, Ohio, instead came to Madison, a liberal stronghold, expecting an enthusiastic and warm welcome.
Despite cloudy skies and drizzling rain, that's just what they got. The crowd, many sporting Obama-Biden merchandise purchased while waiting in line, filled the hill all the way to Bascom Hall, with an extra 6,000 turned away.
Two years ago, around 26,500 people showed up to see the president when he spoke on Library Mall.
Before the president took the stage, Madison congressional candidate Mark Pocan, Mayor Paul Soglin, outgoing U.S. Sen. Herb Kohl, D-Wis., and U.S. Senate candidate Tammy Baldwin set the tone for the afternoon, encouraging attendees to get out and vote.
While at the beginning of his speech Obama took shots at Romney, he mostly stuck to talking about his vision for the country and urged the crowd of young supporters to vote in November.
College aged voters showed up at the polls in historic numbers four years ago to propel Obama into office, and Thursday he again pushed for their support. From education to health care, the president told the youthful crowd he is the best candidate to represent their interests.
He said low-income families should have access to higher education and emphasized the role education plays in the economy.
"I want to make sure that every young person in America has the chance to get the skills, the knowledge they need to compete in this 21st century economy," Obama said, adding that in his first term he helped millions of students pay less for college by taking on a system that was giving billions of dollars to banks and lenders.
He touted the Affordable Care Act for providing health care for all Americans, particularly young people, and received hearty applause after he called out Republican lawmakers who want to "control health care choices women are perfectly capable of making themselves."
Throughout the campaign, the economy and jobs have been the most talked about issues, and Obama painted a stark contrast between his vision for the country's economic future and Romney's.
"We can't afford to double down on the same top down economic policies that got us into this mess. That is not a jobs plan, that is not a plan for our economy," Obama said. "Our economy does not grow from the top down. It grows from the middle out."
The president also insisted on the importance of investing in clean energy, research and technology to grow the economy, and warned about the dangers of rolling back regulations for Wall Street, oil and insurance companies.
While his speech outlined deep disagreements between himself and Romney, Obama said he believes politics is "not as divided as it seems sometimes," and asked the audience "to keep believing in me."
Despite a Marquette University Law School poll released Wednesday showing the president with a 53-42 lead on Romney, Wisconsin is still considered to be among a handful of battleground states in the election.
Republicans are hoping a recent string of high profile victories, such as Scott Walker's recall election, and nationally prominent figures, including Republican vice presidential nominee Paul Ryan, will cause Wisconsin to vote Republican in the presidential election for the first time since Ronald Reagan in the 1980s.
College Republicans Chair Jeff Snow said the president's visit would do little to distract people from his performance in Wednesday night's debate or help what he called Obama's "Wisconsin problem."
"The only way the president could make students forget about his horrible debate performance last night would be to dress up as Bucky Badger and do a keg stand atop Bascom Mall," Snow said in a statement.
Be the first to know
Get local news delivered to your inbox!