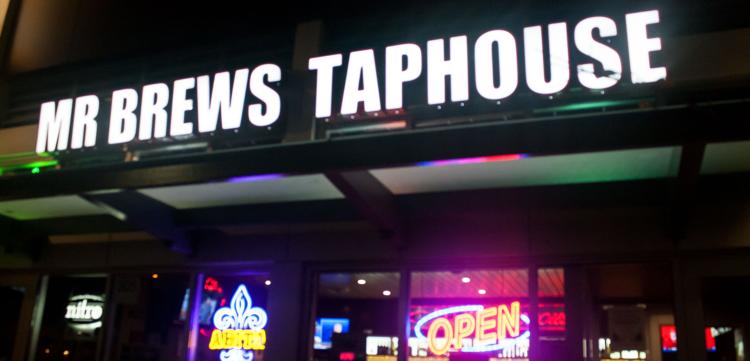 I walked into Mr. Brews Taphouse not expecting much, but within an hour I was able to walk out of the bar satisfied and smiling. Based on the look of the venue, the selection of beers and the friendly service of the bartender, I recommend the bar to anyone who enjoys a simple and fun night.
The bar recently opened in June as an attachment to the Ovation 309 apartment complex. It's a small space with low energy, but the look is very inviting for a visit with anyone. I told the bartender, Kyla Cox, that I had never been to Mr. Brews; I'd only recently heard of the name. With a smile, she gestured for me to take my time checking out the space before taking a seat. To the simple welcome, I applaud and say, "mission accomplished."
There's a large silver and red sign hung above the bar's black granite counter and 72 taps. A small three-couch lounge sections off the dining area, equipped with an electric fireplace, decorative paintings and a mounted TV. The rest of the walls are also decorated with paintings from the same artist-- Erin Lynn--and chalkboards listing the various specials. However, the best detail, as simple as it may be, are the two outlets beside every purse hanger under the counter. I chuckled because my phone battery was at a pitiful 3 percent. The bartender noticed my appreciation and mentioned that the general manager also thought the outlets were a nice touch. I was compelled to give him a thumbs-up when he walked by, which he quickly returned.
The friendly atmosphere was impressive. I have experienced bartenders and servers keep to themselves and only force engagement for the sake of a tip, especially if a space isn't so active that they pay little to no mind to anyone. But I felt a really genuine interaction between the bartender and myself. Without having to ask, she immediately brought out a menu and while I struggled to make a decision, Kyla told me that I could sample all of their beers. Never have I received an invitation to do so, or heard of anyone having that experience. I was so excited that I wanted to ask for every single tap, but exercised self-control for the sake of a review. Kyla shared that shortly after opening, four guys took full advantage of the sampling, trying every tap before leaving. I laughed at the idea of returning to do the same.
After sampling two flavors, I ordered a 10-ounce Hopvale, and was further satisfied that the drink was only $3. For college students mindful of their money, Mr. Brews Taphouse is definitely the best spot. All wines and 10-ounce beers during happy hour are $1 off and pints are only $3.50 just like my enjoyable Hopvale. Besides the drinks, Mr. Brews is a burger joint with over 20 selections on the menu. Unfortunately, they don't come with fries for the side, but the Kentucky Bourbon Burger was so good that I didn't care—I ordered the fresh-cut fries anyway.
The bartender told me that many do not like the space because of the lack of hard liquor. But honestly, with wines, burgers and beers, what more could you ask for?
I enjoyed my time at Mr. Brews Taphouse. I will definitely go again, next time with friends to sample all of the taps. I expressed that I wished there was a venue back home in Milwaukee. Kyla told me that, considering how fast the chain is expanding, I may see one soon. The bar currently has six locations, having just opened one in Monona two weeks ago. I'm impressed, considering the Madison location on the State Street and Johnson Street intersection just opened in June.
Of all my reviews so far, I am most satisfied with Mr. Brews Taphouse. I encourage everyone to go and experience it for themselves.   
Be the first to know
Get local news delivered to your inbox!