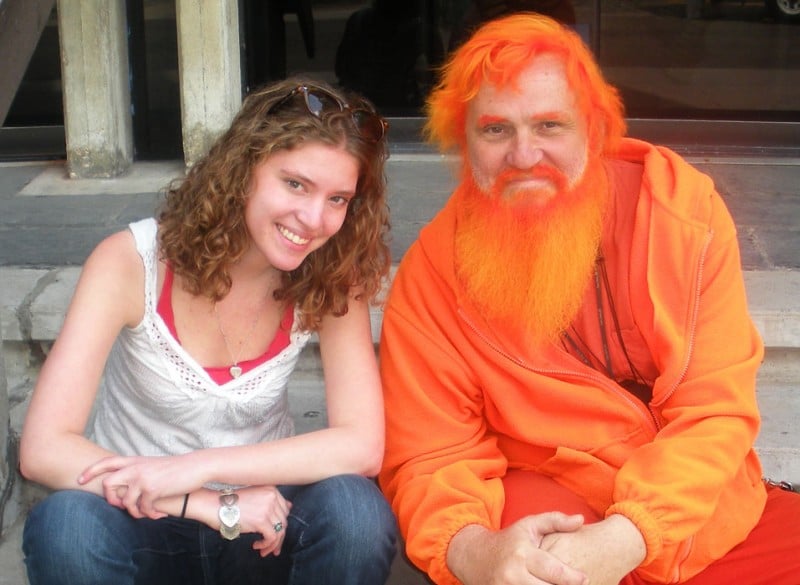 In the heart of Library Mall on a Sunday afternoon, I did what I've wanted to do for the past four years: get to know the Madison celebrity commonly known as ""The Piccolo Man."" One hour, a smoothie, and many words later, I finally did.
Meet the man behind the orange jumpsuit: unabridged, uninhibited and uncensored.
So, what is your real name?
When and where were you born?
Sunday, July 29, 1951, in Sterling, Illinois. I got my bachelor's degree in computer science at the University of Northern Illinois.
How long have you lived in Madison?
Since the summer of 1994. I love the vitality in the atmosphere of the university. The main thing that attracted me to this area was the nude beach by the Wisconsin River.
There's a nude beach here?
I had no idea. How far away?
In the northwest corner of Dane County, they call it Mazo Beach in rural Mazomanie.
I started going there back in 1983. I was driving there from Illinois. It's very popular. I haven't been able to go out there much, but it's beautiful out there in the wilderness.
I've always wanted to go to a nude beach.
Well, I guess you'd better hurry if you're going to be moving away from Madison.
How long have you been playing the piccolo?
Since 1979. I played other instruments before that. I started on clarinet in 1961 and then saxophone and flute, and then piccolo. Eventually, the piccolo became my main instrument.
Where do you usually play?
Weekdays, roughly noon-2:30 in front of the bookstore. Now that the farmer's market has started, I play out there every Saturday morning too. I've also been in the University Band since Spring 2002. I'm the only piccolo player.
I hope the audience can hear you play amid the band.
Well, the piccolo's an instrument that tends to cut through pretty well.
That's true. I can hear you from all the way down State Street.
Yes, I like to call that ""market penetration.""
How come you wear mostly orange?
Just for fun. It seems to work. When I was a student at Northern Illinois and I spent a few summers in Madison, I happened to see an orange suit in a store and I had to have it. I've always liked bright colors. I've always had a sense for the outrageous.
I bought this suit and started accessorizing it and it kind of grew from there.
You wear orange everyday?
Do you get dressed up for Halloween?
No, but I see people dressed as me.
How do you maintain your orange beard?
I dye it once or twice in the springtime. After that, I get my annual haircut. I shave off the top of my head, but not my beard. The last time I shaved my face was in 1993. Before that I hadn't shaved since 1975.
Yes, I live on West Washington in subsidized housing. The city is my landlord. I bike over here. Before I lived there, I slept in the back of what had been a U-Haul truck for nine years. Before that, I was sleeping in a Dodge van. Sleeping in my vehicle I had more of a sense of independence—not having to worry about paying rent every month, following the rules, didn't have neighbors to contend with.
Is playing music your main job?
No, most of the money I make these days is not from playing music. I work one week a month at a friend's auto shop doing whatever kind of unskilled work they have available there. I work on race cars.
What else do you like to do?
I'm actually organizing a ""World Naked Bike Ride"" event in Madison. They're in most major cities, but this will be Madison's first. It's on June 19, 2010 at 11 a.m.
A lot of my friends like to bike ride, and a lot of them like to be naked. I'll spread the word. How do you feel when people call you ""Piccolo Pete""?
Of the names that people call me, that has to be my least favorite. I prefer that people call me ""Tom.""
I'm secretly wealthy or something? There are lots of stupid rumors. Those seem to be the kinds of rumors that would arise.
I have a female friend. She's a musician too. She plays the flute.
You make beautiful music together.
We have played together quite a bit.
Commando. When I wear dress pants, I wear bikini briefs. I wonder: Where do you think that expression ""commando"" came from?
I don't know. What's your favorite job you've ever had?
Playing music on the street. People come up and say the most wonderful things to me.
Really? What's the nicest or most memorable thing someone has said to you?
I had a woman once say that if she goes by here and I'm not playing for whatever reason, there's something missing.
It's the truth! Is there anything you want to say to the UW-Madison community?
I'd advise people to live their lives as they see fit. I think too many people spend too much time trying to please others.
Are you happy doing what you're doing?
Would you have it any other way?
I guess not. I could do things to make more money, but they probably wouldn't be worth it. You have to enjoy doing what you're doing.
Thanks so much for reading my column this year! I've so enjoyed writing them. If you have any last words to say, please let me know at gleicher@wisc.edu. Goodbye, UW-Madison!
Be the first to know
Get local news delivered to your inbox!