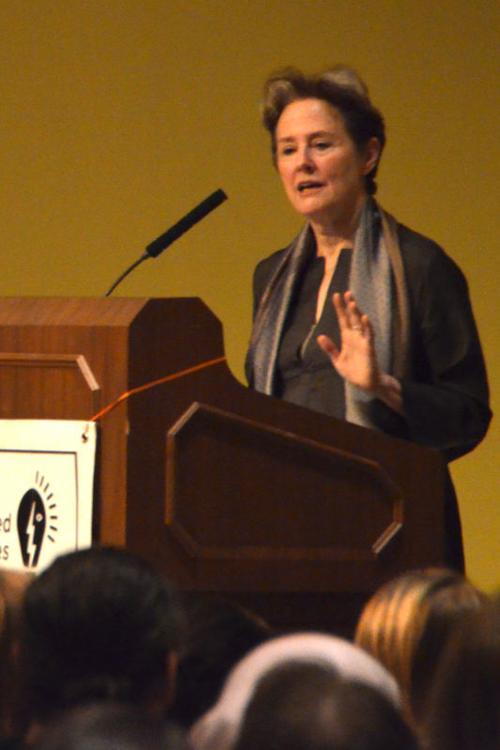 Chef, author and sustainable food advocate Alice Waters spoke on the uncompromising cultural force of fast food as part of the University of Wisconsin-Madison Distinguished Lecture Series Thursday.
Waters has been an advocate for the sustainable movement for the past four decades and is the vice president of Slow Food International. In 1971, she founded her restaurant Chez Panisse, in Berkeley, Calif., which focuses on cooking with local and sustainable foods.
Jamie Lamonde, the Organic Valley director of affairs and the publisher and editor-in-chief of Edible Madison magazine, introduced Waters, the mother of the farm to table movement.
"Alice Waters is a visionary and pioneer of the local and organic food revolution," Lamonde said. "She has helped create the garden in which today we are tilling new food waves, sowing seeds and harvesting for future generations."
Waters spoke extensively about fast food culture in the United States and how the slow food movement can counter fast food's prevalence. Slow food promotes the enjoyment of clean, sustainable food.
"Fast food culture has become the dominant culture in the United States, and I worry it is becoming the dominant culture of the world," Waters said.
The culture values uniformity, speed, availability and cheapness, which all "completely degrade our human experience," according to Waters. Slow food culture, on the other hand, values ripeness, aliveness, beauty and community.
Waters' emphasis on the use of organic and local foods in her restaurant also spilled into her involvement with edible education in schools. She began her work with schools in 1996 at Berkeley's Martin Luther King, Jr. Middle School. Educating schoolchildren about food is the key to changing fast food culture, according to Waters.
"In an edible education, we shift [the students'] focus by placing something better—sense-oriented experience—at the center of their scholastic life," Waters said.
Waters also worked with Yale University to change its dining program. The change led to a large garden with several thousand student volunteers, according to Waters. She has also worked with the American University in Rome to change its food system.
Aubrey Carr, a UW-Madison freshman, heard about the event through her attendance at Slow Food UW's Family Dinners on Monday nights. Carr said she enjoyed hearing Waters speak about her involvement with the switch to alternative eating options on university campuses.
"Especially because we're freshmen, living in the dorms, eating is not the best in there, so I cook a lot of my own food," Carr said. "The fact that they've changed [dining] to organic and local food at Yale and Berkeley is really amazing to me."