Editor's note: This award-winning story about the 1967 Ice Bowl was part of the Cap Times' "Wisconsin's Greatest Sports Moments" series published 30 years ago. It includes interviews with key players and coaches in the famous Dec. 31, 1967, Green Bay Packers victory over the Dallas Cowboys at Lambeau Field, best known as the "Ice Bowl." The Ice Bowl was ranked as the state's top sports moment by a vote of readers in 1987. Ages indicated in this story are from 1987 and some subjects have passed away since it was published. This story was written by Cap Times sportswriter Rob Schultz, who is now a reporter with the Wisconsin State Journal.
Bob Lilly's eyes were transfixed on the referee's mouth.
The Dallas Cowboys' defensive tackle watched in amazement as blood spurted from the ref's lips like water from a fountain. It was 13 degrees below zero inside Lambeau Field and, a few seconds earlier, the referee had just, blown his metal whistle. Then, he tore off a huge portion of his lip trying to ex­tract the whistle from his mouth.
"Blood was spurting everywhere," Lilly said. "Blood was hitting the ref's face and turning into red icicles. It's a sight I'll always remember."
But it certainly wasn't the only moment Lilly would remember from a game that would affectionately be referred to thereafter as the "Ice Bowl."
It was Dec. 31, 1967. The Cowboys were playing the Green Bay Packers in Green Bay to decide the NFL championship in elements suitable only for igloos, eskimos and polar bears. No game ever has been played in cold­er, more adverse conditions. And somehow, these two teams figured out a way to play one of the most memorable football games of all time.
The game pitted youth vs. experience, and in the end experience won out in a pileup in the south end zone with Packer quarterback Bart Starr on the bottom cradling the foot­ball  The Packers' 21-17 victory, which gave them their third straight NFL championship, epitomized their coach, Vince Lombard!, and his mystique.
The Cowboys were a well-coached, young team, superior in talent and hungry for a championship. But with a simple strategy based on perfect performances, the Packers, many of whom were nearing the end of their careers, used their experience and Lombardi­ inspired desire to somehow prevail.
The victory also epitomized the Packers' long-time secret weapon: Green Bay winters.
Dallas coach Tom Landry still shivers when he thinks about the game.
"We were really shocked because the day before the temperature was 20 and the sun was out and the heaters were working," he said. "I went out with Vince to some joint for a party in Green Bay the night before the game and we both agreed it looked like it was going to be a great day."
But when Landry opened his motel room door Sunday morning, he was greeted by a blast of cold air that stopped him in his tracks.
"I thought I was in the North Pole," Landry said. "The door was completely white with ice."
In the Cowboys' locker room, players were in a daze, praying that NFL Commis­sioner Pete Rozelle would postpone the game. Lilly was standing near defensive end George Andrie, a former Marquette Univer­sity star, and they watched wide receiver Bob Hayes moaning as he put on his jersey. Hayes, a Floridian, detested cold weather as much as atheists despise churches.
"George and I had been in the cold before and we decided to be great examples and lead the team on the field and show every­one we didn't mind the cold," said Lilly, now 48, who invests in real estate and runs an art gallery in New Mexico.
But that was before Lilly found out the Cowboys' heaters behind the team bench were not working. The Packers' heaters, by the way, worked just fine. It also was before he learned that Ernie Stautner, the Cow­boys' defensive line coach, ordered his line­men not to wear gloves. And that was before he saw that referee lose part of his lip.
"We ended up not being too great of exam­ples," Lilly said. "George and I were moan­ing, too."
Up in the press box, reporters were using their cardboard depth charts to scrape ice off the windows. In the TV booth, Frank Gif­ford looked down at his frozen cup of coffee and told a national audience, "Excuse me, but I'm going to take a bite out of my cof­fee."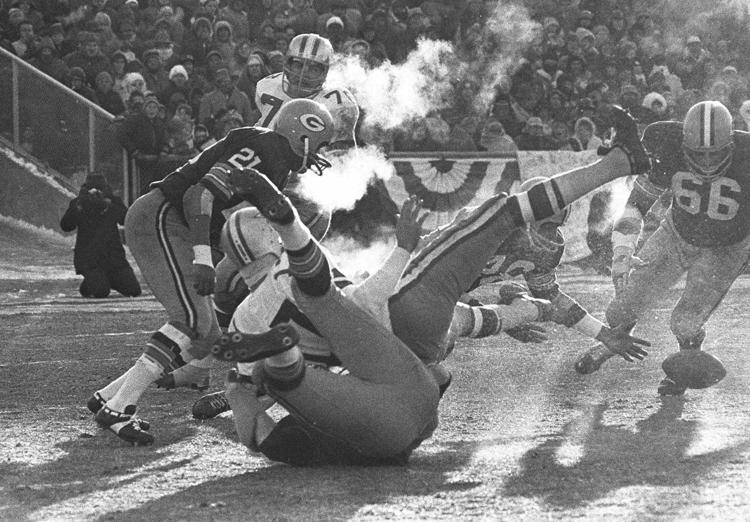 The stadium was packed with 50,861 hearty souls who braved the 48-degree below zero wind chill factor with ski masks, blankets and flasks full of brandy.
Nobody suffered, however, as badly as the players.
"I'll always remember (tight end) Marv Fleming being in the huddle and how cold he was and he was trying to keep his hands warm," said Forrest Gregg, who was the Packers' right offensive tackle. "Sometimes when we were out there and time was out, I'd have him put his hands under my arms and I'd clamp down on them trying to keep his hands warm."
The method worked, and suddenly the Packers' huddle had a strange look to it. All the wide receivers and running backs on one side were sticking their arms and hands out so the linemen on the other side could stick them under their armpits.
"When I wasn't doing that, I was sticking my hands down in my crotch area," said run­ning back Donny Anderson, now 44 and an independent businessman and president of Wealth Planning Insurance Company in Dal­las.
Anderson also faced a losing battle trying to keep his feet warm so he could punt. He averaged only 29 yards for his eight kicks.
"If you took a regular-sized 2-by-6 brick and dropped it on your foot, that's what it felt like to punt," he said.
The Packers reached the playoffs by win­ning the Central Division title with a 9-4-1 record. But it hadn't been easy.
They lost halfback Paul Hornung and full­back Jim Taylor to the New Orleans Saints, an NFL expansion team. Halfback Travis (the Roadrunner) Williams helped compen­sate for the loss of the future Hall of Earners, especially with four electrifying kickoff returns for touchdowns. But then, halfback Elijah Pitts and fullback Jim Grabowski were injured, and the Packers had to sign Chuck Mercein, who started the season in semi-pro football in New York, and the equally unheralded Ben Wilson.
Nevertheless, Green Bay reached the championship game by defeating the heav­ily favored Coastal Division champion Los Angeles Rams, 28-7, in Milwaukee.
Dallas made the playoffs by winning the Capitol Division with a 9-5 record. Led by zany quarterback Don Meredith, who used to sing "I didn't know God made honky tonk angels" in the huddle, the Cowboys defeated Century Division champion Cleveland, 52-14, to reach the title game against the Packers for the second straight year. The Packers had won the '66 championship, 34-27, at Dal­las in a game almost equal to the "Ice Bowl" in excitement and drama.
It didn't take long for the Packers to prove they were more accustomed to playing in cold weather than the Cowboys. After the Cowboys' initial drive stalled, Danny Villa­nueva punted to the Packer 18. Starr then led the Packers on a 16-play, 82-yard drive that ended with an 8-yard scoring pass to Boyd Dowler.
Starr and Dowler hooked up again early in the second quarter for a 43-yard scoring pass and the Packers grabbed a 14-0 lead. But at that point, just like in the '66 title game, the momentum began to turn toward the Cowboys.
Dallas got its first break with four minutes left in the second quarter when Starr, backpeddling to pass deep in Packer territo­ry, fumbled after he was blindsided by de­fensive end Willie Townes. Andrie picked up the loose ball at the Packer 7-yard line and ran for a touchdown.
The Cowboys got another break with 1:32 left in the half when Willie Wood fumbled a Villanueva punt at the Packer 17. The Cow­boys turned that into a field goal as time ran out and went into the locker room trailing, 14-10.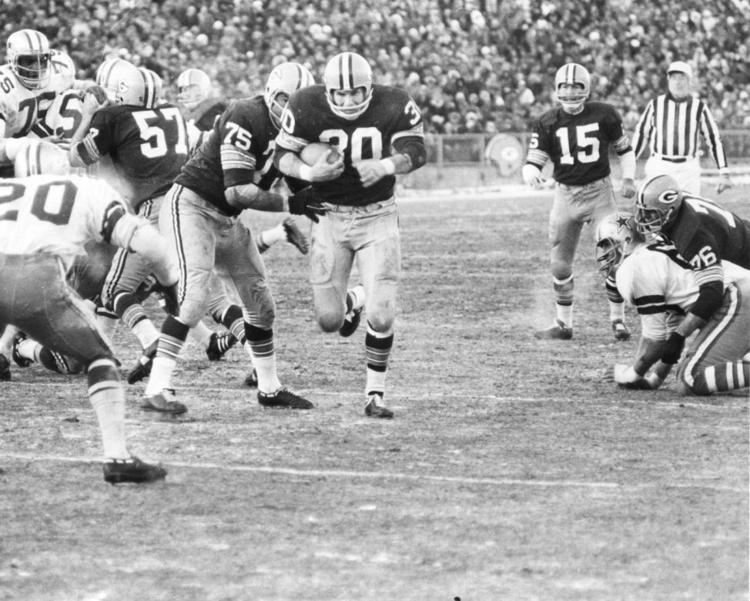 Neither team mounted much of a threat in the third quarter as the biting cold took its toll on the game plans. Besides the cold, de­fense ruled in this game. Linebackers Chuck Howley and Lee Roy Jordan, along with Lilly, led the Cowboys and held the Packers to 10 total yards in the third quarter. Starr was sacked eight times for 76 yards in losses.
But middle linebacker Ray Nitschke, growling and snarling on every play, was equal to the task for the Packers.
"The greatest game he ever played," Gregg said. "He was awesome."
Dallas halfback Dan Reeves, now the head coach of the Denver Broncos, had a dif­ferent description. "He was an animal," Reeves said.
Finally, on the first play of the fourth quarter, the Cowboys found a way to beat Nitschke and the Packers by resorting to razzle-dazzle. They took a 17-14 lead when Reeves completed a 50-yard halfback option pass to wide receiver Lance Rentzel.
Considering how miserably the Packer of­fense was performing as the mercury con­tinued to drop, it appeared that final Cowboy score would be enough to end Lombardi's dream of winning three straight NFL cham­pionships.
Time was running out for the Packers, who blew a chance to tie the game with 9:44 remaining when Don Chandler missed a 40-yard field goal. But following another Villanueva punt a few moments later, the Pack­ers reached down one last time and put to­gether the greatest drive in their illustrious history. It started with 4:54 remaining and the ball on their 32.
Starr, standing next to Lombardi, looked at his coach before he trotted to the huddle.
"He had a very determined, confident look on his face," Starr said. "He didn't say any­thing. There wasn't a word uttered. He knew that I knew what the importance of the drive was. So why say anything? So he didn't."
When Starr got to the huddle, he looked into the eyes of every teammate. "It was the most confident look in their eyes. It's hard to explain," Starr said. "I didn't say anything but 'Let's get it done.' That's all that was said."
But the odds definitely were against the Packers. Early in the game the field, which had an electric blanket underneath it that had failed because of the cold, was soggy but playable. But now, nearly three hours later as the sun began to set, the field had frozen. Footing was extremely treacherous.
Starr, now 54 and an executive in Scotts­dale, Ariz., with a group called Arizona NFL Expansion that is trying to get an expansion team in Phoenix, said the true character of the team surfaced during the drive.
"Plus, there was another factor which I think was part of the makeup of those teams during the period and that is that we had some alert, astute, aware competitors," he added.
That came to light on the third play of the drive. Starr had passed to Anderson for 6 yards and Mercein ran for 7 more and a first down. Starr then passed to Dowler for 13 to put the ball on the Cowboy 42. Dowler was injured on the play and had to leave the game.
Anderson, a second-year player out of Texas Tech, had picked up on a Cowboy flaw during Starr's completion to Dowler and ran back to the huddle excited. He got Starr's attention as the Packer trainers worked on Dowler on the field.
"I saw Howley drop back 14 or 15 yards deep. Howley was supposed to be covering me but he was dropping back to help the cor­ners cover the receivers. So if he didn't blitz, then I could just stray out into the flat and I'd be open," Anderson said. "I told Bart that if he needed to dump it, I'd have quite a bit of running room."
But Starr called a running play next and it failed as Anderson was tackled by Townes for a 9-yard loss back to the Packer 49. Now it was second and 19 with less than 3 minutes remaining.
Injured guard Fuzzy Thurston, standing near Lombardi on the sidelines, looked over at his coach each time the Packers were huddling. "He was praying," Thurston said. "Praying hard."
Back on the field, Starr remembered what Anderson told him and, on the next two plays, completed little dump-off passes to the halfback. The first play gained 12 yards, the second gained 9 and the Packers picked up the first down at the Cowboy 30 with 1:35 left.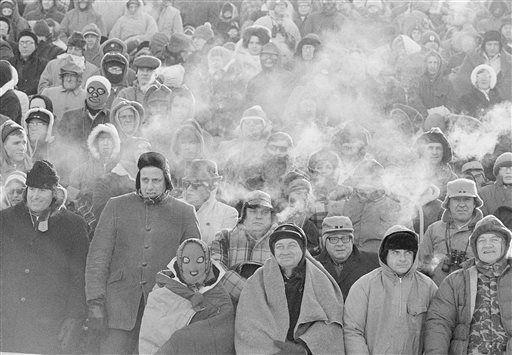 Mercein came back to the huddle and told Starr the linebackers were covering him as loosely as they were covering Anderson. "I'm out there if you need me," he told Starr.
On the next play, Starr dumped a little pass to Mercein that turned into a 19-yard gain and gave the Packers a first down at the Cowboy 11 with 1:11 remaining.
"The one thing you can't overlook during this drive was the pass protection was super," Starr said. "I had plenty of time to make these adjustments and Mercein got outside the strong side linebacker. It was a big, big play and Chuck had picked up on that."
Landry knew what was happening but was helpless to stop it.
"The strategy was simple, but our line­backers kept losing their footing and they made the big play," Landry said. "If you have to second guess, we should have been in a zone defense rather than a man defense. We would have been able to control it much better. But we weren't and we didn't. That hurt."
Now it was Starr's turn to come up with a brainstorm that would hurt the Cowboys even more. He called a running "give play" to Mercein that took advantage of Lilly's ag­gressiveness.
On the play, Green Bay's left guard Gale Gillingham, playing in place of Thurston, was to pull to the right with the rest of the line. It was supposed to look as if the Pack­ers were running their famous sweep and Lilly was expected to follow. If all went ac­cording to plan, there would be a gaping hole for Mercein to run through. As expected, the play caught Lilly and the Cowboys com­pletely by surprise and Mercein gained 8 yards to the Cowboy 3. 
"That's the finest play I ever called in my career," Starr said. "I thought it was timely because they knew we had to throw because we didn't have a lot of time. Yet I felt be­cause of their quick reaction and that they were so well-schooled on defense that they reacted beautifully to everything we did be­cause of their coaching.
"The key to the play is the block of Bob Skoronski, the left tackle. If he can't cut off George Andrie, their defensive right end, the play's no good. If you can visualize this, Andrie's responsibility is to cover for Lilly, who is going to chase, laterally, the move­ment of the guards. So before I called the play I checked with Bob and said, 'Can you cut him off?' And he said, 'Yes I can.'
"Mercein ran right through there. I think if the footing had been better Mercein would have gone even farther and might have even scored."
But the Packers' problems with footing were just beginning.
"The sun is so low in the sky at that time of year that a giant shadow is cast on the field by the scoreboard," Starr said. "So that end of the field got harder sooner than the other portions of the field because of that shadow. That end of the field was very hard. It was like trying to start on concrete with cleats on."
Anderson slipped but still gained 2 yards on the next play to set up a first and goal in­side the Cowboy 1 with 30 seconds left. The officials ruled him down inches from the goal line, but it appeared as if he had scored over the blocking of right guard Jerry Kramer and Gregg.
"Anderson definitely scored on that play," said Cowboys' defensive tackle Jethro Pugh. "I remember (Cowboy cornerback) Cornell Green looking down at the pile and saying, .'That son of a bitch scored. Look at him, he's over the goal line.' Then my teammates all looked at Green and said, 'Shhh. Shut up man. Keep quiet.'"
Anderson also said he had scored, but dur­ing the pileup he curled up and moved the ball back over the goal line to keep the Cow­boys from stripping it and claiming he had fumbled.
Starr called Anderson's number again, but once more he slipped as he got to the line of scrimmage and was stopped for no gain.
Now there were 20 seconds left and, after a timeout and a conference with Lombardi, Starr gave the ball to Anderson for a third straight time. This time, Anderson slipped just as Starr handed off to him and he lost yardage back to the 1-yard line.
Now, it was third down and goal Starr quickly called the Packers' last timeout with 16 seconds left and trotted back to the side­lines to confer with Lombardi.
Lombardi let Starr know right away there would be no field-goal attempt to tie the game. The Packers were going for the win.
"Before I went to the sideline I asked Jerry Kramer if his footing was good enough to run a wedge play on Jethro Pugh and he replied 'Hell, yes,'" Starr said. "So I told coach Lombardi that the wedge play was still a good play, there was nothing wrong with it, but that our backs couldn't get to the line of scrimmage because of the foot­ing. I said I could sneak it in because I was right on top of the blockers. I don't have as far to go and I could just shuffle my feet and lunge in." 
Starr said Lombardi looked at him and re­plied, "'Well then, run it in and let's get the hell out of here.' That's all he said."
Starr went back to the huddle and called the wedge play, or quarterback sneak, over Pugh. "I told them I was going to keep it," Starr said, ending all the stories that claimed no­body but Starr and Lombardi knew he would carry the ball.
Center Ken Bowman, who was supposed to help Kramer with the block, felt confi­dent. "We had looked at the films and no­ticed that Jethro, out of all their defensive linemen, played higher than anybody else," said Bowman, meaning Pugh would be easier to block from a leverage standpoint. "So going into the game we decided if it ever got to the point where we needed a yard, that's where we were going to go."
Pugh, meanwhile, had no clue about what was going to happen. He was trying to dig in and-get some better footing.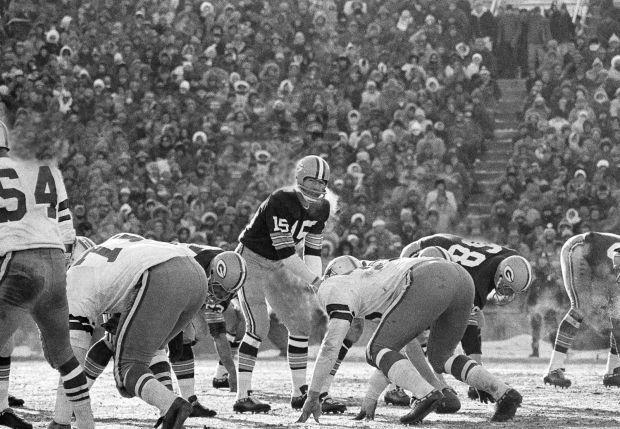 "We knew Starr hadn't quarterback sneaked all year, so I was playing the odds that he wouldn't do it now," said Pugh, now 43, who operates some flower shops near the Dallas-Fort Worth airport. "I was thinking pass because there were no timeouts left."
Lilly, standing a few feet away from Pugh, disagreed. As he pounded his heels into the frozen field, he said to his teammates, " 'They're coming up the middle, get low and plug it up.' Then I wondered out loud if I should call a timeout so we could get a screwdriver and make some holes so we could put our feet in them. But I decided not to."
Instead, Lilly just dug in the best he could and said to himself, "Please God, don't let them come at me. I know they're going to score. It's hopeless if they double team me. Don't let them come at me."
As the Packers reached the line of scrim­mage, Bowman leaned over the ball and said to himself, "Don't blow the snap count." Then he looked over to see where middle linebacker Lee Roy Jordan was lining up. "If he lined up tight, that meant I was going to be of token assistance to Kramer on the dou­ble team because I'd have to peel off and get Jordan," said Bowman, now 44 and an attor­ney in Green Bay.
But Jordan was back off the ball a few yards. "Thank God, he's playing that deep," Bowman said to himself. "He's not going to get here on time."
A few inches away from Bowman, Kramer was digging in to the turf the best he could. "I said to myself, 'I understand the play, I understand the job, but how the hell am I going to get out of there, get some movement and get some footing?'" Kramer said. "I was thinking of scratching my feet and kicking around and trying to get a hold of something to at least feel my footing."
Then, Kramer's left foot hit a small divot in the turf. "I was trying to get my right foot into something because that was my drive foot. When I was scratching around I saw that divot was about 12 inches from Bow-man's foot," Kramer said. "It was a tiny bit more than what I wanted, but it was such a perfect starting block that there was no question where I was going to put my left foot and how I was going to use it."
So Kramer was set. He looked up at Pugh. "I looked at the bottom half of him," he said. "I never looked at his eyes. I looked at his shoulder and jersey. That's where I wanted to put my nose, in his jersey, in his num­bers."
Starr would be the last player set. As he stood over Bowman, he felt a strange sensa­tion.
"The crowd was at an obvious roaring pitch despite the cold," said Starr. "The emo­tion was reaching a crescendo, the noise was unbelievable. Here we were on the verge of winning our third consecutive champion­ship, yet as I walked to the line of scrim­mage I remember looking over to the Dallas Cowboys and as we set our line, it was al­most like time was standing still.
"In my own mind it was quiet. It was strange and I can't describe it except that I remember seeing the breath and the front of the helmets as I started to go underneath the center. It was almost as if there was no noise at all. It was just so strange. I pur­posely used a quick count so that our people were down and gone. The rest is there for everybody to see."
The 6-foot-3, 245-pound Kramer came off the ball like a shot and surprised Pugh with a powerful block into his chest that stood up the 6-6,260-pound tackle.
"There wasn't much resistance after the initial blow or contact," Kramer said. "His feet were sliding out from behind him. He didn't have the footing I had."
Pugh didn't know what had hit him.
"Kramer got to move before the snap, and that's what I was thinking about," Pugh said. "I mean, I never was blocked like that in my life. The only reason I could get blocked like that is for somebody to get a jump. It doesn't take much. Kramer was a good guard, but not that good."
Bowman, too, had driven Pugh back with great force.
"Pugh was almost three-quarters of the way stood up when I got there," Bowman said. "I just put a shoulder into his right rib cage. At this point, Jerry popped him, stood him up and was sliding off to the right be­cause he put everything into that first shot.
"I got into his rib cage and ushered him backwards about a yard. And that's all we needed because I remember looking back and seeing Bart in kind of a fetal position, cradling the ball over the goal line."
Kramer and Bowman weren't the only ones to make great blocks.
"Forrest (next to Kramer) made a whale of a block on Willie Townes, who was lined up on the inside," Bowman recalls. "If there was somebody who had a shot at Bart going to the end zone, it was Townes and Forrest got his body over in front of him and made a great cut-off block.
"Gillingham made a hell of a cut-off block on Lilly, too. There were so many players on that play who executed and made great blocks."
Starr added: "Don't forget about the block Fleming made on Chuck Howley. That was real key, too, because he was literally com­ing over the top of the pile. He's making a great effort to stop the play."
After the play, bedlam set in at Lambeau. After Starr scored, there still were 13 sec­onds left. But the crowd ran onto the field and had to be pulled back so Chandler could kick the extra point, kick off and let the de­fense stop the Cowboys for two last despera­tion plays.
Finally, the Packers could carry Lombardi, who would retire as their coach after they defeated the Oakland Raiders in Super Bowl II two weeks later, off the field for the last time at Lambeau. But not before an overzealous fan stole Lombardi's Rus­sian-style hat.
Recalling the moment still sends chills down the spines of most of the participants.
"That drive was Lombardi," said Kramer, who wrote a book about the 1967 season called "Instant Replay" and penned two more about the Packers. Now 52, he's in­volved in gas exploration in Houston, some real estate development in Southern California and speaks around the country for major corporations.
"We had to reach down for that inner strength one more time," Kramer said. "It was something he demanded and developed so well."
Gregg called it one of the greatest mo­ments of his illustrious career that ended with his induction into the NFL Hall of Fame.
"I've had a lot of good things happen to me (in football)," said Gregg, 54, who succeeded Starr as Packers coach. "But that was one of the ones I'll probably remember the most. I can remember more about that game than any of the others I ever played.
"Maybe the cold is the thing that magni­fied it the most. Maybe it froze in my brain, I don't know."
But even if it isn't frozen in his mind, Gregg can't help but be reminded of the play every time he takes his team out onto Lambeau Field.
"I think about it when I'm out there," Gregg said. "I think about it every time I go out on the field. I look around now and it's still the same turf , the same stands, it's the same everything. Except now, everything's bigger."
The stadium maybe, but never the game.