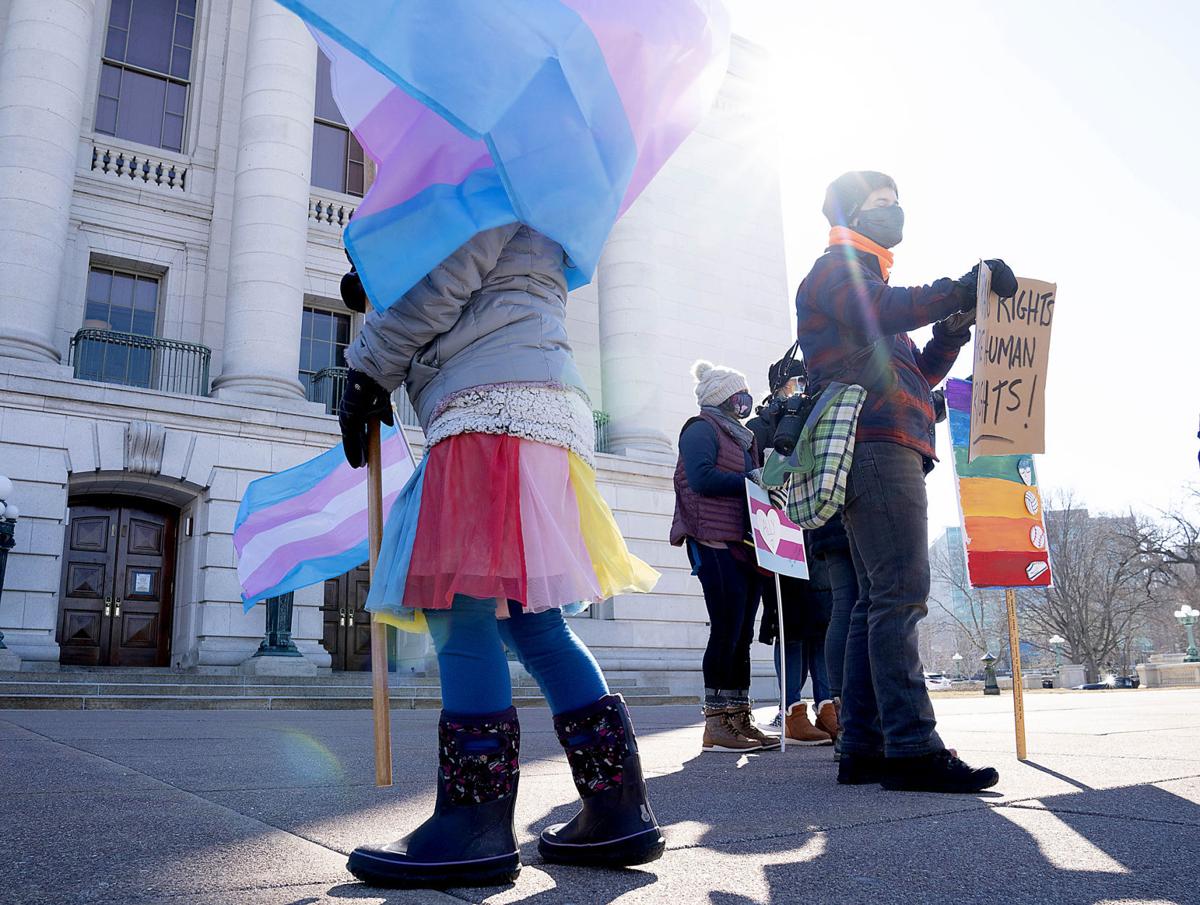 Donald Trump appeared at the Conservative Political Action Conference on Sunday and, with his usual rambling incoherence, ran down a list of delusional grievances. He griped about voter fraud that doesn't exist, immigrants who pose no threat and gas prices that aren't Joe Biden's fault. No surprises there. Just more predictable ranting and raving from a son of privilege who is so self-absorbed and so emotionally damaged that he thinks every deck is stacked against him.
But Trump added a twist to this speech: transphobia.
Picking up on the cause-de-jour of the perpetually-offended right, Trump devoted a substantial portion of the speech to complaining about transgender athletes.
"Joe Biden and the Democrats are pushing policies that would even destroy women's sports," Trump whined, as the crowd booed.
The defeated former president mocked both cisgender and transgender female athletes, and then announced, "Young girls and women are incensed that they are now being forced to compete against those who are biological males."
Wrong. As Forbes columnist Dawn Ennis recently reported, "An overwhelming majority of (women athletes) tell the LGBTQ sports site Outsports they agree that transgender women are women and should continue to compete according to their authentic gender identity."
"These women know that trans athletes don't always win," Ennis wrote. "They recognize that no trans woman has ever dominated a single sport, ever. No trans athlete, either male or female, has even qualified for the Olympic Games, never mind competed, in all the years that trans athletes have been permitted to try. They know that what wins scholarships and medals are grit, determination and giving one's personal best, not where one places in a race or what's between any athlete's legs."
Unfortunately, when Trump lies, Republicans jump into action.
One day after the ex-president addressed CPAC, Wisconsin state Rep. Barb Dittrich, R- Oconomowoc, introduced a pair of bills that would bar transgender student athletes from participating in girls' or women's sports.
As The Capital Times reported, Dittrich's bills "would essentially seek to prohibit schools from allowing students join teams that don't correspond to their biological sex as assigned by a doctor at birth unless the sport is classified as 'coed,' would apply to public K-12 schools, independent charters, private choice institutions, the University of Wisconsin System and technical colleges."
Dittrich claimed, "Biological females are losing opportunities at titles, records, scholarships and even participation at times."
That's just Trumpian political posturing by a legislator who didn't bother to ask the questions that Ellis did in her Forbes piece:
"If trans athletes being allowed to compete is truly the threat Trump and other opponents say it is, these women athletes ask: why hasn't the NCAA shut down its women's sports programs? How come those still exist in 16 states where student-athletes can compete according to their gender identity? Or the 14 states where the rules are stringent but it's not impossible? Also: Why isn't there any scientific research comparing elite trans athletes with cis women athletes? How can anyone determine what's fair if the only research performed so far is on average trans women, not actual athletes, and not on actual trans girl athletes? Why does almost all of the research now used to argue against inclusion start with the presumption that women are weak and inferior and that trans women are men?"
Dittrich's legislation is embarrassing, and she looks the fool.
But it must be taken seriously because when Trump shouts, "Jump!" Wisconsin Republicans tend to ask, "How high?"
So we're glad responsible legislators, and Gov. Tony Evers, have responded appropriately.
"My message to Wisconsin's transgender kids and students today is simple: I see you. You are welcome, you are wanted, and you belong," Evers tweeted shortly after the bills were introduced.
The Democratic members of the Wisconsin LGBTQ caucus described the bills as a "blatant attempt to codify discrimination and perpetuate damaging, inaccurate, and deeply offensive stereotypes against trans youth, and discriminate against a group of young people who simply wish to apply their best selves in a sport they are passionate about."
We embrace their response, along with that of state Sen. Melissa Agard, D-Madison, who said, "Trans kids are not a political pawn that can be used to divide our communities. These are children who want to live their lives and excel just like any other child. Perpetuating anti-trans stereotypes hurts not only trans individuals, but also the student athletes (Dittrich and her allies) claim they are protecting."
Dittrich should withdraw her bills. If she does not, legislators should reject them. If they do not, Evers should uncap his veto pen.
Share your opinion on this topic by sending a letter to the editor to tctvoice@madison.com. Include your full name, hometown and phone number. Your name and town will be published. The phone number is for verification purposes only. Please keep your letter to 250 words or less.