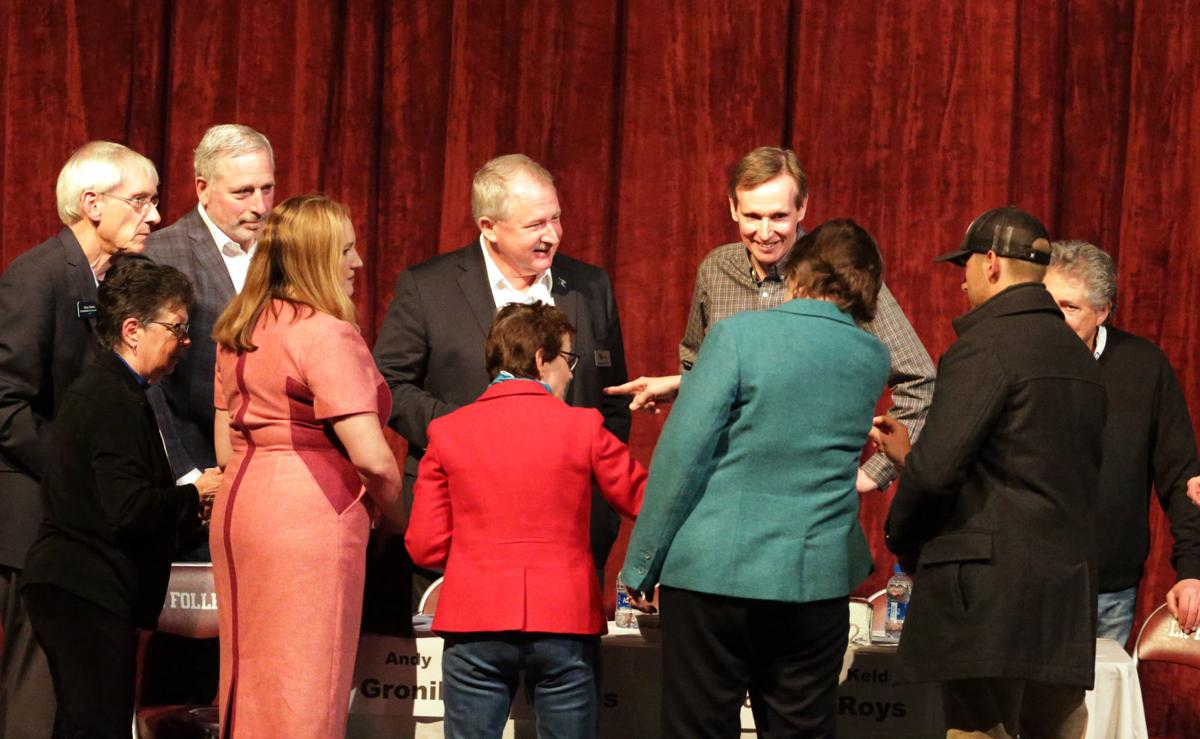 The Wisconsin Broadcasters Association is rethinking its attempt to severely limit the debate among candidates for the Democratic nomination for governor.
The WBA recognized earlier this year that interest in the gubernatorial contest was high, and that statewide televised debates were likely to draw a great deal of interest. That was wise.
But then, this week, the WBA announced that it would allow only four of the 10 Democratic contenders to participate. That was foolish.
The Democratic competition is a bit unwieldy, but we like the fact that it provides Wisconsinites with a wide range of compelling options. As of now, voters are still being pulled in many directions. That was evident in the results from a recent straw poll at the state Democratic Party convention. Former state Rep. Kelda Roys was the clear first-place finisher. But she only got 23 percent of the vote. And, notably, seven other candidates were within striking distance of second place.
What this tells us is that this contest remains wide open. Most of the 10 candidates can make a case that they could win it, including several of the contenders who are trailing in the polls.
So the WBA's initial plan to invite only four candidates to debate on July 27 — based on the transitory results from a July Marquette University Law School poll — was wrongheaded on a variety of practical fronts.
As Charles Franklin, the director of the Marquette survey, reminds us: Polls have margins of error. That means that, with so many contenders dividing support in so many ways, it's entirely possible that a candidate could end up on the WBA debate stage even though the candidate has less actual support than a contender who is excluded. It makes no sense to say that a candidate who has 11.8 percent support in the Marquette poll should debate, while a candidate with 11.5 percent is sidelined. That's not a speculative concern; in the convention straw poll, Professional Fire Fighters of Wisconsin head Mahlon Mitchell won 11.8 percent, while state Superintendent of Public Instruction Tony Evers had 11.5 percent.
Charles Franklin says: "We think the Wisconsin Broadcasters Association should not use our poll in this way."
We also agree with the candidates who say there must never be a money barrier to participation in debates. The WBA had suggested that candidates would need to have raised $250,000 before the debate to be allowed to participate. That's an absurdly anti-democratic approach that advantages candidates who are personally wealthy or connected with big donors — while disadvantaging candidates who are mounting grass-roots campaigns.
We're especially disappointed with WBA's attempt to impose a financial hurdle, No matter how the group sorts through the question of how to organize a debate — or, ideally, debates — the $250,000 requirement has to go.
With this said, we sincerely hope the WBA will organize and broadcast debates.
Let's begin with respect for the fact that sorting out a field of 10 candidates can be difficult. In this process, mistakes can be made. But there are examples of how to get things right. Some groups that hope to make endorsements have gone to extraordinary lengths to be fair with candidates. For instance, the Wisconsin's Choice project of the Wisconsin Working Families Party and Our Wisconsin Revolution has set up elaborate structures for members and allies of the groups to learn about the contenders and vote for favorites in online balloting. We commend efforts that begin by allowing all the candidates to get a fair hearing. As the sifting and winnowing process goes on, the Wisconsin's Choice initiative will encourage progressives to choose from a final group of four candidates; but the winner still must get more than 50 percent of the vote to secure an endorsement.
Were the WBA to begin by putting all the candidates on TV for initial debates, we could imagine a sifting and winnowing process that might in a later debates feature presumed frontrunners. That's not our favorite approach, but it could get the broadcasters moving toward the more tightly focused exchanges they have said they prefer.
Another approach might feature groups of candidates going at it — three or four around a table with one moderator, another three or four with another moderator and so on. Then the groups could shuffle in future broadcast debates, so that all the candidates would eventually face one another,
The constant in these different scenarios is an increase in the number of debates. And it strikes us that this is vital.
One televised debate is insufficient to foster the discourse that is needed. And that insufficiency would be compounded by unfairness if most of the candidates were left out.
So we are for more debates — and for the options that might extend from them. But, if one debate is all the WBA chooses to give Wisconsin, then all the candidates must participate.
Editor's note: WBA has canceled its plans for a primary debate.
Share your opinion on this topic by sending a letter to the editor to tctvoice@madison.com. Include your full name, hometown and phone number. Your name and town will be published. The phone number is for verification purposes only. Please keep your letter to 250 words or less.