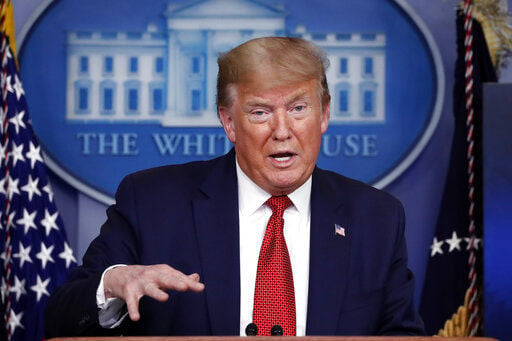 Donald Trump's war on science and on the truth has gone to such extremes that he is now attacking the World Health Organization. We won't repeat Trump's lies, but we do think it is important to note the WHO's response. It was a plea to elected leaders around the world to stop politicizing the COVID-19 outbreak.
"If you don't want to have many more body bags," WHO Director-General Dr. Tedros Adhanom Ghebreyesus warned leaders like Trump, politics has to be put aside. "At the end of the day, the people belong to all political parties," he explained. "The focus of all political parties should be to save their people, please do not politicize this virus."
Unfortunately, as the headline of a New York Times article from April 2 noted, "Trump is politicizing the pandemic." In that review of the mess made by the president, Eric Posner, a professor at the University of Chicago Law School, and Emily Bazelon, a staff writer at paper's magazine, noted signals from the White House that, "Governors who criticized the president would put their states at risk of getting short shrift from the federal government." They pointed to a Washington Post survey that "detailed the uneven distribution of protective gear from FEMA. Colorado, Maine and Massachusetts, led by two Democrats and a Republican critic of the president's pandemic policies, received only small fractions of what they asked for while Florida got the delivery it requested — twice over."
What about Wisconsin? As of late last week, note members of the state's congressional delegation, Wisconsin had "received none of the testing materials it requested on March 28 and 29 — specifically testing kits, test collection swabs, and reagents. It has additionally received an inadequate amount of Personal Protective Equipment (PPE)—including 50% fewer N95 respirators than expected."
Whether Trump is playing politics with a state that has a Democratic governor, or whether he and his aides have simply mangled the response so thoroughly that supplies are not being distributed in a sound manner, the reality is, as U.S. Rep. Gwen Moore, D-Milwaukee, says, "The lack of crucial supplies needed to fight COVID-19 is straining hospitals and putting Wisconsinites and health care workers at risk."
Rep. Mark Pocan, D-Town of Vermont, goes to the heart of matter when he says, "The Trump administration is turning its back on Wisconsinites while the president blames state governors for his failures — rather than getting us the supplies we need."
Pocan speaks an urgent truth when he explains, "The federal response has been woefully inadequate to the needs of our state. We need FEMA to step up. Nationwide, we are failing to test people for this deadly virus quick enough. Wisconsin labs are attempting to ramp up capacity and serve the people of our state, but cannot do so without the testing supplies the federal government failed to provide. States like Wisconsin are doing everything in their power to fight this pandemic, but the federal government's failures are threatening us all."
Share your opinion on this topic by sending a letter to the editor to tctvoice@madison.com. Include your full name, hometown and phone number. Your name and town will be published. The phone number is for verification purposes only. Please keep your letter to 250 words or less.
Catch the latest in Opinion
Get opinion pieces, letters and editorials sent directly to your inbox weekly!