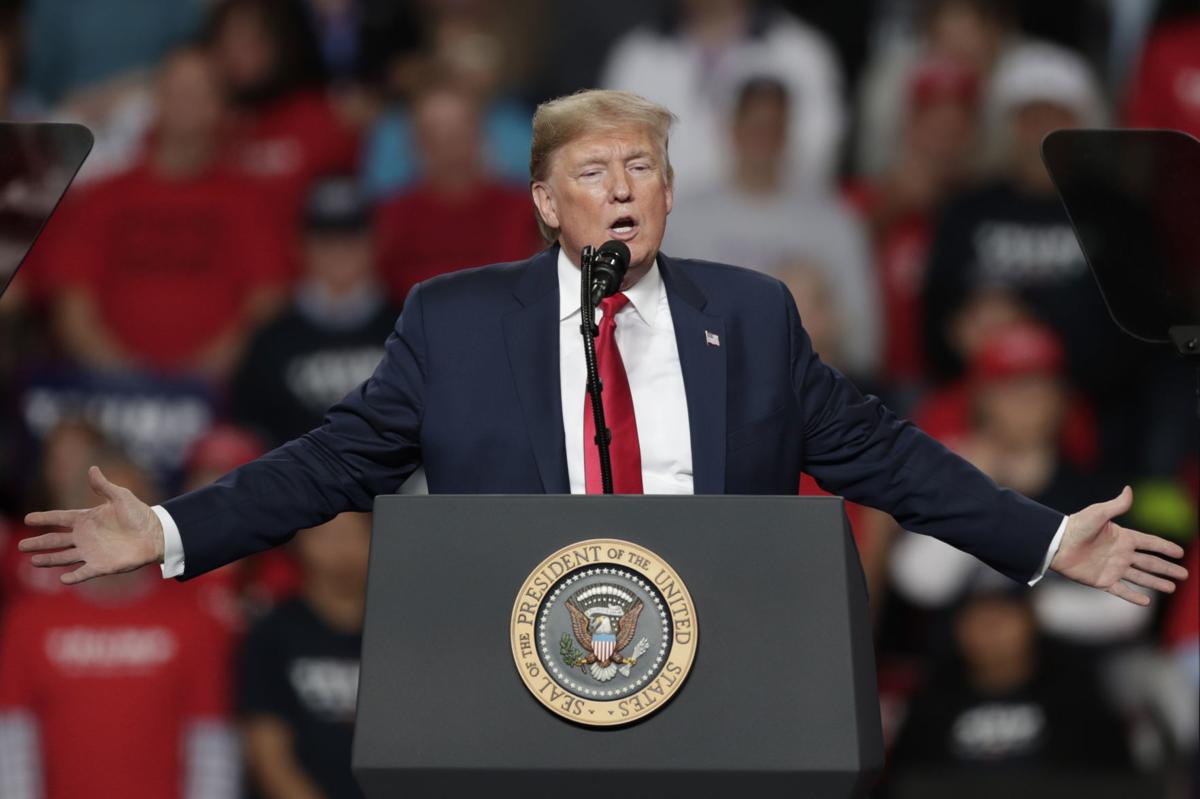 Donald Trump is a pathetic shell of a man who fears a fair fight. That's not really news to anyone who has paid attention to the sad story of a son of privilege who could never succeed on his own.
Trump's sad story is that of weak man who has always relied on his family and his fixers to clear the competition out of his way.
Born to wealth and coddled throughout his education, Trump was handed every opportunity and still made a mess of things. He talks a good game about "the art of the deal" and his supposed business prowess. Yet he frequently ended up in bankruptcy and had to be bailed out again and again and again — by ever more dodgy bankers.
When Trump finally entered presidential politics, after years of teasing about a run, he failed to win even a plurality of the vote. Democrat Hillary Clinton beat Trump by 2.9 million ballots in the 2016 presidential election. It's was only because the anti-democratic Electoral College allows a loser to "win" that Trump became our nation's chief executive.
Once in office, Trump failed again — at least in the eyes of the American people.
The latest national poll for Politico, which was conducted in the first week of January, put Trump's disapproval rating at 56 percent. Just 41 percent of Americans indicated that they thought the president was doing a good job. In battleground states like Wisconsin, where he narrowly won the Electoral College votes that allowed him to claim the presidency in 2016, Trump is tanking.
According to the Morning Consult survey from December, 53 percent of voters disapprove of Trump handling of the presidency, while 44 percent approve. As is the case nationally, Trump's numbers in Wisconsin are dragged down by the overwhelming rejection of his approach on the part of Democrats. He's also failing in the eyes of significant number of independents.
But what's really striking is that a lot of Republicans have soured on the guy. The Morning Consult poll found that, among likely Republican primary voters, Trump's was approved by 87 percent of Republicans. That means that tens of thousands of Wisconsinites who are inclined to vote in a Republican primary are unenthusiastic about the president.
Among Republican-leaning Wisconsin voters who are under the age of 30, 18 percent disapprove of Trump. Among the most educated Republicans, the president faces a similar level of disapproval. Among Republicans who identify as moderates, the rejection rating spikes to 24 percent.
Trump was always going to be the front-runner in Wisconsin's 2020 Republican primary. But that wasn't enough for him. Faced with the prospect that an embarrassingly high percentage of Wisconsin Republicans might reject Trump's re-election run, the president and his toadies panicked. Last week, the blank-stare Trumplicans who control the state Republican Party submitted only the Donald's name for a place on the April 7 primary ballot. That move excludes credible challengers to Trump — former Massachusetts Gov. Bill Weld and former Illinois Congressman Joe Walsh — from the state ballot, unless they can collect 8,000 signatures each by Jan. 28 and petition to get on the ballot.
That's a high barrier to democracy, as Weld noted. "Trump's party bosses in Wisconsin just told millions of voters they don't deserve a choice in the Republican primary," he argued. "That's not how a democracy works, and certainly not the way the party of competition and freedom should work."
The cynical chairman of the Republican Party of Wisconsin, Andrew Hitt, has tried to suggest that he and his cronies blocked Weld and Walsh because the candidates had failed to secure ballot positions elsewhere. "If they're not on the ballot in other states, it becomes less relevant in Wisconsin," claimed the chairman.
What Hitt didn't say, of course, was that he is part of a multistate cabal that has been fixing things for Trump.
Wisconsin is just one of a number of states where Republican Party fixers have manipulated the process to shield Trump from primary challenges — and possible embarrassment. "Trump's allies have been working for months to clear the primary field across the country for the president in the face of challenges from dark horse candidates," reported the Associated Press.
"The Minnesota GOP, for example, plans to list only Trump on its March 3 primary ballot. Republicans also have canceled primaries in a number of states, including South Carolina, Nevada, Arizona and Kansas, to clear the field for Trump ..."
After Wisconsin Republicans blocked him, Walsh griped, "So yet another state in America wants to disenfranchise its voters. That would make 10 states in which Republican Party bosses have canceled primaries. All to protect their king. This isn't Russia. This isn't China. This kind of un-American bullshit shouldn't happen here."
That goes double for Wisconsin, a state that more than a century ago led the way in creating open primaries where the people, not the bosses, choose party nominees. Trump and the crooked partisans who have taken charge of the state Republican Party have now made it crystal clear that they do not respect Wisconsin's political heritage or its contemporary enthusiasm for robust competition and fair elections.
They have also made it clear that they do not trust the voters of Wisconsin, even Republican primary voters, to give the president the rubber-stamp support his damaged ego demands.
That's something the voters should remember in November.
Share your opinion on this topic by sending a letter to the editor to tctvoice@madison.com. Include your full name, hometown and phone number. Your name and town will be published. The phone number is for verification purposes only. Please keep your letter to 250 words or less.
Catch the latest in Opinion
Get opinion pieces, letters and editorials sent directly to your inbox weekly!