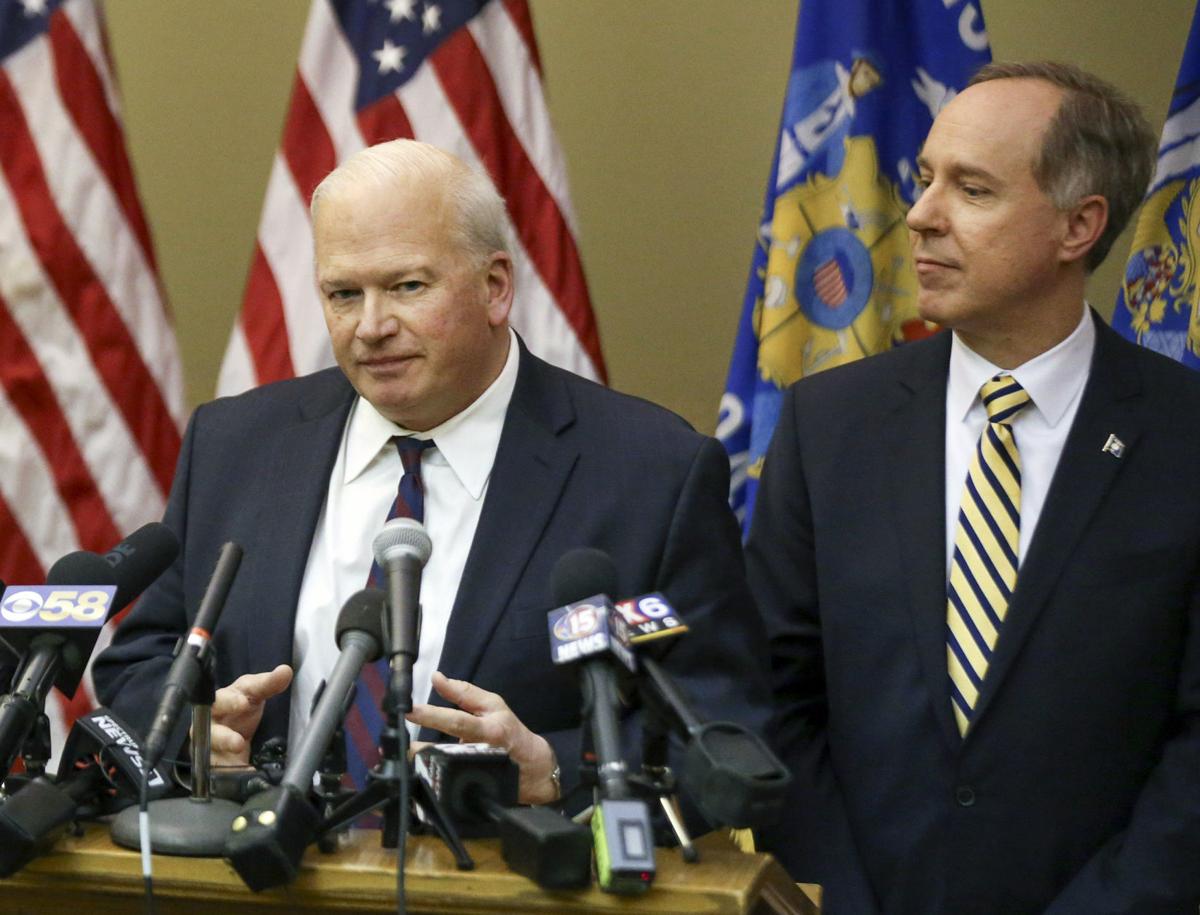 After refusing to lift a finger to protect the voters of Wisconsin before the April 7 election, and then moving aggressively to prevent Gov. Tony Evers from delaying in-person voting in order to prevent the spread of the coronavirus, Republican leaders in the state Legislature finally displayed a sense of urgency last week.
Though they rejected the idea of meeting virtually in order to assure that the state would have a safe and fair election for the state Supreme Court and county and municipal posts, Assembly Speaker Robin Vos, R-Rochester, and Senate Majority Leader Scott Fitzgerald, R-Juneau, were suddenly ready to employ modern technology and try to get something done.
What was it that got Vos and Fitzgerald excited? Undermining the ability of Evers and his team to respond to respond quickly and effectively to the coronavirus pandemic, an economic crisis and the difficult demands of the weeks and months to come.
Vos and Fitzgerald announced in a joint statement issued last week that they wanted to "make the necessary legislative changes to help Wisconsin deal with the extensive challenges from this public health crisis, while also protecting the integrity of our state budget."
That sounded innocuous enough. But when Vos and Fitzgerald start talking about "legislative changes," it is necessary to expect the worst. After all, these are the career politicians who — after Wisconsin voters rejected former Gov. Scott Walker in Nov. 2018 and signaled that they wanted Evers to take charge — moved immediately to disempower the new governor.
Wariness was certainly warranted last week, as it turned out that Vos and Fitzgerald had an ever cruder scheme in mind.
Briana Reilly of The Capital Times reported that, "Republican leaders, in the meantime, shared a draft memo listing a series of potential provisions with top Democratic lawmakers this week. The plan, which Evers' office released to reporters, includes language that would give the Legislature's powerful, Republican-controlled budget committee the authority to make state budget cuts as it sees fit."
That's right. Vos, Fitzgerald and their cronies wanted to undermine the governor's authority to act in a time of crisis. And for what purpose? "Seeking to further curb Democratic Gov. Tony Evers' power," reported the Milwaukee Journal Sentinel, "Republican lawmakers are proposing to give a handful of lawmakers the ability to cut school aid and slash state spending if a deficit materializes".
So there you have it. In a time of crisis, the first response that popped into the heads of Robin Vos and Scott Fitzgerald was a power grab. But this was no ordinary power grab. This was one that aimed to give the legislative leaders — and the Republicans on the legislative Join Finance Committee — a way to cut funding for hard-pressed schools that are struggling to educate Wisconsin children and for communities that are providing essential services.
Wisconsin is fighting a pandemic. More than 3,000 COVID-19 cases have been diagnosed in the state. More than 125 people have already died, and the numbers will continue to rise. While Evers, county and local officials and everyone else was working to support health care workers, public safety personnel, bus drivers and maintenance workers, Republicans were determined to make everything harder.
This was not just the usual partisanship that Wisconsinites have come to expect from Vos and Fitzgerald. This was dangerous conniving that sought to exploit an uncertain moment to achieve the cruel and destructive ends of a pair of career politicians.
Luckily, the threat was exposed and the outcry was loud.
The Republican proposal was so grotesque that these legislative charlatans had to back off. On Thursday, Assembly Majority Leader Jim Steineke, R-Kaukauna, signaled that "the proposal the Gov didn't like is out."
But no one who cares about the health and safety of Wisconsinites can rest easily when Vos and Fitzgerald are plying the dark arts of win-at-any-cost partisanship. Their refusal to allow Wisconsinites to vote in safety made it clear that these power-hungry ghouls will stop at nothing. And their attempt to reorganize state government in order to cut funding for schools and essential services in a time of pandemic reveals that they have no scruples, no morality and no common sense.
Share your opinion on this topic by sending a letter to the editor to tctvoice@madison.com. Include your full name, hometown and phone number. Your name and town will be published. The phone number is for verification purposes only. Please keep your letter to 250 words or less.