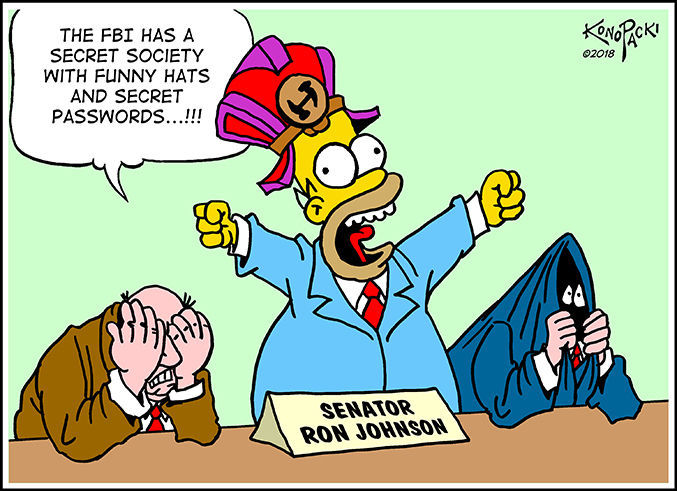 Wisconsin Sen. Ron Johnson, at his most harmless, simply takes up space on Capitol Hill.
Even his fellow Republicans struggle to explain the point of the senator's service, which on most days appears to involve nothing more than doing what Senate Majority Leader Mitch McConnell tells him to do.
But sometimes Johnson acts on his own. And then all hell breaks loose.
That's what happened last week, when Johnson shamed himself and the Senate in a hopeless attempt to defend his political ally, President Donald Trump. It is not news that the millionaire businessman from Oshkosh has a thing for the billionaire businessman from New York. When most Wisconsin Republicans were distancing themselves from Trump before the state's 2016 party primary, Johnson embraced the candidate — prattling on about how he could campaign with Trump as "the Ronald and the Donald."
During the 2016 campaign, Johnson's Trump worship simply made the senator sound dopey. But since Trump has assumed the presidency, the senator has begun to sound delusional.
Johnson is not just a Trump "yes man." He is a Trump propagandist. And so it probably should not have come as that much of a surprise when the senator got caught last week peddling a conspiracy theory about a "secret society" of rogue FBI agents trying to undermine the president.
Johnson engaged in his latest flight of fancy on national television, when he appeared on Fox News to attack Robert Mueller's special counsel investigation into Russia's interference in the 2016 election. No surprise there — Trump's minions are doing everything in their power to discredit the Mueller inquiry as it draws closer and closer to the president's inner circle and the president himself.
But what was surprising was Johnson's claim that a cloak-and-dagger cabal within the Federal Bureau of Investigation was trying to undermine Trump.
"What this is all about is further evidence of corruption — more than bias — but corruption at the highest levels of the FBI," claimed Johnson, who went on and on about "that secret society — we have an informant talking about a group that were holding secret meetings off-site. There's so much smoke here, there's so much suspicion ..."
That sounded weird. So weird that Fox host Bret Baier interrupted the senator. "Boy! Let's stop there," said Baier. "A secret society? Secret meetings off-site of the Justice Department?"
"Correct," replied Johnson.
"And you have an informant saying that?" asked Baier.
"Yes," Johnson announced.
That's definitive, right?
The next day, again on Fox, Johnson was asked: "Did your informant confirm that these off-site meetings took place?"
"No. Listen, I never even, I — the term secret society comes from (FBI employees Peter Strzok and Lisa Page). All I said, when I read that, it didn't surprise me because we are the committee the whistleblowers come to, to talk about all kinds of problems throughout the federal government. And so, I had heard of a group of people within the FBI holding secret off-site meetings. So I was just kind of connecting the dots, so that didn't surprise me when I heard that term. But, again, that's Strzok and Page's term, not mine."
It sounded like Johnson was admitting that he had either imagined some things — or made some things up. And Fox host Bill Hemmer wanted to clarify which it was. "To be clear, then," Hemmer asked, "are you backing off of what was spoken last night?"
"No, I'm saying exactly the same thing," Johnson replied.
That statement had people examining a text from Page to Strzok — who were romantically involved with one another — about "the first meeting of the secret society." It read as if, instead of conspiring, Page was joking with Strzok.
The next day, Johnson appeared on National Public Radio and host David Greene said: "I'm just wondering if you feel you might have jumped to conclusions here ..."
"No," replied Johnson, who then confirmed that he had, in fact, jumped to conclusions. "All I was connecting is — I have all kinds of people come in front of our committee, giving us information. And I had heard that there were off-site meetings. So I was just connecting the dots there. It could be a joke; those off-site meetings could be completely harmless."
"Could be a joke" and "could be completely harmless" is a long way from "evidence of corruption — more than bias" and "corruption at the highest levels of the FBI."
How long? The precise distance from truth to falsehood.
The senator's comeuppance inspired a question: Is Ron Johnson a liar, or a fool, or both?
Whatever the answer, one thing is now entirely certain: Ron Johnson is not serving as Wisconsin's senator. He is serving as Donald Trump's errand boy. And he is doing a lousy job of it.
Johnson has embarrassed himself.
Johnson has embarrassed the state he is supposed to represent.
Johnson has embarrassed the Senate by making assertions that simply are not true — and then by refusing to acknowledge that what he is saying is false, even when the evidence of the falsehood is on full display.
It is obvious that Ron Johnson is the worst senator from Wisconsin since Joe McCarthy.
To be fair, Johnson is neither as intellectually adept nor as cunning as McCarthy. But, as with McCarthy, Johnson has gotten caught making outlandish claims about high-level conspiracies that by all evidence do not exist.
The U.S. Senate censured Joe McCarthy in 1954 for actions that were "contrary to senatorial ethics and tended to bring the Senate into dishonor and disrepute." McCarthy was a bad actor over many years; Johnson has been more of a cipher. McCarthy was rebuked only after he had done enormous damage; the Senate waited far too long to censure him. Johnson had not yet done as much damage as McCarthy, but he has done enough to earn the sort of formal condemnation that night cause him to reconsider his irresponsible and destructive actions.
Share your opinion on this topic by sending a letter to the editor to tctvoice@madison.com. Include your full name, hometown and phone number. Your name and town will be published. The phone number is for verification purposes only. Please keep your letter to 250 words or less.
Catch the latest in Opinion
Get opinion pieces, letters and editorials sent directly to your inbox weekly!