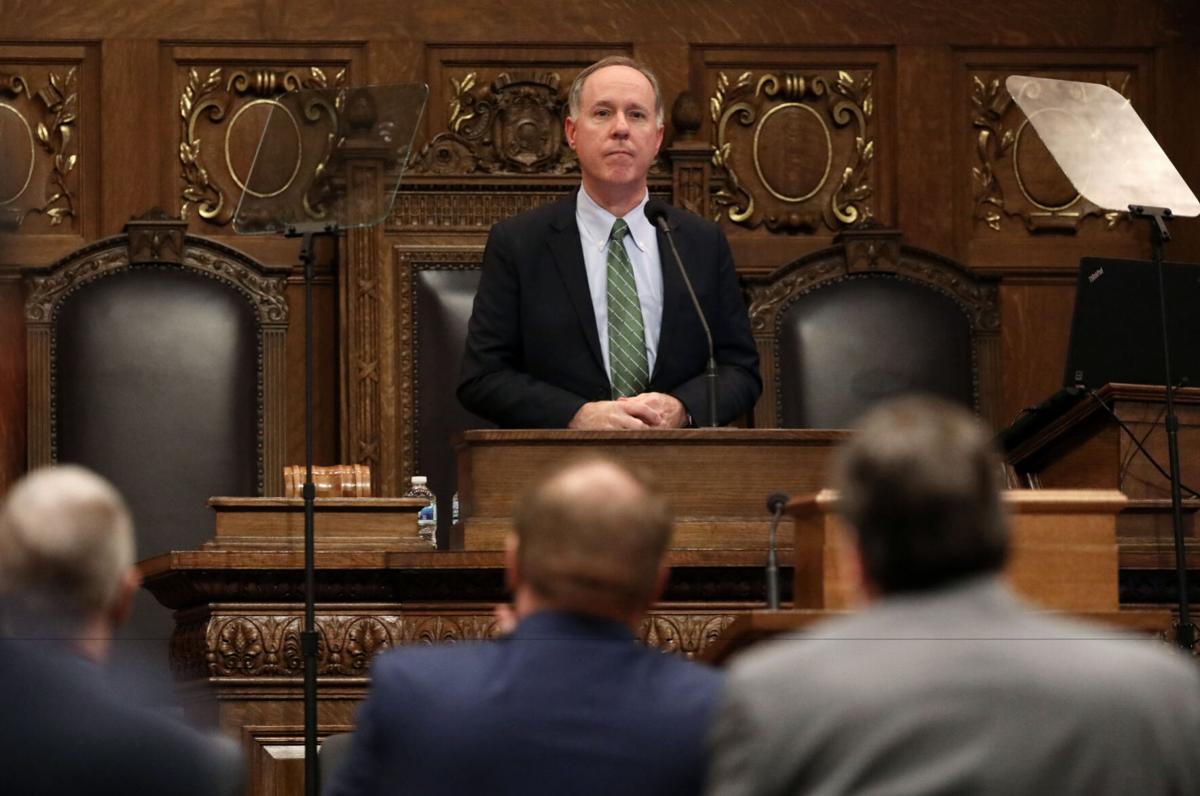 Robin Vos is not a stupid man.
He just thinks Wisconsinites are stupid.
The Assembly Speaker lives in fear of his own Republican party, which has followed Donald Trump into the fever swamp of electoral delusion. An egomaniac who refuses to accept the fact that he was overwhelmingly defeated last November by President Joe Biden, Trump is demanding that his fellow Republicans investigate what are now fully discredited claims that the election was stolen.
Vos knows the claims are absurd. He has acknowledged that Biden won Wisconsin. He has explained how "unlikely" it is that any investigation of last fall's election would reveal widespread election fraud. And when some of his more off-the-wall colleagues entertained a scheme to assign Wisconsin's electoral votes to Trump — despite the fact that a recount had confirmed Biden's victory by more than 20,000 votes — Vos rejected the assault on democracy.
Yet now the speaker has announced that he will use taxpayer dollars to hire retired police officers to "investigate" the November election in Wisconsin, marching the state in lockstep with Trump's Big Lie. The inquiry will go on for months — Vos is suggesting it will take at least 90 days — and you can bet it will cost a lot of money.
What Vos proposes is not a serious investigation. One of the officers he has hired is Mike Sandvick, a scandal-plagued former Milwaukee police officer who has been off the force since he produced a 2008 report on alleged "voter fraud" so shoddy that, the Milwaukee Journal Sentinel reports, it was "disavowed by prosecutors" and rejected by a federal judge as not trustworthy.
"Sandvick retired from the department soon after his bosses barred him from visiting the polls on Election Day in 2008," reports the Journal Sentinel. "He went on to do work for the state Republican Party and True the Vote, a Tea Party-aligned Texas group focused on voter fraud."
In other words, Vos's chief investigator is a partisan hack with a track record of producing reports that aren't credible.
Why would a savvy legislative leader jump in the clown car with the cranks whose outrageous claims about the 2020 election are literally parodied in comedy routines?
The answer to that question is the same answer to every question involving Vos: He's scared.
Vos likes serving as Assembly Speaker. When he arrived in the Legislature in 2005, he was a small-town popcorn salesman. Now, he is a multi-millionaire with a variety of real estate and business interests. Yet he continues to tap the taxpayers to cover his expenses. Vos collects his $53,299 annual salary from the state, as well as generous per diem payments. He's got a huge legislative staff that costs well over $1 million annually to maintain. He jets around the country and around the world — visiting vacation spots in the U.S. and heading offshore to destinations as far away as China. He even dips into the state treasury to pay for lawyers to gerrymander his legislative district.
It's a sweet arrangement for Vos. He doesn't want to give up his lavish, taxpayer-funded lifestyle. But to remain on the gravy train, Vos has to keep his seat. Because the lines are drawn to favor a Republican, he's unlikely to be defeated in a November race with a Democrat. But in conservative western Racine County, this political careerist could be ripe for a challenge from a Trump-backed Republican.
So Vos has to stay on Trump's good side.
Hence the "investigation" into the 2020 election.
As voting rights lawyer Jeffrey Mandell explains, "This is a fishing expedition in a dry lake."
Yes, the basic premises of the inquiry have already been disproven. Yes, the lead investigator is discredited. Yes, it will cost taxpayers a fortune.
But Wisconsinites should.
Robin Vos is sparing no expense of our money in order to maintain the Big Lie of a delusional billionaire from Florida.
Share your opinion on this topic by sending a letter to the editor to tctvoice@madison.com. Include your full name, hometown and phone number. Your name and town will be published. The phone number is for verification purposes only. Please keep your letter to 250 words or less.