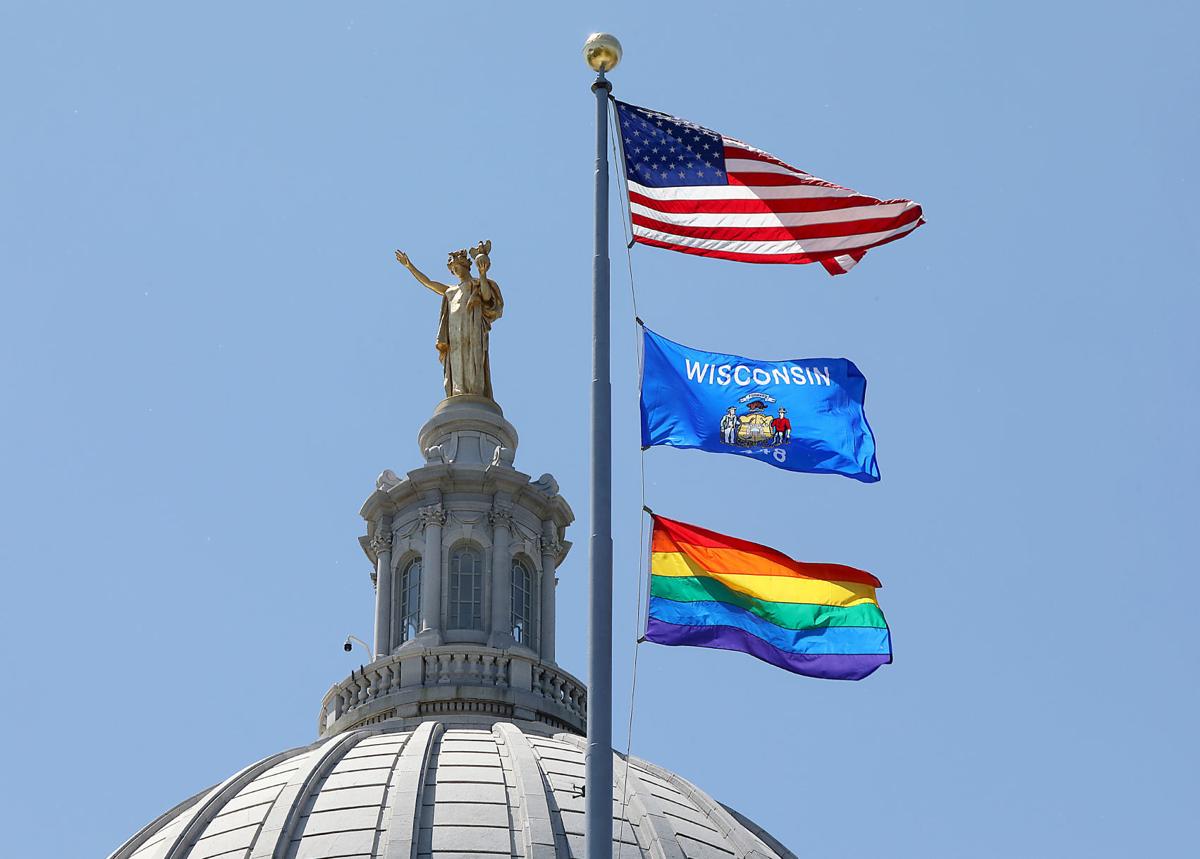 Our Republican friends in the state Legislature were, along with their amen corner on the yahoo end of the radio dial, quite aghast that Gov. Tony Evers ordered the rainbow flag to be flown above the state Capitol during the LGBTQ Pride Month of June.
Evers followed the lead of Madison Mayor Satya Rhodes-Conway, who ran the rainbow flag up the pole in front of the Madison Municipal Building and arranged for the facility to be lit in the evening with rainbow colors throughout the month. That went over fine with Madisonians, who in April overwhelmingly elected Rhodes-Conway as the city's first lesbian mayor.
But Evers found himself in a bit of a flag flap.
The governor was, as always, gracious in his approach. He announced, "Publicly displaying the rainbow pride flag sends a clear and unequivocal message that Wisconsin is a welcoming and inclusive place where everyone can live without fear of persecution, judgment, or discrimination."
Well, meet state Rep. Scott Allen, R-Waukesha, who raced to President Trump's communications platform of choice and tweeted: "Is this any more appropriate than erecting the Christian flag over the Capitol?"
The answer, of course, is "yes." While the founders of the American experiment established what Thomas Jefferson described as "a wall of separation between Church & State," states have long celebrated the diverse communities that shape them.
Allen soon clarified himself with a complaint to the Associated Press about the rainbow flag, arguing that it "advocates a behavior or lifestyle that some Wisconsin residents may not condone. Therefore, it is divisive."
It was pretty clear that Allen was the one practicing the politics of division. And he was not alone. State Sen. David Craig, R-Town of Vernon, joined Allen in griping about displaying the historic symbol of LGBTQ pride.
"The U.S. and Wisconsin flags are flown over us as unifying symbols for all Wisconsinites," tweeted Craig. "The governor's action today is in no doubt a statement to advance a cause. The only cause that the Capitol flags should represent is fifty states united in one republic."
Craig's convoluted calculus would seem to suggest that showing human regard for lesbian, gay, bisexual, transgender and queer Wisconsinites somehow divides us. If that's "a cause," as Craig suggests, it is one that all Wisconsinites should be proud to embrace.
Allen, Craig and the their fellow grumblers seem to have forgotten a few salient details from this state's history.
First and foremost, as legislators, they swear an oath to support the Constitution of the United States and the constitution of the state of Wisconsin. That state constitution begins with a "Declaration of Rights," which proclaims: "All people are born equally free and independent, and have certain inherent rights; among these are life, liberty and the pursuit of happiness."
For the better part of four decades, Wisconsinites have recognized that LGBTQ people enjoy the same protections as everyone else. This is part of what makes Wisconsin stand out among the 50 states united in one republic.
In 1982, Wisconsin was the first state to ban discrimination based on sexual orientation in employment, housing, education, credit and all public accommodations. That measure was signed by a Republican governor, Lee Sherman Dreyfus, who said, "It is a fundamental tenet of the Republican Party that government ought not intrude in the private lives of individuals where no state purpose is served, and there is nothing more private or intimate than who you live with and who you love."
Wisconsin Republicans should be proud of the fact that it was a Republican governor who put this state in the lead. And they ought not object when a Democratic governor recognizes and celebrates that leadership.
We understand that the Republican Party has veered far to the right, and that it has lost touch with many of the principles that called it into being at Ripon's Little White School House in 1854. President Trump has abandoned his party's founding values and its rich heritage of promoting civil rights and civil liberties. The same goes for Senate Majority Leader Mitch McConnell, R-Ky., and too many members of his party's caucus.
But we have always expected a little more of Wisconsinites. This is, after all, the state where the party was founded, and where generations of Republicans, up to and including Dreyfus, stood on the right side of history.
When Republican legislators like Allen and Craig play the petty political game of griping about rainbow flags, they embarrass themselves, their party and their state.
In contrast, when Gov. Evers flies the rainbow flag as a signal that "Wisconsin is a welcoming and inclusive place," he recognizes and embraces the best bipartisan tradition of this great state.
Share your opinion on this topic by sending a letter to the editor to tctvoice@madison.com. Include your full name, hometown and phone number. Your name and town will be published. The phone number is for verification purposes only. Please keep your letter to 250 words or less.
Catch the latest in Opinion
Get opinion pieces, letters and editorials sent directly to your inbox weekly!