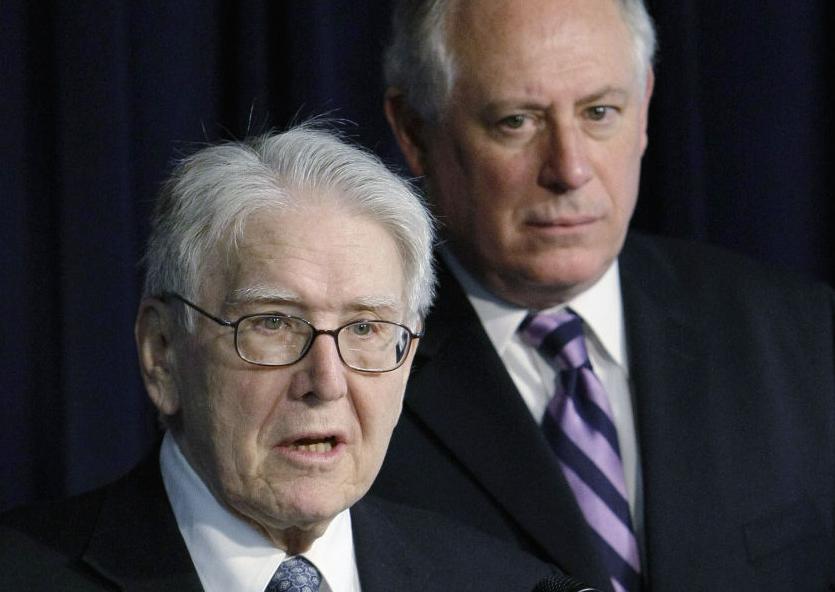 Dr. Quentin Young, one of the greatest economic and social justice campaigners of the modern era, has died at age 92. Young served as a personal physician for the Rev. Martin Luther King Jr. and organized the Medical Committee for Human Rights, which provided medical support for activists during the 1964 Freedom Summer in Mississippi. He helped to shape and advance the call for an understanding of health care not as a commodity but as a human right.
Young was a friend and ally of this newspaper, a source of insight and inspiration for many years, and an ally in our campaigning for universal health care, which dates back to the days when Capital Times founder William T. Evjue was cheering on the efforts of Franklin Delano Roosevelt and Harry Truman to establish a national health care program. Over the years, we celebrated Young's work and joined him and his dear friends, the late Madison area physicians Gene and Linda Farley, in championing efforts to establish a single-payer "Medicare for all" health care system in the United States.
More than three decades ago, as he was working to forge the Physicians for a National Health Program movement, Young warned of "the corporate takeover of medicine." As PNHP notes, "he sounded the alarm about the growing encroachment of corporate conglomerates on U.S. health care, noting that giant investor-owned firms were rapidly subordinating the best interests of patients and the medical profession to the maximization of corporate profit."
To counter the crisis, PNHP said in its statement on the doctor's death, Young became "the nation's most eloquent and high-profile spokesperson for single-payer national health insurance, or improved Medicare for all." He worked closely with an old ally from civil rights movement days, Congressman John Conyers Jr., D-Mich., on behalf of H.R. 676, "The Expanded and Improved Medicare for All Act," the single-payer health care proposal backed by dozens of House and Senate members. Young gave credit to the efforts of President Obama — a friend and a patient of the physician's Chicago clinic — to develop and implement the Affordable Care Act. But while he could identify positive elements of the ACA, Young argued it was an inadequate reform that left too many Americans with no coverage or insufficient coverage and that failed to control costs because it maintained an arrangement where "the insurance companies are still going to make their profits."
Young, who served as PNHP's national coordinator for more than two decades, remained an outspoken advocate for single-payer to the end. Making his case for "single-payer national health insurance, government-run, based on the tax system," Young said in a 2004 interview posted on the organization's website that "universal health care is no longer the best answer; it's the only answer. There was a time when there were alternatives that might have worked, but that day is passed. We've had too much of a transfer of power from patients and physicians, for that matter, to giant corporate interests that are dedicated to the goal of maximizing profits, which accounts for much of the distress in the American health system."
During the course of the 2016 presidential race, proposals for single-payer reform have taken hits from the campaigns of Hillary Clinton and a number of the Republicans who are seeking the presidency. Clinton has argued that the plan for single-payer offered by Vermont Sen. Bernie Sanders, her opponent for the Democratic presidential nomination, is "an idea that will never, ever come to pass."
In the Democratic debate on March 10 in Miami, the former secretary of state complained about "Senator Sanders wanting to throw us into a contentious debate over single-payer." Sanders, who has hailed Young as "a national hero," replied: "I think if the rest of the world can do it, we can. And by the way, not only are we being ripped off by the drug companies, we are spending far, far more per capita on health care than any other major country on earth. You may not think the American people are prepared to stand up to the insurance companies or the drug companies. I think they are."
That was the view that Young advanced in his last years, including in his brilliant 2013 autobiography, "Everybody In, Nobody Out: Memoirs of a Rebel Without a Pause." The doctor wrote: "I've never wavered in my belief in humanity's ability — and our collective responsibility — to bring about a more just and equitable social order. I've always believed in humanity's potential to create a more caring society."
The Capital Times has embraced that faith since its founding in 1917, but there is no question that our faith was enhanced and extended by our association with Young. We will honor his memory by continuing to be absolute and unequivocal in our championship of the essential understanding that health care must never be undermined by profiteering. It must always be understood as a human right that should be guaranteed for all.
Share your opinion on this topic by sending a letter to the editor to tctvoice@madison.com. Include your full name, hometown and phone number. Your name and town will be published. The phone number is for verification purposes only. Please keep your letter to 250 words or less.